Women only tour to Northern India
NOrthern India at a glance
A country of extremes, India will delight you with its richly spiced cuisine, vibrant cultures and warm people, and a depth of history weaving empires from heights of glory to faded memory. Watch the sun setting over ancient fort palaces, whizz through modern cities on rickshaws, and be welcomed into the lives of those you meet on this exceptional women only tour to Northern India.
You'll go from the modern city of Delhi to the quiet village of the Bishnoi, where people will invite you into their homes and show you their desert on a Jeep ride. Befriend our hosts and guides over shared meals, take in the glowing splendour of the Taj Mahal at sunrise and float down the river Ganges. This women only tour to India has it all – from the down to earth chaos of congested city streets to the cool, quiet of luxury accommodation, iconic experiences and connections with people you will never forget.
India is a notably challenging country to travel, and we have made it our priority to make this the most rewarding and life changing trip possible. We've removed many of the challenges travelers often face, yet still connect you to reality in a deeply authentic way. We have secured high-end 4 and 5 star accommodation, enlisted air-conditioned, private vehicle transfers, covered your inter-country flight and all tips in advance. All you need do is sit back, and embrace the journey!
We have departures arranged so you can experience Holi or Diwali, two joyous and culturally enriching holidays. These are amazing times to visit India, but please note that on those days, the included activities may be changed. Instead, we will provide everything you need to experience and understand the holidays.
2023 Holi Departure: Feb 27 – Mar 12
2023 Diwali Departure: Nov 10 – 23
Proof of travel insurance is required before joining day 1 of any Meetup Tour. International flights are not included. All SoFe Travelers are required to prove that they are fully vaccinated against Covid-19 OR produce a negative test taken at least 72 hours before the start of the Meetup Tour.
People often leave our Meetup Tours with friends for life and couches to crash on all over the world.
From driver to guide to included experiences. You only need take out your wallet for those extra panipuri.
Enjoy our hand-picked, premium accommodation combining the best of design, location and comfort.  
Welcome to Delhi!
Welcome meeting & first taste of local cuisine
Welcome to India! Our driver will be waiting for you as you exit the Indira Gandhi International Airport. Your ride is complementary, and you'll be escorted to our beautiful 5 star hotel in Delhi where you will meet the group. We recommend arriving before 3pm, so you will arrive in time for a 6pm welcome meeting and our first delicious meal together! Meals: dinner
OLD DELHI
Rickshaw tour, lunch at a Sikh temple & Khari Baoli Spice Market
This morning step out of your hotel and into a rickshaw for an authentic look at Old Delhi. Our expert local drivers will lead us through alleyways and the classically chaotic streets of the city, including the famous Chandni Chowk square. Make a visit to the Jama Masjid, Delhi's oldest mosque and one of its most impressive buildings, then visit the Sheeshganj Gurudwara to learn about the Sikh religion. Lunch – a vegetarian meal at a local Sikh temple – will feel extra special after learning about the spirituality of the Sikhs. After lunch, it's off to Khari Baoli, which is Asia's largest wholesale spice market. This place is bustling from the moment the sun rises. As you walk through the market, your senses are sure to be overwhelmed by the intense smell of all the spices. Visit the famous courtyard where these spices are stored and enjoy some tastes of India along the way. Meals: breakfast, lunch
DELHI TO JODHPUR
Short flight, solo day & dinner at a rooftop restaurant
Today we travel to the state of Rajasthan. Famous for its great history, forts, palaces, kings and cuisines, Rajasthan has remained a must visit for travellers from all walks of life. We take a short flight from Delhi to Jodhpur, rated by many travelers as having the best lassi in India! It's also where the famous jodhpur trousers originated. You'll have solo time to explore the city's many antique shops, simply wander about, or partake in a workshop. This evening we meet for dinner at an exceptional setting with fabulous views of the Fort, Jaswant Thada, Umaid Bhawan, The Clock Tower and Gulab Sagar. Meals: breakfast and dinner
JODHPUR
Bishnoi Village visit, Jeep safari & Shambhali Trust for lunch
A quick jaunt into the countryside takes us to Bishnoi Village. As an eco-conscious sect of Hinduism, Bishnoi tribes practice a deep reverence for nature and the exotic wildlife you will find yourself surrounded by (think blackbuck and chinkaras!). Observe the potters and weavers of the village hard at work, and spend time with a Bishnoi family. Upon our return to Jodhpur, we visit Shambhali Trust, an organization working to empower disadvantaged women and girls through education and vocational training. After learning more about their work, we join them in preparing a delicious lunch to enjoy together. This afternoon we will have solo time to explore the city, or rest up in our hotel. Meals: breakfast and lunch
JODHPUR
Solo morning, visit Mehrangarh Fort & Sardar Market
An antidote to the busy pace of city life, this morning we wake at leisure and enjoy solo time to do as we choose. We gear up again in the afternoon with a visit to Mehrangarh Fort, situated on a steep hill. Mehrangarh fort is one of the largest forts in India, a saga of hard sandstones yielding to the chisels of skilled sculptors. From here we walk down through blue streets to experience the late afternoon Sardar market. Meals: breakfast
JODHPUR TO JAIPUR
Block printing experience & village walk
We've got a long drive ahead of us today, but as always, the destination is worth it! We start early and break up the drive with lunch and a signature experience: a walking tour of Bagru Village, and a visit to block printing workshop. Bagru has made its mark on the textile industry map around the world, and we get the opportunity to observe the process of block printing – carving on wooden blocks to create unique designs, making natural dyes, printing on fabric, drying and finally transforming into a niche textile masterpiece perfected over generations – before trying it out ourselves! We'll be able to create a souvenir to take home that will become a treasured talking point. In the evening you have option to watch a Bollywood film of action, romance, drama, or music (sometimes all rolled into one) at the renowned Raj Mandir Cinema, followed by dinner. Meals: breakfast and lunch.  |  Drive time: 6 hours
JAIPUR

Pink City Rickshaw ride and city tour, Kachori and Lassi Lunch & a visit to the Amber Fort
There's no better way to see Jaipur than jumping in the back of a Pink City Rickshaw, a woman owned and operated company supporting low income areas. Our driver meets us at our hotel for an early morning ride through crisp air and quiet streets to join the morning aarti prayers and chanting at the revered Govind Devji Krishna Temple. We'll receive blessings at this 18th century Krishna temple and then travel to the flower market to stop and smell the roses (and marigolds). We move on to the Hawa Mahal (Palace of Winds) adorned by a pink sandstone facade with remarkable detail. Originally built for the women of the royal families, the latticed windows allow you to observe city life below while remaining hidden. After sipping on cardamon tea, it's back to our hotel for a late breakfast. We reconvene for lunch to try a local favorite: kachori, a delicious street snack you have to try! Next, we visit Amber, an ancient town adorned with temples, Havelis, and step wells. Look up, and you'll see the stunning Amber Palace displaying a perfect blend of both Hindu and Muslim architecture. Scale your way to the top of the Palace for amazing views of the surrounding countryside. We'll have dinner inside the fort, tasting the recipes enjoyed by generations of royal families firsthand. The food is rich and decadent and doesn't disappoint. Meals: breakfast, lunch and dinner. 
JAIPUR TO AGRA
Solo time, Mughlai cooking class & saree tying session
Say goodbye to Jaipur and hello to Agra, situated on the bank of the Yumana River and famous for its elegant Mughal Architecture. Due to a long series of emperor's attempts to out-do their predecessors, Agra boasts an impressive legacy of Mughal masterpieces.  We check in at the hotel and enjoy the day as we please. For dinner, we join a Mughlai cooking class using seasonal ingredients. We'll learn to create the same dishes that were prepared during the opulent Mughal Empire period. Expect to eat well! Following dinner, we learn firsthand the customs of wearing traditional Indian sarees from local women. Meals: breakfast, dinner   |   Drive time; approx. 5 hours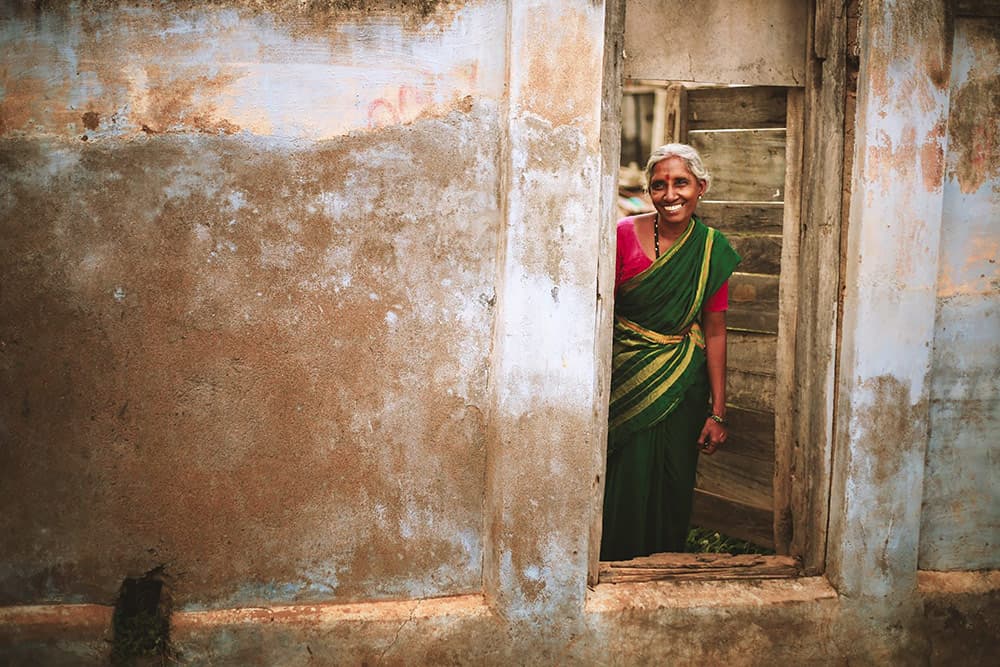 AGRA TO VARANASI
Sunrise at the Taj Mahal, lunch at Sheroes and overnight train
You cannot leave India without a quintessential visit to the Taj Mahal, a wonder of the world. Built by Emperor Shah Jahan after the death of his beloved wife, this marble monument of love is at its most mesmerizing during the golden sunrise. Next, we walk to the Mehtab Bagh Garden for a lesser-known view of the Taj Mahal. We return to our hotel for breakfast and a quick respite before heading to Sheroes Hangout Cafe, a cafe run by female acid attack survivors. Engage with these brave women as they share their powerful stories of survival and support their new livelihood with delectable snacks and coffee. Post lunch, we take a short walk to a shrine with a much quieter view of the Taj Mahal. We'll collect our luggage and take the overnight train to Varanasi.  Meals: breakfast and lunch
VARANASI
Solo time & Old City Walking Tour
We arrive in the spiritual capital of India early in the morning. After checking into our hotel, this morning is free for resting or exploring at your own pace. Later in the day we'll do an orientation walk of Varanasi. The city draws Hindu pilgrims who bathe in the Ganges River's sacred waters and perform funeral rites. Along the city's winding streets are some 2,000 temples. We'll walk around ghats and in narrow lanes, picking up some examples of the excellent local silk industry and perhaps witnessing pilgrims performing ancient
bathing rituals and ceremonies. Meals: breakfast
VARANASI
Solo time, sunset candle flower ceremony & Ganges boat trip
Sip Chai tea in the Ghats this morning and stroll around the streets of Varanasi before re-joining your group for lunch at a purely vegetarian Thali restaurant. Meals, often featuring no onion or garlic, are served on a Kansa metal plate meant to bear anti-bacterial properties. Later this afternoon, we'll embark on a boat ride on the River Ganges, perhaps our most iconic experience yet (after the Taj Mahal!). Our guide will explain the significance of India's most sacred river as we pass by the many ghats and temples along its banks. Meals: breakfast, lunch
VARANASI
Visit the Banaras Hindu Universityy & the Sarnath Museum
After breakfast at our hotel we visit Sarnath, one of the holiest Buddhist sites in the world and where it's believed Buddha delivered his first sermon after attaining enlightenment and realizing worth of life. In 232 BC, the Emperor Ashoka erected the world renowned Sarnath Stupa in the name of Buddha to spread the message of love and compassion. Later in the afternoon we'll arrive back at Varanasi and visit Banaras Hindu University, a prime attraction in Varanasi. Spend some peaceful moments while you are on the campus, exploring the unique looking building and the beautiful architecture. Meals: breakfast
VARANASI TO DELHI
Flight to Delhi & solo evening
We'll check out of our hotel after breakfast and take a return flight to Delhi. After arriving and transferring to our hotel, we'll spend an evening at leisure. Meals: breakfast
As your tour comes to a close, ask your guide to help arrange transportation to the airport or to your next destination. Check out by 12pm. Enjoy breakfast, and if you're like us, start dreaming about your next adventure! In fact, your adventure in India doesn't have to end! Join us for Southern India and Sri Lanka, beginning today. Meals: breakfast 
Hand-picked Accommodation
Our accommodation is carefully chosen to give you the best combination of comfort, location, and style. These are photos from our collection of favorite hotels to give you a sense of the accommodation you can expect with us. All of our accommodation is 4 and 5 star with many beautiful views in prime locations.
This five star heritage hotels offers unsurpassed luxury. Founded in 1903, its sweeping driveway and the grand façade give an inkling of its star-studded past, where is played centre stage to the rich, famous and titled. This princely stay will be the finest welcome to our stay in Delhi.
Featured in many magazines and publications for its uniquely Rajasthani decoration and world-class service, you will feel like the royalty here. 
Crystal Sarovar Premiere, Agra
With views of the famous Taj Mahal, this Agra hotel is on our list of favorites for it's consistently clean and comfortable rooms and 5 star amenities. 
SoFe's itinerary was a great blend
"I was heartened by how welcoming people were in India and will never forget the seemingly infinite unique sari and kurti outfits on dazzling display everywhere. SoFe's itinerary was a great blend of cultural, historical, and social activities and our tour leader helped in many ways to keep us having fun, even over long days of traveling." Jennie R. | India
100% RECOMMEND THIS COMPANY
"If you are thinking about doing a SoFe tour -do it! It was so awesome to connect and explore a country with like-minded solo female travelers. I loved getting to experience a country and connect with other SoFe travelers in network. I really appreciated the security of going with a group as well, especially for a country such as India. " Michelle P. | India
INCREDIBLE TOUR THROUGH India
"India was spectacular – it was vibrant, beautiful, dirty, spiritual, and chaotic – all at once! SoFe provided a wonderfully curated trip through the northern region of the country. Our guides brought the places we visited to life. Shopping was exceptional! Thank you Nidhi and Nikki for a life-changing trip!" Leslie R. | India
We love to collect photos from as many of our Meetup Tours as possible. If you want to see more, check out the stories on our Instagram! @solofemaletravel. When you travel with us, tag @sofetravel and you may even get featured!