Women only tour to Turkey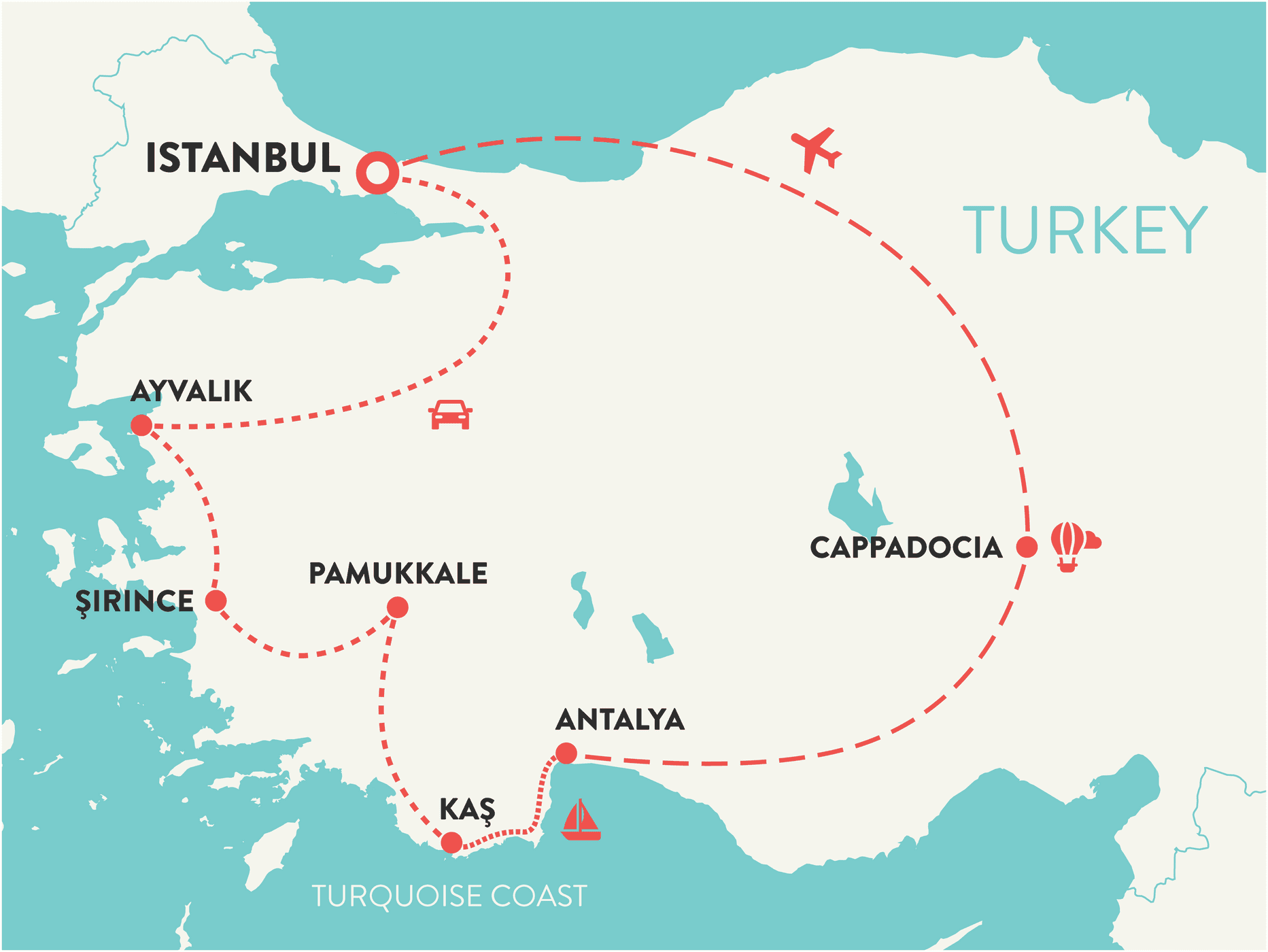 Straddling continents, history and culture, Turkey is a unique destination full of contradictions and beauty waiting for you to explore! This all-female Meetup Tour of Turkey offers the ideal mix of history, luxury, and culture all while connecting you with local women.
Dive deep into Turkey's rich history as your textbooks come alive right in front of you with visits in Antalya and Ephesus. Experience the hustle and bustle of Istanbul, where you'll want to eat and shop 'till you drop. Relax on the Turquoise Coast and marvel at natural wonders like Cappadocia and Pammukale.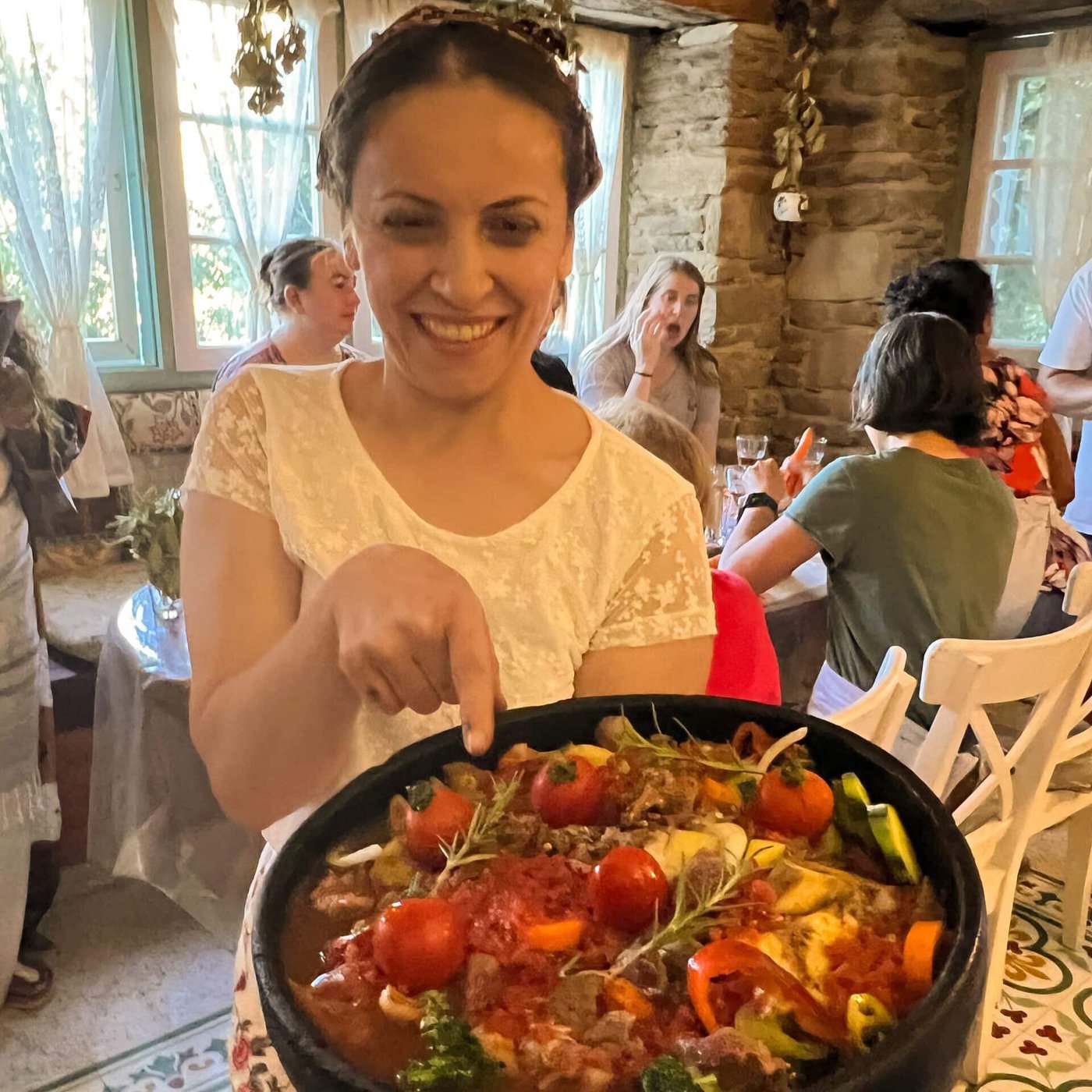 Learn the secrets of traditional Turkish cuisine in a family run coking class
Spend the day sailing down the Turquoise Coast on a gullet boat complete with a home cooked Turkish feast.
Make your own water marbled art at a woman owned art studio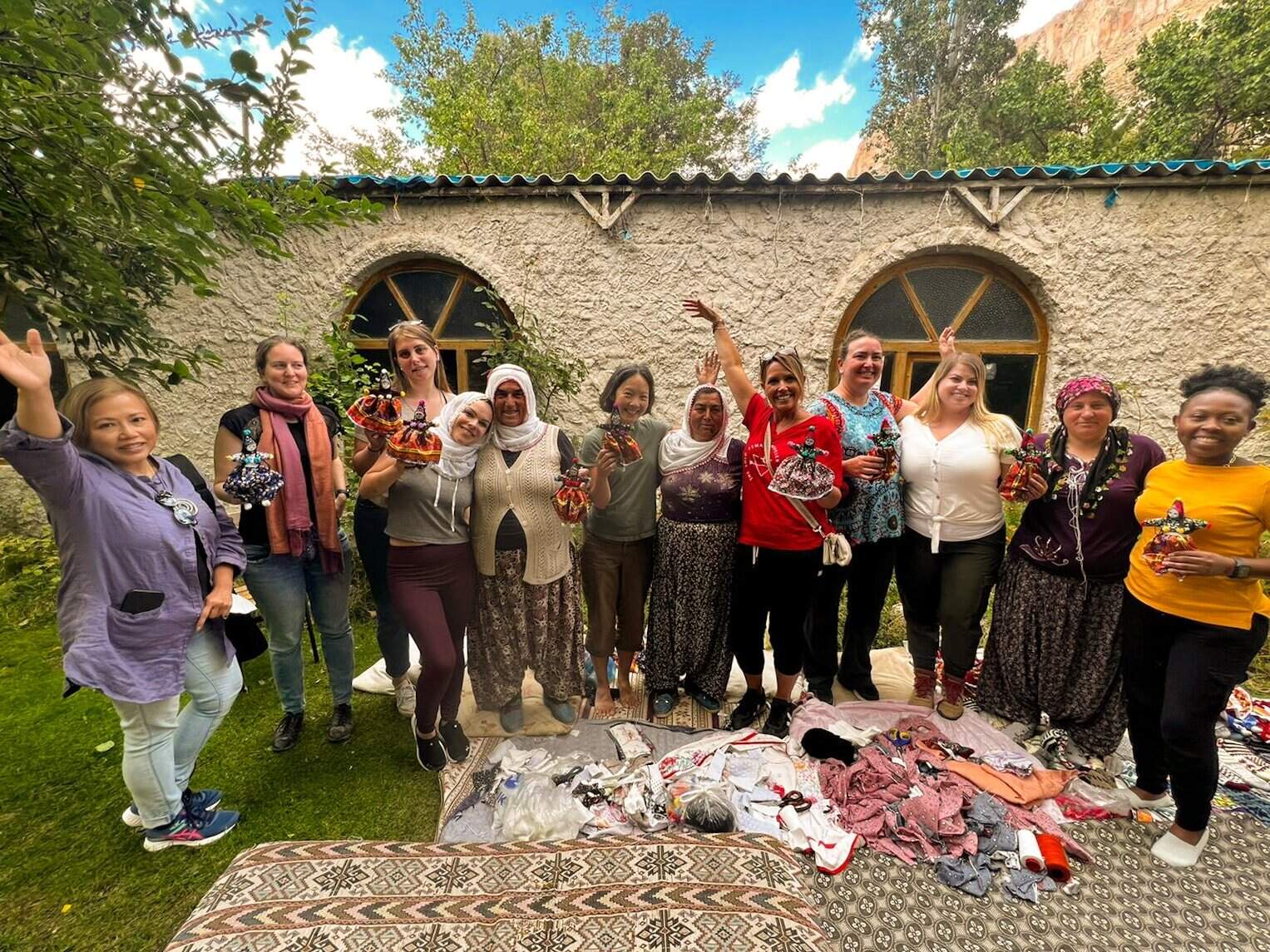 Spend a crafty afternoon with the women of this small village making their traditional handicraft.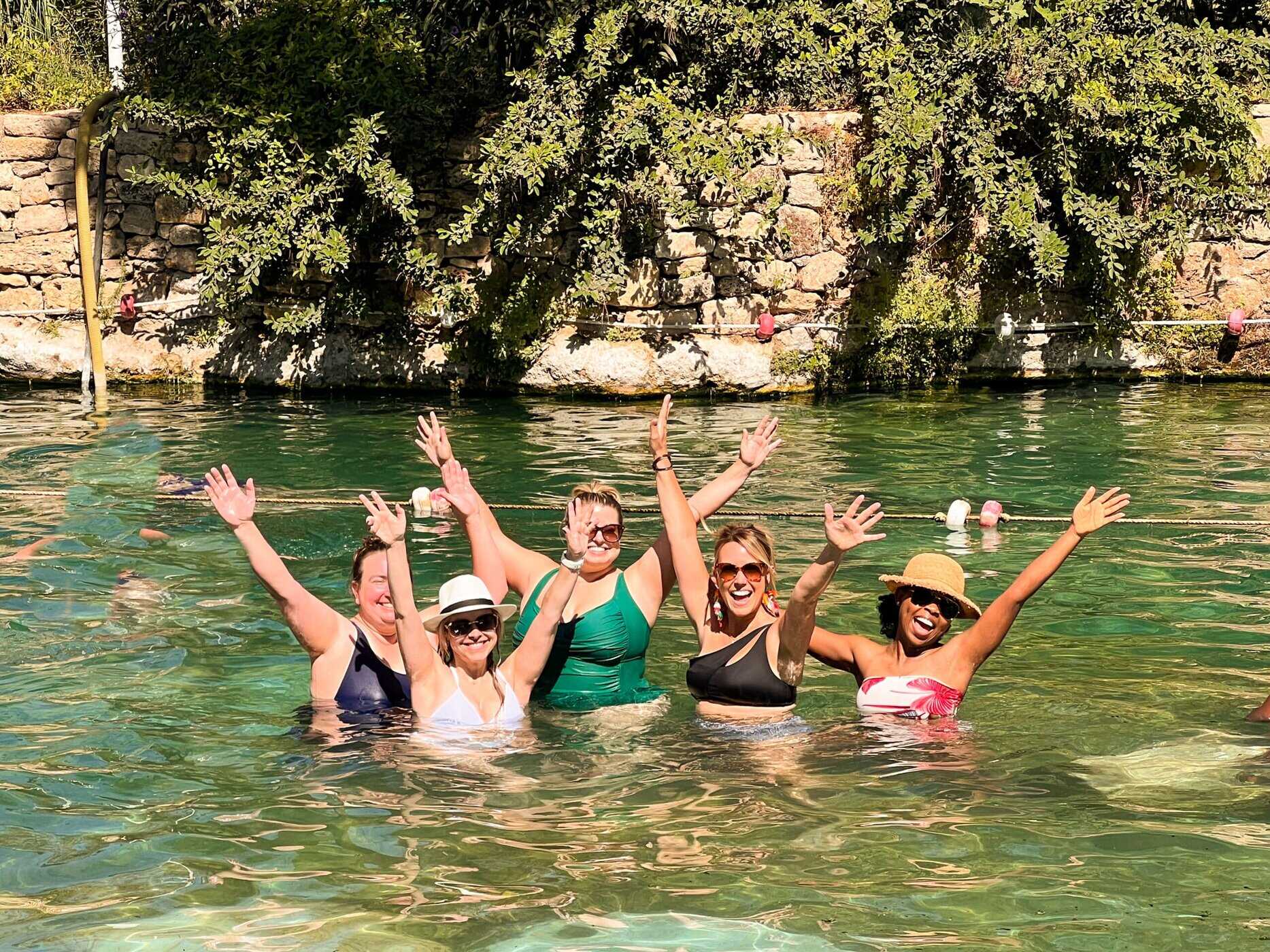 Go thermal spa hopping choosing to stop for gorgeous backdropped photos, massages, and saunas.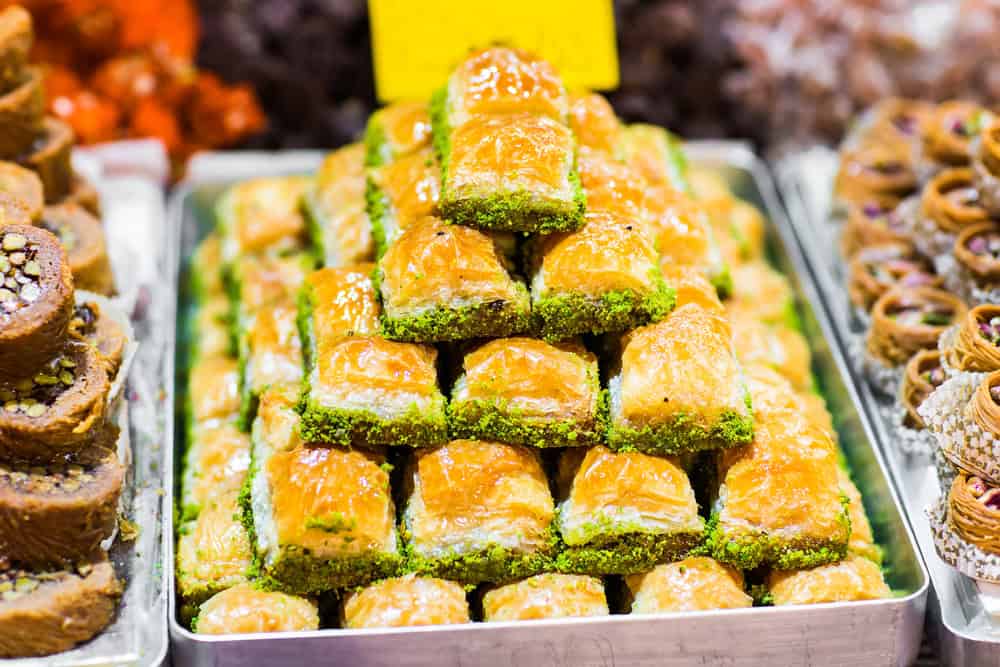 Join a woman in her home for a homemade meal, meet an entrepreneur in her restaurant, and support an NGO serving traditional Turkish food.
Is this trip right for you?
Although there is plenty of solo time to relax and explore at your own pace, this Meetup Tour covers a lot of ground with some very full and fun filled days. All of our accommodation is 4 and 5 star so you can get the rest you need, but be ready for some busy days.
Proof of travel insurance is required before joining day 1 of any Meetup Tour. International flights are not included. 
People often leave our Meetup Tours with friends for life and couches to crash on all over the world.
Spend it with friends or explore on your own, but take time to reflect on your incredible journey. 
Enjoy our hand-picked, premium accommodation combining the best of design, location and comfort.  
Welcome to Istanbul!
Welcome meeting
Merhaba! Welcome to Turkey! This women's only tour kicks off in Istanbul, the continent-straddling metropolis that the Greeks, Romans, Byzantines, and Ottomans have previously all called home. We will pick you up at the airport and bring you to the hotel to meet the rest of the group. Your welcome meeting with the guide starts at 6pm at your hotel.  Following the meeting, have dinner together to get to know each other before an incredible adventure! Meals: dinner
Istanbul
City tour & water marbling class
Begin your day by exploring the old town of Istanbul. Make your way to Hagia Sophia, a masterpiece of Byzantine architecture that has borne witness to over 1,500 years of Turkish history.  After spending some time wandering solo, head to Hippodrome square and listen to the stories of chariots and the monuments decorating the square. Explore the most celebrated place in Istanbul, Blue Mosque, decorated with over 20,000 blue Turkish tiles. To conclude the day, we will join a workshop at a female owned gallery and learn the art of water marbling (ebru), which involves painting designs directly on the surface of water in a shallow tray and transferring them onto paper. Meals: breakfast
CAPPADOCIA
Flight to Cappadocia, Goreme Open Air Museum & dinner at women run co-op
This morning we will take a domestic flight to magical Cappadocia. Across millennia rain and wind have sculpted the white volcanic rock into the almost gothic formations we see today, known as tufa. Once we land, we will explore the Goreme Open Air Museum, an outdoor museum with ancient rock-cut churches, chapels, and monasteries adorning Byzantine wall paintings dating to the 13th century. After we have worked up an appetite, we'll get to enjoy the local delicacies of Turkish cuisine at a cooperative run only by women to create jobs, opportunity, and independence. After dinner, relax in one of a few feature stays of this Meetup Tour, a luxe cave hotel with stunning rooftop views. Meals: breakfast and dinner
CAPPADOCIA
Optional hot air balloon ride, Soganli Valley & dinner at a family's home
Early birds catch sunrise views from a hot air balloon ride! Opt in to fly above the rooftops or sit with blankets and a hot coffee watching the sun fill the sky. After breakfast, we'll visit one of the oldest underground cities, Kaymakli. It's believed that underground cities in Cappadocia emerged in the 8th and 7th century BCE. Afterwards, we'll take an easy hike in Soganli Valley and go off the beaten path for a sweet afternoon with the women of the village. Soganli Dolls are rag dolls made by women for their children for over centuries and today they contribute to their economy. We'll enjoy what is likely to be a beautiful day outside making ragbags with the experts. Take the rest of the afternoon to relax at the hotel or explore solo before a very special meal. For dinner we are invited into a family home for a home-cooked traditional Turkish meal. Meals: breakfast and dinner
ANTALYA
Drive to Antalya, Mausoleum of Rumi & solo time
Today, say goodbye to Cappadocia and hit the road for the coast of Turkey. On the way, we'll stop in the city of Konya for lunch own your own and to see the mausoleum of Rumi, a Sufi mystic who has established the Mevlevi order. Antalya is a beautiful town with ocean views, great restaurants, and tons of shopping. Take the evening to explore solo or with new friends. Drive time: approx. 6 hours | Meals: breakfast
Kas
Walking tour & solo time
This morning, we will drive to Kas (which means eyebrow in Turkish) and begin exploring on a walking tour. Now primarily a holiday town, Kas is strewn with the remains of Lycian tombs, iconic, white-washed walls covered with climbing bougainvillea and an ancient theatre where you can watch a spectacular sunset. The walk is sure to inspire your appetite and your leader will be on hand to show you where to grab a great gozleme (stuffed Turkish flatbread). The rest of the afternoon is free to enjoy this easy-going town. Perhaps sit back with a pomegranate cocktail or check out the local markets. Meals: breakfast
TURQUOISE COAST
Sail and swim in the Mediterranean
Today is a relaxing day floating slowly on calm, turquoise waters. Our sail boat has plenty places to spread out and relax whether you are a sun worshipper or prefer the shade. If you're feeling adventurous, you can jump off the side into the water or climb down the side to put your feet in. Our hosts, the family who owns the boat, will prepare a simple and delicious meal (you will be begging for the recipe before we leave!). For the night, we will return to our guesthouse situated right on the water. Meals: breakfast and dinner
After breakfast, we head to Pamukkale, known as the "cotton castle" for its stunning travertine terraces created by thermal water deposits over hundreds of years. Mineral-rich waters have overflowed to create cream-colored stalactites with rumored healing properties for the digestive and circulatory systems. We'll also visit Hierapolis, a Roman bath center founded in 190 BC, featuring ancient temples, holy areas, fountains, baths, basilicas, necropolises, and an impressive theater. The rest of the evening is free to enjoy at our thermal spa hotel. Meals: breakfast and dinner
Sirince
Lunch at a female owned restaurant & cooking class
After breakfast today, we'll visit the lesser known town of Buldan in Pamukkale known for its handmade textile fabrics and traditional colorful Turkish houses. After a stroll through town, we'll continue to Sirince. Lunch today is at Hatice's Restaurant. Hatice is woman entrepreneur who started to cook just for her family and now is being one of the most influential women in the region creating opportunities for the local women and publishing her recipes. Sirince is a charming Greek Orthodox village, where you can taste the local fruit wines, stroll through the cobbled stone streets, and chat with local women selling handmade soups, cream, and ice cream. This evening we'll join with locals and experience Turkish cooking traditions firsthand in a convivial atmosphere where you'll have the opportunity to cook, chat, and create priceless memories. Drive time: approx. 3 hours | Meals: breakfast, lunch, and dinner
In the morning, we'll make our way to the fabled historic site of Ephesus. One of Turkey's most significant landmarks, this well-preserved classical city is a UNESCO Heritage site. Accompanied by a local guide, you will explore this well-preserved city and delve into its captivating 1500-year history. You'll be amazed at the city's exceptional infrastructure, which included public restrooms, a renowned medical institution, a brothel, and Roman baths. Between our amazing guide and our small group size, we may even be able to see parts of the complex off limits to most travelers. Following the Ephesus tour, we'll journey on to Ayvalik, and if time permits visit çöp(m)adam. This experimental project in Ayvalık aims to address the issues of women's employment in Turkey while recycling waste in a creative, aesthetic way. Spend sunset time on our hotel's private dock into the Mediterranean Sea! Meals: breakfast and dinner | Drive time: approx. 3 hours
Today is your day to spend it however you like! Perhaps starts the day at a hammam, a traditional Turkish bath. Then stroll through the city until you get to Istanbul's famed Grand Bazaar, featuring over 3,000 shops vying to be explored along 61 quaint streets. Hone your bargaining skills, interact with local personalities, sip on authentic Turkish coffee, and shop to your heart's content. You could also see the cityscape from the water and take a boat complete with sunset views and dinner. Our incredible guide can help you arrange whatever you like. Meals: breakfast
After breakfast, say goodbye for now but not forever. Your tour guide can help you organize a ride to the airport or transportation for your onward travels. Meals: breakfast
HAND-PICKED ACCOMMODATION
Get ready to have your mind blown by the luxury and comfort that await you on our Meetup Tour featuring some of the finest stays in Turkey! We have meticulously handpicked our accommodations to ensure that you bask in the perfect blend of plushness, location, and style. Feast your eyes on our selection of snapshots of our favorite hotels and resorts that will give you a sneak peek into the incredible ambience that you can expect on your Meetup Tour. 
Nisanyan Houses
Located in the mountains, this is a family run collection of cottages complete with a pool and incredible restaurant with beautiful views. A feature stay for its quintessential Turkish village vibes and warm hospitality.
Adem Pira Thermal Hotel
We love this hotel for all the ways you can choose to relax. There are pools both inside and out, a couple saunas, a spa, as well as a game room.
Dere Suites Hotel
This cave hotel is a perfect balance of ancient Turkish design and modern amenities. Our favorite way to enjoy this hotel is on the rooftop at sunrise with a hot cup of coffee in hand.
The whole trip was amazing
"The whole trip was amazing and it's hard to pick just a few favorites bc I loved the whole itinerary. Sleeping on the Gulet boat, hot air ballooning, Pamukkale…Sleeping on the Gulet was a beautiful experience bc I love being on boats and it was so much fun and peaceful. Our group of women were amazing and so much fun!" Faye H. | Turkey & Egypt
Inspired me to continue exploring
"Having the opportunity to learn from like-minded people and share experiences was incredible, whether this was their first solo trip or had been travelling solo for years. It both validated the complex feelings that can occur while travelling alone and inspired me to continue exploring." Emily L. | Turkey
SoFe is my favorite way to travel
"SoFe Travel brings so much to your trip to Turkey. We go into people's homes to appreciate and understand their culture and traditions. I have been on 4 SoFe Travel tours, and I'm signing up for more! You really get to experience the countries in a way you couldn't on your own and the community of women is so empowering and fun, SoFe  is my favorite way to travel." Aiheeya R. | Egypt (twice), Bali, & Turkey
We looove to collect and share photos from our Solo Female Traveler Meetup Tours. To see more images from Turkey, check out the stories on our Instagram! @solofemaletravel. When you travel with us, tag @sofetravel so we can find your posts.