This tour is of both North and South Morocco, making it an all-encompassing tour perfect for your first Morocco visit. 
Trail past the beautiful Kasbahs and gorges as we retrace the steps of the old camel caravans and enjoy the simple but magic of starlight desert nights at an oasis in the heart of the sand dunes.Between activities, we'll sleep in boutique riads and be welcomed in the homes of Berber families with nothing more strenuous than people watching while mopping up delicately flavoured tajines.
Get a real glimpse into Moroccan life as a woman with female tour guides who share their stories freely
Ride a camel to your desert camp for a night of Berber food and glamping under the stars 
Lounge on the rooftops of ancient riads soaking up Ingrid Bergman type Moroccan glam
Day 1


Casablanca Airport Pickup

Welcome to Morocco! A country known for its mouth watering Mediterranean food, instagrammable riads, desert heat, and of course - sunset views on camels. Our driver will meet you at the airport according to your arrival time and bring you to our hotel in Casablanca. Here we will meet the rest of the group for a welcome dinner. Meals: dinner
Day 2


Casablanca to Chefchaouen

You'll start the day with the architectural masterpiece built next to the crashing waves of the sea, the Mosque of Hassan II. After our introduction to Morocco and some breathtaking views, we hit the road to the Rif Mountains while stopping in the city of Rabat for a few city highlights such as the Oudaya Kasbah. The views are gorgeous and it's the best time to get to know your fellow travelers on the way to The Blue City.

Read more
Drive time: approx. 4.5 hours
Meals: breakfast
Day 3


Chefchaouen

Today is your day! Spend the day getting lost with your camera in the winding blue lanes and alleys, people watching from a cafe, and enjoying a cup of tea with a friendly local. We know all the best cafés, photo tours, henna artists, and local experiences if you want to join in an optional activity or even hike up to score the best views.
Day 4


Chefchaouen to Volubilis to Fes

Dive into Roman ruins at Volubilis, the Roman settlement city, famous for its mosaic floors, authentic bathhouses, hustling marketplace, and towering palaces. After our morning contemplating the mysteries of the past, we have some time to explore and enjoy lunch in the holiest city of Morocco, Moulay Idriss. Then, we are off to the magnificent city of Fes! Once we arrive, you have the rest of the day to relax in our old world luxe riad and venture out into the overwhelmingly dazzling city of Fes.

Read more
Drive time: approx. 4.5 hours
Meals: breakfast.
Day 5


Fes

Take it slow this morning and enjoy a home cooked breakfast before we are met by our female local guide for an exciting day. Fes is vibrant, noisy, fascinating, and a visual assault on the senses - unlike any other city in the world. Our guide will show us her world and describe the life of women in Morocco in casual conversation - no question is off limits. She will lead us to lesser known nooks and crannies and the best views of this incredible Medina. Meals: breakfast
Day 6


Fes to Ifrane to Midelt

Today we have a beautiful drive through the Middle Atlas Mountains to explore the towering cedar forest where, we will meet the Macaques Berber monkeys! After lunch, we head to the powerful female run Kasbah Meryem. This is a small co-op where local women get together to learn and produce amazing embroidery, and carpets. We'll hang out in our riad this evening and chat under the stars.

Read more
Drive time: approx. 4.5 hours
Meals: breakfast
Day 7


Midelt to Merzouga Desert

Let your desert adventure begin! As we set off for Merzouga, we pass through the Ziz Valley and the High Atlas Mountains stopping for jaw-dropping views. We will hop on 4×4 vehicles and venture out into the famous desert to see a totally different side of Morocco. We will stop by the home of a nomadic family and enjoy a cup of traditional Moroccan tea and maybe even get to taste some bread baked in their make-shift oven. As the sun begins to set at the horizon, we will ride our camels through the desert for a magical evening in a Bivouac Camp. As we settle into the camp and relax under a million stars, our guides will prepare a fresh and delicious Berber dinner.

Read more
Drive time: approx. 5.5 hours
Meals: breakfast, dinner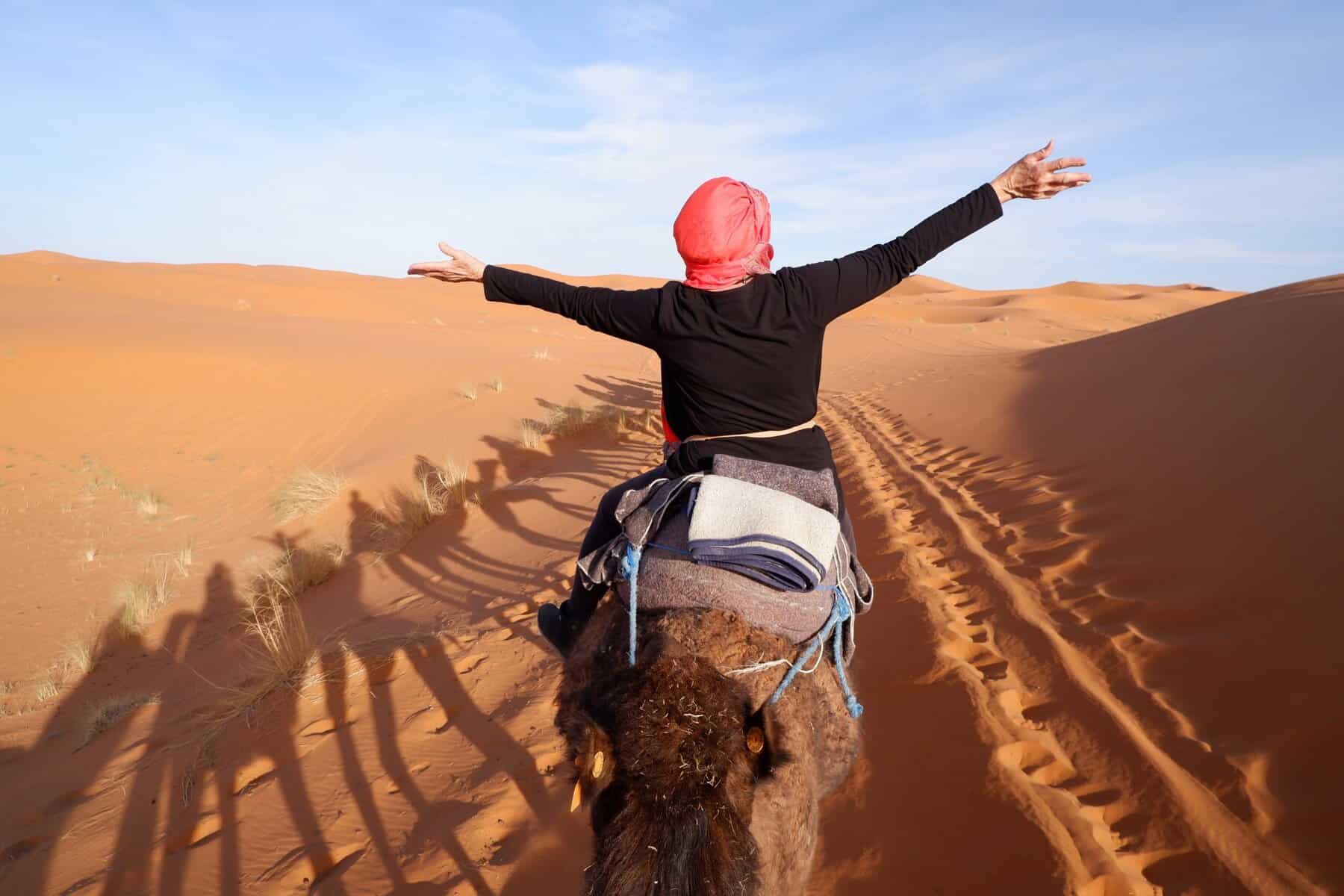 Day 8


Merzouga to Todra Gorge to Skoura

Better get your camera ready this morning! We are watching the full Moroccan sun rise over the dunes, for some of the most spectacular colors as the sun wakes up the desert. After breakfast, try some sand boarding right there at our camp before our camels take us back to town so we can stroll through the Todra Gorge, a magnificent canyon in the High Atlas Mountains. Tonight we will end in Skoura at another lovely, local owned riad.

Read more
Drive time: approx. 4 hours
Meals: breakfast, dinner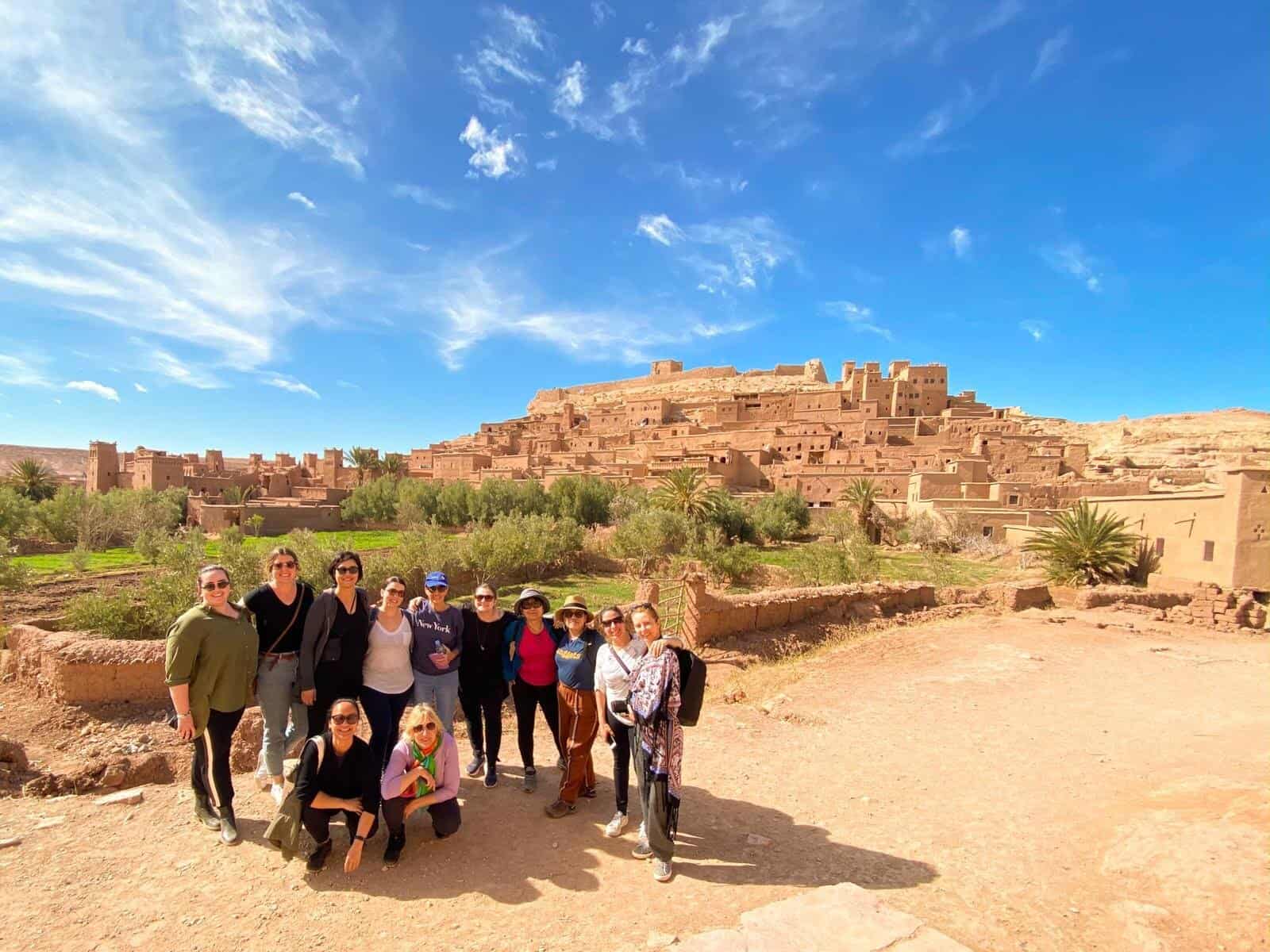 Day 9


Skoura, Ait Benhaddou to Marrakesh

Are you a foodie? Today is your day. Learn to cook authentic, slow cooking couscous and Moroccan pastries in a cooking class with locals! While the couscous cooks, spend some time with the local women of Skoura who will pour you some tea and invite you for a henna ceremony. Once the food is ready, we feast! This afternoon we will climb up through the village of Ait Benhaddou where many movies were shot.

Read more
Drive time: approx. 4 hours
Meals: breakfast
Day 10


Marrakech

Oh, Marrakech. It's hard not to fall in love with this Medina. Our local guide will take us to the highlights: Bahia Palace, Koutoubia Mosque, Medersa Ben Youssef, and Jemaa El Fna. This afternoon and evening are yours to explore. Allow the mesmerising calls to prayer, the jostling of the local merchants or the street performers take you on your own adventure. End the day relaxing in one of many rooftop bars for a glass of wine and a delicious meal. Meals: breakfast
Day 11


Marrakech

Get a little lost in the magic of Marrakech today with solo time. You can choose to try a hammam (traditional bathhouse) experience, venture to Marjorelle Gardens at YSL museum, or just wander and see where the day takes you! This evening we will meet for dinner for a farewell feast where we will reminisce over the last week and make plans to keep in touch! Meals: breakfast, dinner
Day 12


Goodbye for now

Say goodbye to the beautiful, life changing country of Morocco along with the wonderful new friendships you have made along the way. Meals: breakfast
Our accommodation is hand-picked to give you the best combination of comfort, location, and style. These are photos from our collection of favorite riads and hotels to give you a sense of the accommodation you can expect with us. 
Nestled in the mountains just outside Chefchaouen'sblue Medina, it's a quick walk to the center, yet quiet with the best view around. The restaurant serves home cooked deliciousness and there is a pool overlooking the blue hills of the whole town.
Think moonlit rooftop lounging in the heart of the Medina. Step inside and be taken to another world with the scent of fresh flowers in the air in a riad full of character and luxurious comfort. 
Last updated May 11, 2022
These are the most current Covid regulations that we have for Morocco. Keep in mind these may change on short notice, so please be alert for more communication from SoFe.
All people entering Morocco must present their original Covid-19 vaccination card AND a negative PCR test result, taken within 48 hours before the flight.
All people entering Morocco must fill out this health form AND print off a copy. You will be asked to provide this to airline staff members at check in.

You may be asked to complete a rapid tests at the airport in Casablanca. These are chosen at random. 

Medical masks are still required in Morocco, although enforcement is somewhat lax. Please bring several medical masks with you.
US citizens traveling to Morocco for tourism or other short-term purposes are not required to get a visa. US citizens, along with several other nationalities, are exempt from Morocco visas and can visit the country with just their passport and a return flight ticket for up to 90 days.
If you hold a different passport, a visa upon arrival for stays less than 90 days is available for many other nationalities. Please check the government website for the most up-to-date regulations.
Is this trip right for you?
Morocco is a large country with few means of public transportation and airport access. In order to see the best parts, there are some long drives. There are always beautiful views and things to see on the way, but be ready for long drives. 
We will be in some remote corners of the country where public bathrooms are not always very clean and may require a bit of change to use. The facilities in our accommodation are clean and use western toilets, but it won't always be the case on the road. 
Riads used to be people's homes, so rooms are not always equal in size or view. We do our best to keep it even throughout the trip, but some may get luckier than others. We guarantee twin beds, but sizes may also vary even between roommates. 
The best adventure I've ever had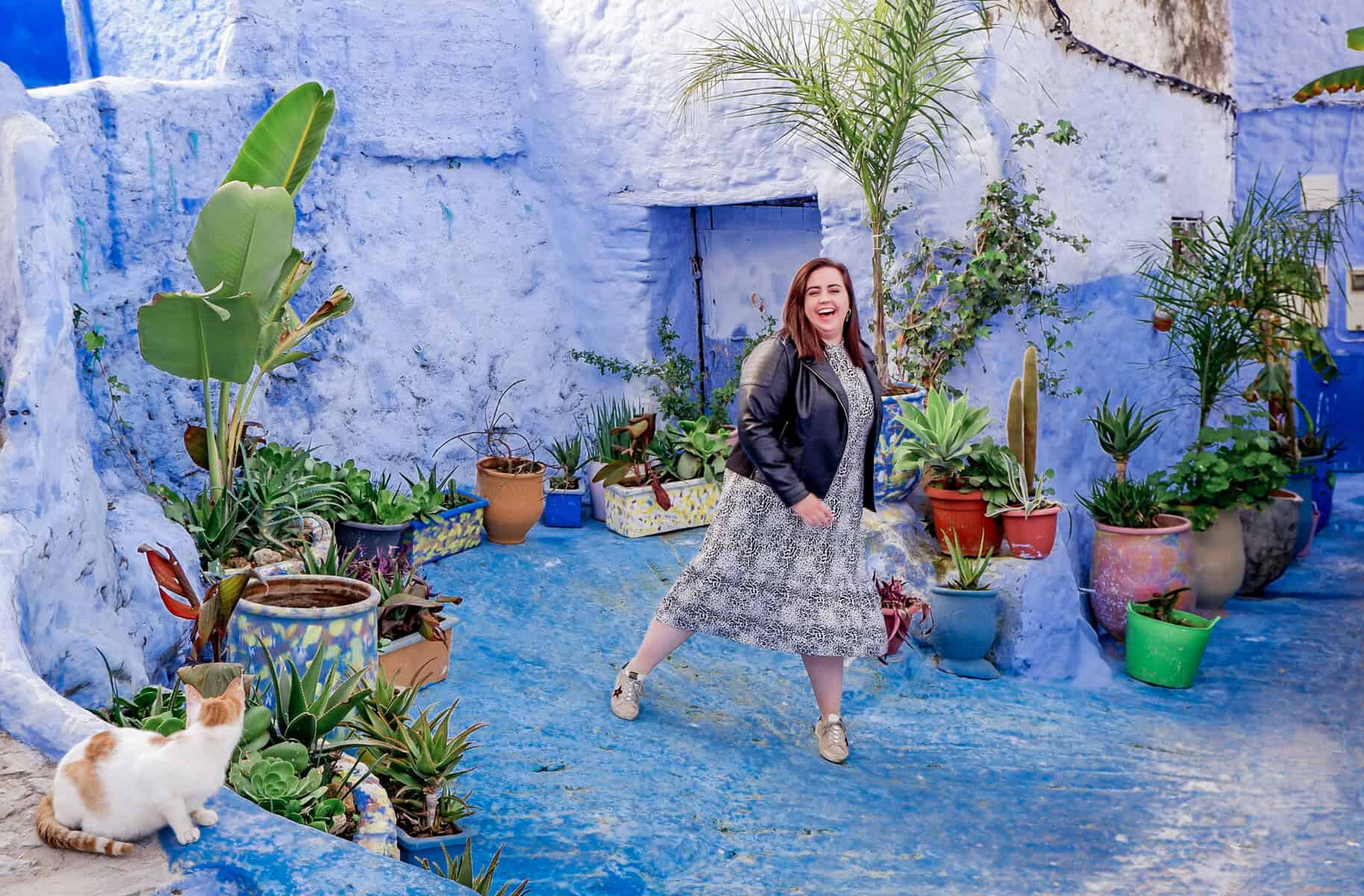 "While I could rave all day about the experiences I had exploring this amazing country, something I did not expect to discover during this trip was the network and sisterhood I developed with the other women on this trip." Anna G. | Morocco
100% recommend this company
"If you're looking for a very well run tour they gives you some structure but also free time go wander as well as the opportunity to meet people from all walks of life then I can 100% recommend this company for travel. I was so impressed and it's one of the best experiences of my life." Jennifer H. | Morocco
Incredible tour through Morocoo
"The group meshed incredibly well and there was ruckus laughing the entire time. Morocco is a stunning country and I would go back in a heartbeat. SoFe nailed it and I can't wait for my next trip with them." Jaime A. | Morocco