Women only tour to Morocco
Trail past beautiful Kasbahs and deep gorges as we retrace the steps of the old camel caravans and enjoy the simple magic of starlight desert nights in the heart of the sand dunes. 
Between activities, we'll be welcomed into the homes of Berber families and sleep in boutique riads  with nothing more strenuous to do than people watching, and mopping up delicately flavoured tajines. Morocco will mesmerize and inspire you at every step of the journey.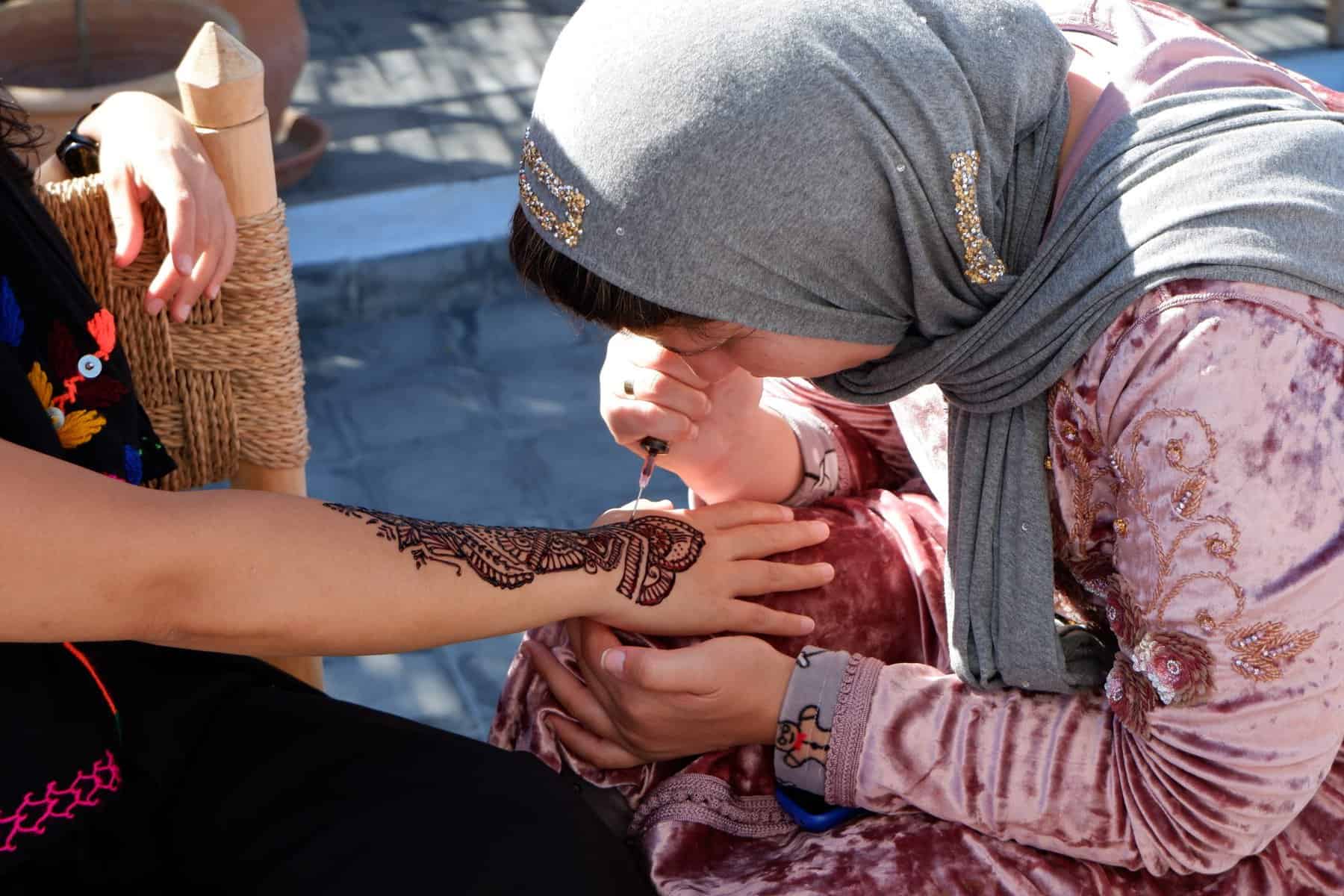 Get a real glimpse into Moroccan life with female tour guides who share their stories freely
Lounge on the rooftops of ancient riads soaking up Ingrid Bergman type Moroccan glam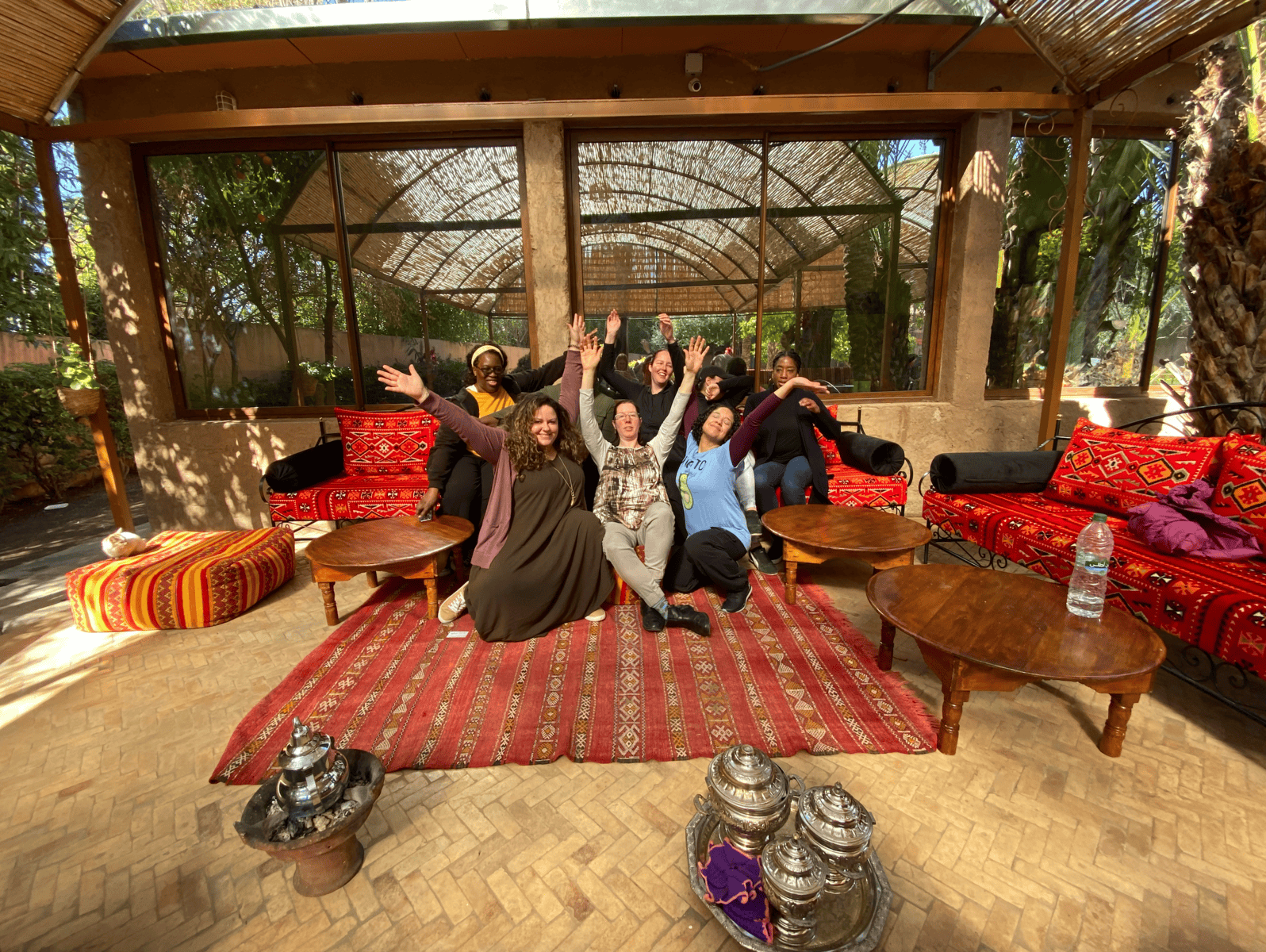 Join the women of an NGO for a cooking class learning traditions and sharing stories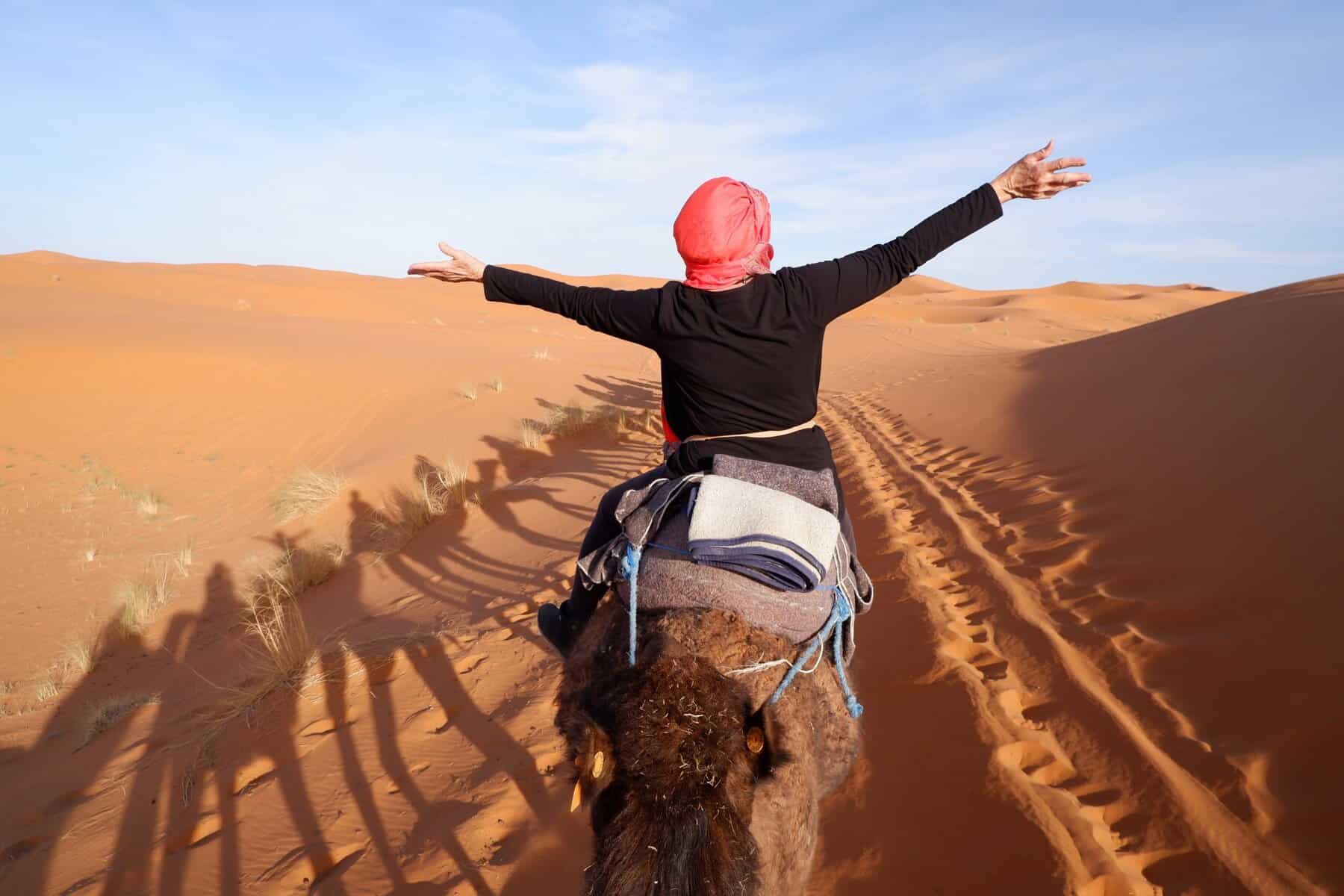 Ride a camel at sunset over the sand dunes of the Sahara ending at a luxury desert camp
You'll be invited into the local homes of women who will serve you homemade meals + a few surprises.
Enjoy plenty of solo time on this Meetup Tour to explore medinas and people watch from cafes.
Consider this a road trip through Morocco! The best sites in Morocco are spread out and sometimes require long drive times to reach. If you are prone to motion sickness, come prepared. We'll be comfortable in our private, air-conditioned mini-bus, watching beautiful Moroccan scenes pass by outside your window.
Proof of travel insurance is required before joining day 1 of any Meetup Tour. International flights are not included.
People often leave our Meetup Tours with friends for life and couches to crash on all over the world.
Spend it with friends or explore on your own, but take time to reflect on your incredible journey.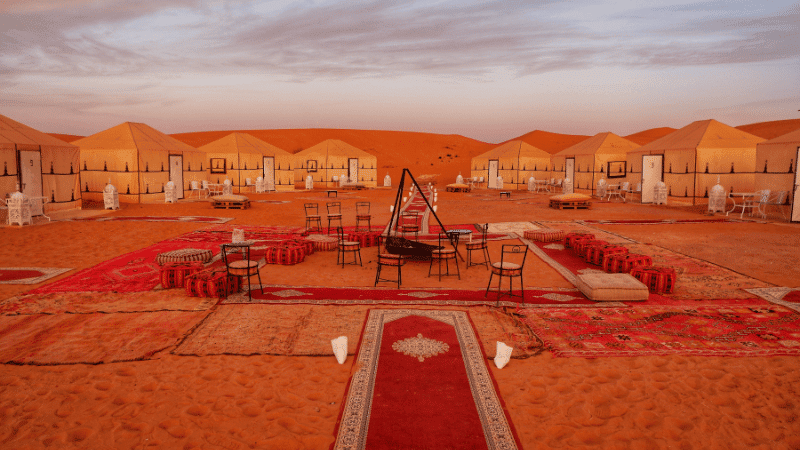 Enjoy our hand-picked accommodation combining the best of design, location and comfort.  
WELCOME TO CASABLANCA!
Airport pickup, welcome meeting & dinner
Salam Alaykoum, welcome to Morocco! A country known for its flavorful food, layered history, instagrammable riads, and of course – sunset views from the backs of camels. Our driver will meet you at the airport according to your arrival time and bring you to our hotel in Casablanca. Here we will meet the rest of the group for a 6pm welcome meeting and dinner. Meals: dinner
CASABLANCA TO CHEFCHAOUEN
Tour of Hassan II mosque, arrival at The Blue City & solo time
You'll start the day with a tour of Hassan II Mosque, an architectural masterpiece built next to the crashing waves of the sea. After our introduction to Morocco with a tour of the mosque and breathtaking views, we hit the road to the Rif Mountains on our way to Chefchaouen, The Blue City! Once we arrive, enjoy solo time walking around the neighbourhood or at your hotel with views overlooking the city, a sunny pool, and the best restaurant around. Meals: breakfast | Drive time: approx. 4.5 hours
SOLO DAY IN THE BLUE CITY
Solo time to explore & optional activities
Today is your day! Spend the day getting lost with your camera in the winding blue lanes and alleys, people watching from a cafe, and enjoying a cup of tea with a friendly city resident. We know all the best cafés, photo tours, henna artists, and local experiences if you want to join in an optional activity or even hike up to score the best views. Meals: breakfast
CHEFCHAOUEN TO VOLUBILIS TO FES
Visit Volubilis, a pilgrimage village & arrive at our feature stay 5* Riad in Fes
Step foot into impressive Roman ruins at Volubilis, once a provincial capital famed for its mosaic floors, steaming bathhouses, hustling marketplace, and towering palaces. After our morning contemplating the mysteries of the past, we visit the sacred pilgrimage village of Moulay Idriss where we'll have home-cooked lunch with a local family. Then, we are off to the magnificent city of Fes. Once we arrive, you have the rest of the evening for solo time in our dreamy 5 star riad. Meals: breakfast, lunch | Drive time: approx. 4.5 hours
FES MEDINA

Guided tour of Fes, Pastilla dinner & surprise
Take a female-led guided walking tour through the old city, known by locals as Fes el Bali. Step back in time to the Middle Ages in the labyrinth of the Medina, one of the largest car-free urban zones in the world alive with craftsmen, markets, tanneries and mosques. Visit Medresse el Attarine and the splendid Funduk Nejjarine, a beautifully restored 18th century inn. You'll also see the famous tannery, known for the iconic view overlooking its dye pits, and a ceramics factory where you can see potters working in traditional methods, and taste local delicacies. We finish our day with dinner at local family house. Here, we are treated with one of the city's signature dishes, pastilla (or bastilla), a salty and sweet pastry parcel. After dinner, the ladies have a special surprise for you! Meals: breakfast and dinner.
FES TO MIDELT

Farm visit, home cooked lunch & bread making demonstration
We exchange the intensity of the city for the simplicity of the scenic Middle Atlas Mountains. Southbound, we drive inland through a variety of spectacular scenery – fertile valleys, cedar and pine forests and barren, rocky landscapes. The area is populated with wandering nomadic shepherds attending to their flocks. Pass through cedar forests which are home to Barbary apes, North Africa's only monkey, and on to our destination: the market town of Midelt. On arrival we join our host for a farm visit and home-cooked lunch. In the late afternoon stretch your legs as you explore the nearby village of Bremmem and enjoy a bread making demonstration with local woman. Meals: breakfast, lunch and dinner | Drive time: approx. 4 hours
MIDELT TO MERZOUGA DESERT

Sunset camel ride, desert dinner & luxury glamping
Today continue the journey to wonderfully isolated Saharan village of Merzouga, backdropped by the orange Erg Chebbi sand dunes. It feels like the modern world has left us behind. An erg is a vast sea of shifting wind-swept sand that's formed into picturesque, undulating crests and valleys. The Erg Chebbi is one of the world's iconic landscapes, with towering dunes up to 150 meters in height, this feels like frontier country. We hop onto a 4WD and cruise to the edge of the Sahara Desert where our luxury glamping site awaits. After check in, experience sunset from the backs of camels. The dunes are stunning, especially at this time of the day, and tonight we stay in luxury glamp style tents, enjoying lively music and dancing under the stars. Meals: breakfast and dinner | Drive time: approx. 5 hours
TODRA GORGE & SKOURA

Todra Gorde scenic drive
Rising early, we'll witness the most spectacular colors as the sun wakes up the Sahara desert. Leaving camp we set off on a spell-bounding drive through the impressive Todra gorges, a series of limestone river canyons up to 400 meters high. We stop often to admire the landscape and take pics! From here we continue to the palm grove of Skoura, our home for tonight. Meals: breakfast and dinner | Drive time: approx. 4 hours
AIT BENHADDOU & MARRAKESH

Cooking class and lunch with local NGO & walking tour
Today, we'll create authentic, slow cooking couscous dishes and Moroccan pastries in a cooking class with locals! While the couscous readies, spend time getting to know the women of Skoura over tea. Once the food is ready, we feast! This afternoon we will walk through the village of Ait Benhaddou, the location of many famous movies, before continuing on to Marrakesh for a solo evening. Meals: breakfast and lunch | Drive time: approx. 4 hours
MARRAKECH

Guided tour of Marrakech old medina & Workshop at Nour Association
Oh, Marrakech. It's hard not to fall in love! Our local guide will take us to a workshop at Nour Association. Afterwards we'll visit Bahia Palace, Jardin secret, spices market and Koutoubia. This afternoon and evening are yours to explore. Allow the mesmerising calls to prayer, the jostling of the local merchants or the street performers to take you on your own adventure. We suggest ending the day relaxing in one of many rooftop bars for a glass of wine and a delicious meal. Meals: breakfast
MARRAKECH

Solo day in Marrakesh & farewell dinner
Get a little lost in the magic of Marrakech today with solo time. You can choose to try a hammam (traditional bathhouse) experience, venture to Marjorelle Gardens at YSL museum, or just wander and see where the day takes you! This evening we will meet for a farewell feast a restaurant owned and run only by women, where we will reminisce over the last week and make plans to keep in touch! Meals: breakfast and dinner
Say goodbye to the beautiful, life changing country of Morocco along and farewell (for now) to the wonderful new friendships you have made along the way. As your tour comes to a close, ask your guide to help arrange transportation to the airport. Check out by 12pm. Meals: breakfast
Hand-picked Accommodation
Our accommodation is carefully chosen to give you the best combination of comfort, location, and style. These are photos from our collection of favorite hotels and riads to give you a sense of the accommodation you can expect with us. All of our accommodation is 4 and 5 star with many beautiful views in prime locations.
A classic Moroccan riad with extra attention to detail make this a stay one of our favs. Enjoy delicious meals on the rooftop with sweeping views of the Medina. Jump in the pool after an exciting day of sightseeing.
Luxury Camp, Sahara Desert
Beautiful and comfortable, a night under the stars after a traditional Bedouin dinner is one you will never forget. Tents include a private bathroom, regular beds, and a sunset like you've never seen.
Riad Al Jazira, Marrakech
White, simple, and uncluttered this riad oozes Moroccan elegance. Decorated with local art and splashes of color, relax by the pool, rooftop, multiple beautifully patios, and a fireplace. 
Arrival: Mohammed V International Airport in Casablanca (code CMN) 
We will will have an airport transfer waiting for you when arrive. The transfer will take you from the airport to our group hotel in Casablanca.
If you arrive a day or two early, the airport transfer is not included. Please email us directly if you book flights outside this window so we can assist with the procedure.
Our tour starts at 6pm, so we recommend that you arrive no later than 3pm on day 1. However, we will pick you up from the airport anytime on day 1.
Departure: Marrakesh Menara Airport (RAK) anytime after 11:00am on tour end date
Airfares
Visa fees if applicable
Travel insurance (mandatory)
Tips for the driver and guide.
Airport drop off –> reminder that this tour ends in a different city than it begins.
A non-refundable $500 deposit is required to hold your spot.
Final payment is due 90 days before departure.
Pay as much as often as you like until the due date.
No refunds on deposits.
The best adventure I've ever had!
"While I could rave all day about the experiences I had exploring this amazing country, something I did not expect to discover during this trip was the network and sisterhood I developed with the other women on this trip." Anna G. | Morocco
100% recommend this company!
"If you're looking for a very well run tour they gives you some structure but also free time go wander as well as the opportunity to meet people from all walks of life then I can 100% recommend this company for travel. I was so impressed and it's one of the best experiences of my life." Jennifer H. | Morocco
Incredible tour through Morocco!
"The group meshed incredibly well and there was ruckus laughing the entire time. Morocco is a stunning country and I would go back in a heartbeat. SoFe nailed it and I can't wait for my next trip with them." Jaime A. | Morocco
We love to collect photos from as many of our Meetup Tours as possible. If you want to see more, check out the stories on our Instagram! @solofemaletravel. When you travel with us, tag @sofetravel and you may even get featured!