Dive deep into the riches of Egypt's history and see your childhood textbooks come alive right before your eyes.
This women only tour to Egypt balances history, luxury, and culture – and some of the best Egyptian cuisine a girl could ask for! From learning to read hieroglyphics to sailing down the Nile, to coming face to face with King Ramses III's mummy, your time in this ancient land of mythical wonders will never be forgotten.
Weather in Egypt can reach high temperatures, especially in summer. All of our accommodation and transportation is air conditioned, but some sites have little shade. Be aware that exposure to the elements is at times unavoidable. 
Proof of travel insurance is required before joining day 1 of any Meetup Tour. International flights are not included. 
New Advice for Canadians entering Egypt after October 1st, 2023! Starting October 1, 2023, Canadian passport holders will not be able to obtain a visa online before travelling to or upon arrival in Egypt. Visitors will be required to obtain a visa from an Egyptian embassy or consulate abroad.
 People often leave our Meetup Tours with friends for life and couches to crash on all over the world.
From driver to guide to included experiences. You only need take out your wallet for those extra feteer.
Enjoy our hand-picked, premium accommodation combining the best of design, location and comfort.  
WELCOME TO CAIRO
Egypt welcome and city food tour
Welcome to Egypt! Your adventure begins with an airport greetings and our VIP escort. You will be transferred to our beautiful Cairo hotel before heading out to the best introduction to Egypt: a food tour! Here, our expert Egyptologist guide will lead us through favourite local food hangouts, and we'll get our first taste of Cairo cuisine. Meals: dinner 
CAIRO
ATV ride past the pyramids at sunset
After our welcome meeting and breakfast this morning, we'll listen to stories of ancient Egypt on the short drive to the famous Pyramids of Giza! Learn why these stunning tombs exist, and how they are so well preserved. There's time to wander solo and absorb the grandeur before we tuck into a traditional Egyptian feast at a beloved SoFe lunch spot. Don't give into that food coma just yet though, because it's time to see the Sphinx (and maybe give him a kiss for a photo!). From here, we satisfy our inner adrenaline junkies and hop onto an ATV to watch the sun set behind the pyramids. Your leader will step in to assist with capturing photos that will surely make you the star of every dinner party for the rest of the year. We end the day with a drink at a nearby rooftop restaurant. Meals: breakfast & lunch.
ASWAN
Flight to Aswan, Philae Temple & solo afternoon
We'll hop on an early morning flight to Aswan, approximately 2 hours flying time. After landing, we visit Philae Temple located on an island in the middle of the mighty Nile River. Dedicated to the goddess Isis, we'll wander through the temple learning about women's roles in ancient Egypt. Before we go, say hello to the many cats hanging out like locals at the cafe (which has excellent lemon mint juice). We check into our beautiful hotel for a free evening. There are many amenities to enjoy at your leisure, including a refreshing pool. Meals: breakfast. 
ASWAN
Abu Simbel & float down The Nile on a felucca
Today our small existence impresses upon us as we stand next to the giant carvings at Abu Simbel, which is first on the agenda. Next to the pyramids, it's arguably one of the most impressive Egyptian sites. It's not to be missed, and is totally worth the longer distance to visit. Afterwards, we settle in onboard a felucca, and float the day away as we cruise down the Nile river with a delicious lunch and dinner spread generously prepared by Nubian villagers. There's no better way to watch the sun set than drink in hand, new friends all around and the glimmering Nile waters before you. Meals: breakfast, lunch & dinner  | Drive time: 5 hours
LUXOR
Train ride to Luxor, Karnak & Luxor Temples
This morning we set off on a train journey past villages and lush farms on our way to Luxor. Once in Luxor, we take the opportunity to marvel at the second largest temple complex in the world –  the awesome Temple of Karnak. The massive engraved columns, towering obelisk and offering table room are highlights of this magnificent temple. Once the sun goes down, the Temple of Luxor lights up beautifully. We'll do a night walking tour to see some of the most important carvings in ancient Egypt. Meals: breakfast & lunch  |  Train journey: 3 hours
LUXOR
Valley of the Kings & Hatshepsut Temple
This morning, choose between waking up for sunrise and doing an optional hot air balloon ride (when in Egypt…) or sleeping in and enjoying a more genteel start to the day. We'll meet up for a tour to Luxor's best ancient wonders: the Valley of Kings! We'll see hieroglyphic covered tombs belonging to famous pharaohs. Following the Valley of Kings, we visit the female-focused Temple of Queen Hatshepsut, one of the few female Egyptian rulers. Meals: breakfast & lunch.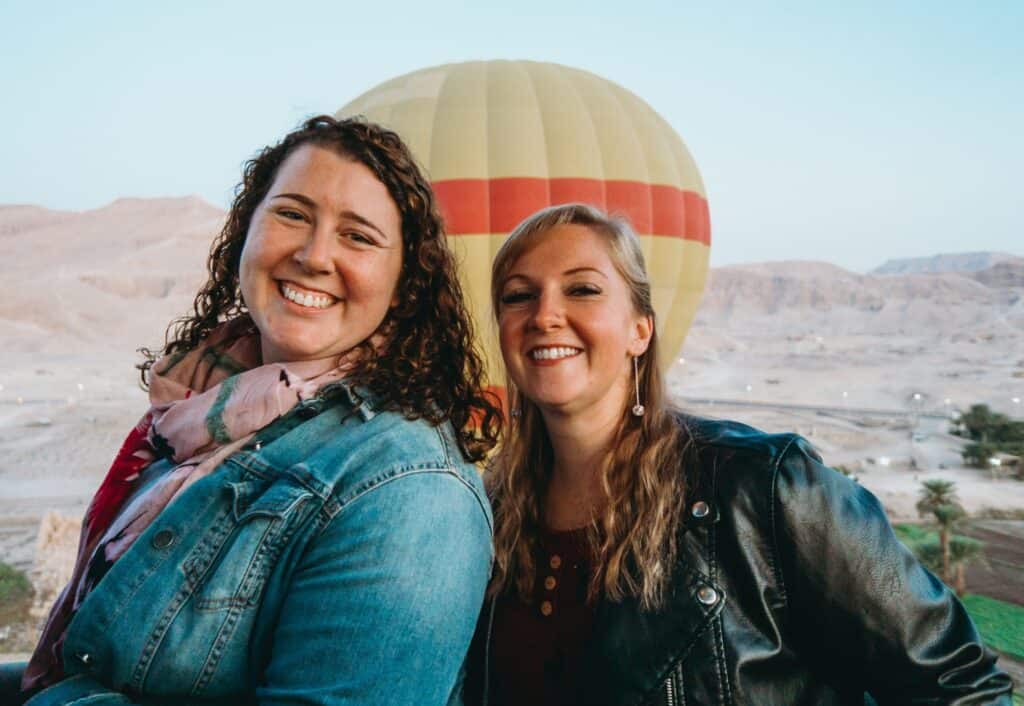 CAIRO
Flight to Cairo, Egyptian Museum & Khan El Khalili Market
After a short flight back to Cairo, visit the Egyptian Museum packed full of artifacts, mummies, tombs, statues, hieroglyphics, and much more. Before you wander off to explore all the nooks and crannies, our Egyptologist guide will describe fascinating aspects of Egyptian history. For lunch, we recommend one of Egypt's most beloved dishes – koshary. Bellies full, we visit the Mosque of Ibn Tulun and learn about Islam from a female NGO representative whose mission is to describe the beauty of Islam and how women fit into the religion. She will gladly answer any questions that we may have. Climb the stairs to the minaret to be rewarded with views over Cairo, or simply enjoy the intricate details of this beautiful mosque. We'll finish the afternoon by exploring the biggest market in Egypt: Khan El Khalili Market. The winding alleyways of the market house souvenirs, gifts and Egyptian food. Meals: breakfast & lunch. 
It's the last day of The Egypt Meetup Tour, but it doesn't have to end! Either check out any time today (your guide can help you arrange transportation to the airport) for your flight home, or stay on with us as we continue to Dahab for a full-blown beach vacation. Dahab details below!
Dahab is a beachy paradise on The Red Sea. It's the darling seaside escape for both Egyptian and international visitors, but isn't so built up that it loses any of its charm. The town is small and colorful. Seaside restaurants abound, and make for ideal sunset hangouts and refueling spots in-between dives. On that note, the snorkeling and diving in Dahab is some of the very best- and most affordable- in the world. 
How it works: when the Egypt Meetup Tour ends, we hop onto a flight to Sharm el-Sheik and arrive in Dahab in time for a welcome lunch and afternoon chill session. The next few days have a range of activities planned, from snorkeling to a 4×4 desert tour and stargazing at a Bedouin camp. There'll be plenty time to kick back and soak up the glorious Egyptian sun, dive, read or hangout with new friends. Note that this extension starts on the last day of The Egypt Meetup Tour, so adds 4 days, not 5, to your whole trip.
If booking both The Egypt Meetup Tour as well as The Dahab Meetup Tour, choose Dahab as an add-on when purchasing Egypt.
Hand-picked Accommodation
Our accommodation is carefully chosen to give you the best combination of comfort, location, and style. These are photos from our collection of favorite hotels and resorts to give you a sense of the accommodation you can expect with on your Meetup Tour. All of our accommodation is of 4 and 5 star level in prime locations, and many have gorgeous views to boot.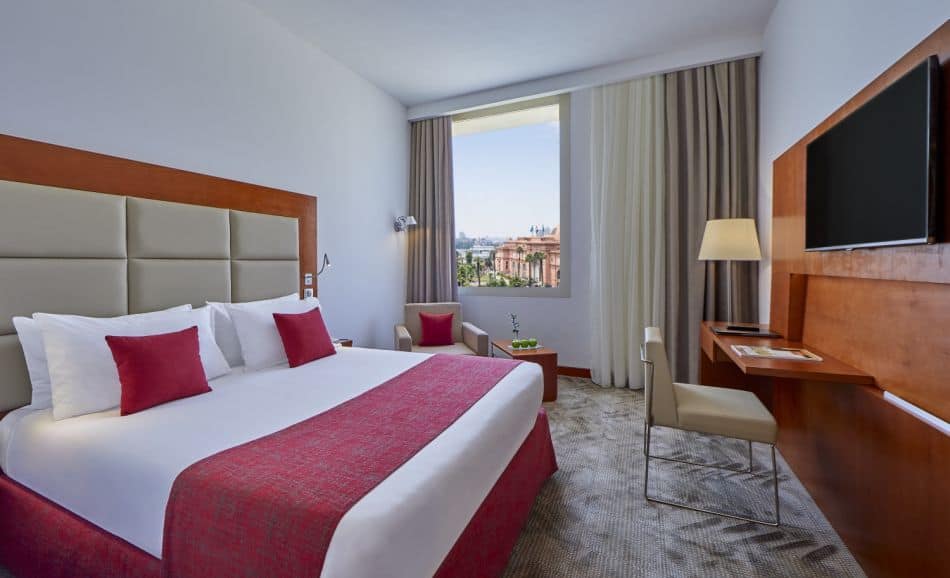 Steigenberger Tahrir Square
Offering a delicious breakfast and a central location in the heart of the city, the Steigenberger Hotel will serve as your home base in the bustling city of Cairo. 
Sweeping views of the Nile and a beautiful outdoor lounge area are ideal backdrops for those sundowners with new friends.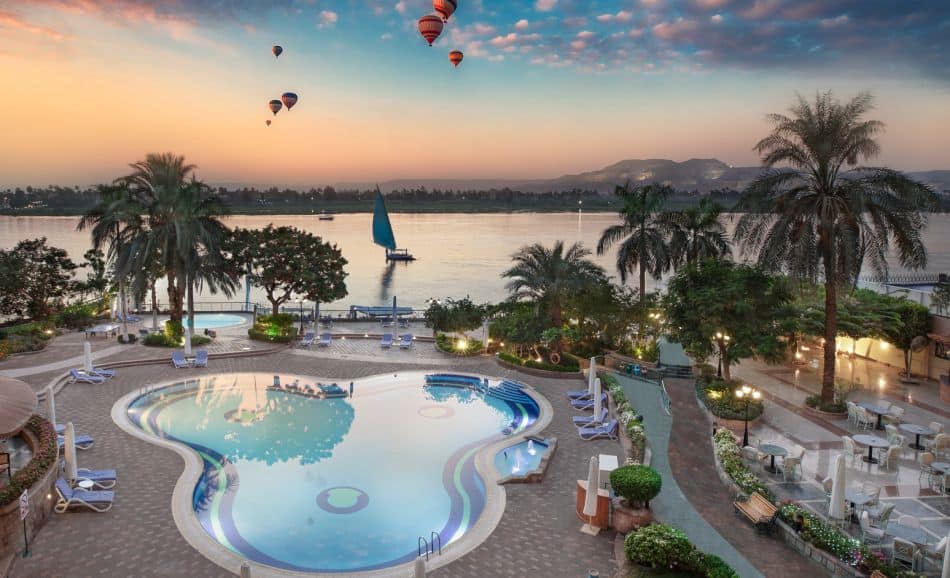 5 star amenities and the location (right on the Nile!) make this one of our favorite hotels for a dip in the pool between iconic temple visits. 
This tour was epic in every way
"This was my 2nd solo trip with SoFe. I initially went to Bali and because that tour was so good I decided to go to Egypt meetup and I am so happy that I did. This tour was EPIC. I am even planning on going on this same tour again to experience it all over again!" Aihee R. | Egypt & Bali 
"I'm 100% going to book another trip, although this one will be hard to beat. This trip was everything and more I could ever ask for. I saw places I only ever saw in photos, experienced "Egyptian Hospitality" first hand, had stereotypes of the middle east shattered, watched the sunrise over the Sahara, swam in the Nile AND the Red Sea, and danced to the sound of Nubian drums on a felucca at sunset on the Nile. How could a girl ever ask for more? This trip was the perfect blend of history and education, culture, great food, bucket list items completed, and topped off with even better company." Dani B. | Egypt
The Egypt Meetup was life-changing.
"The Egypt SoFe trip was life-changing, truly! From our amazing egyptologist guide, Sameh, to the sites and wonders of Egypt, and the amazing women that I got to meet and travel with, it was extraordinary. The experiences shared and the memories made are unparalleled and will hold a place in my heart forever. Thank you SoFe Traveler Network." Darlyne M. | Egypt
We looove to collect and share photos from our Solo Female Traveler Meetup Tours. To see more images from Egypt, check out the stories on our Instagram! @solofemaletravel. When you travel with us, tag @sofetravel so we can find your posts.