Feast not only your tastebuds but your imagination on this enthralling women only tour to Japan seeing everything from street food finds to mesmerizing temples and jam packed city streets lit by the neon lights and the cosy flickers from tiny restaurants, street vendors and shop windows.
Japan is an eclectic mix of old world tradition and new-age technology. There's so much to discover in Japan that it's hard for a solo traveler to know where to start! Which is where we come in – we've created our Japan Meetup Tour itinerary to showcase not only the must-visit cultural sites, but also give you an inside look and access into the daily life and traditions of people living in Japan. From dining with sumo wrestlers to sipping boba tea and learning to make your own ramen, this women-only tour will seriously inspire you, and keep your bellies pleasantly full along the way. 
Japan is best explored on foot. Make sure your shoes are comfy and that you are fit enough to spend most of each day on your feet. 
This trip travels primarily on public transport, as it is so efficient and convenient in Japan. Fast trains are used to move between cities, as well as public buses and metro. In order to make travel easier, we have included luggage transfer (one piece of luggage) between destinations and recommend packing light.
Proof of travel insurance is required before joining day 1 of any Meetup Tour. International flights are not included. All SoFe Travelers are required to prove that they are fully vaccinated against Covid-19 OR produce a negative test taken at least 72 hours before the start of the Meetup Tour.
People often leave our Meetup Tours with friends for life and couches to crash on all over the world.
From driver to guide to included experiences. You only need take out your wallet for those extra Shioyaki.
Enjoy our hand-picked, premium accommodation combining the best of design, location and comfort.  
WELCOME TO TOKYO!
Welcome meeting & first taste of local cuisine
Konnichiwa! Welcome to the quirky cultural capital of Japan. A must-see city for any traveler, Tokyo is the most populated in the world with incredible diversity and exceptional food and cultural experiences. It's a meeting point for old world traditions and futuristic technology. Fly into one of Tokyo's main international airports, Narita (NRT) or Haneda (HND) and hop in a pre-booked, shared shuttle to your hotel located in central Tokyo. We recommend arriving before 3pm so you arrive in time for our welcome dinner and first meeting at 6 pm. Tonight's meal is at a local favorite chosen by your guide. It's guaranteed to be an excellent first taste of Japan. Meals: dinner
TOKYO
Tsukiji Market, lunch with Sumo wrestlers, Akihabara district
Let's get into it today with an adventure through the city!  After a breakfast with a side of sweeping city views, we head to the famous Tsukiji Outer Market. This is the largest fresh seafood market in Japan. Wander through the narrow aisles, people watching and stopping for streetfood snacks. Next we join real Sumo wrestlers at their practice. We'll listen to stories about their careers and share their lunch meal – on the menu is their soul food "chanko nabe" – an experience all on its own! After lunch, we hop on the subway and continue to the famous Akihabara District: the centre of Japan's otaku culture. Devoted to anime and manga, the streets are as colorful as the graphic novels. We'll have dinner at a local Izakaya restaurant, continuing the trend of delicious Japanese food. Meals: breakfast, lunch and dinner
TOKYO
Meiji Shrine, sushi making class, solo time
This morning find your zen and witness Japan's spirituality at Meiji Shrine, located in a lush green forest in the center of the city. We venture to Harajuku district, the home of youth pop culture. Sip boba tea, wander past cosplay shops, vintage clothing stores, and upscale boutiques. We are preparing lunch today in a private sushi making class! Sushi is more than just a delicious meal, it is also a large part of the art and history of the country. The rest of the afternoon is yours to explore Tokyo as you please. There is so much to uncover! Your guide can help you create a beautiful route to explore solo or with new friends. Meals: breakfast, lunch
TOKYO TO HAKONE
Train to Hakone, boat cruise, and sleep in a ryokan
Say sayonara to Tokyo this morning and board a train bound for the mountainous hot-spring town of Hakone. Away from the hustle and bustle of Tokyo, Hakone offers tranquility amidst stunning natural scenery. In the afternoon, take a cable car up the mountains to the sulphur vents of Owakudani with stunning views of Mt. Fuji. Then sit back and enjoy a serene Ashinoko Lake cruise on a boat trip. After getting our fill of those iconic sweeping views, we'll check into our very special accommodation for the night! Experience the design and ambience of a traditional Japanese ryokan without sacrificing any modern comforts. Each room comes with a private hot spring (onsen), and there are larger public indoor and outdoor onsens that overlook the surrounding greenery. Tonight you'll enjoy dinner on-site, where you'll be served up a feast of classic Japanese dishes. Meals: breakfast and dinner
HAKONE TO KYOTO
Bullet train, Fushimi Inari Shrine & tea with a geisha
Continue your Japanese journey on a 3 hour ride on a shinkansen (bullet train) to Kyoto. Founded in AD 794  as Heian-kyo – meaning 'tranquility and peace capital' – Kyoto was the capital of Japan for over 1000 years before the emperor and government relocated to Tokyo. Because of this, Kyoto is rich in history with over 2000 temples, shrines and gardens. We head to Fushimi Inari Shrine first, famed for its thousands of reddish-colored torii gates. Get lost in on the network of trails, and be sure to snap a few photos of this iconic landmark. Our guide will take us on a hike up the hill, away from most of the crowds, to give you  the best view and most peaceful feel of the place. Later on, join your guide on a visit to the historic Gion area of town, where you will have a experience a traditional tea experience with a Maiko, a geisha in training! Learn about her life and the art of traditional tea. Meals: breakfast and dinner
KYOTO
Ramen making workshop
This morning we will visit Kiyomizu temple, which translates to Temple of Clear Water. The famous view platform located up on the hill has sweeping views. Wander here, and spend time exploring before heading to a private Ramen making workshop. Ramen is one of the most popular foods in Japan, and there are plenty of varieties from soy sauce, miso to pork bone soup and more. Take home the skills you learn here to impress your friends and family at your next dinner party! Later we'll walk off the big lunch in Arashimaya. Here we'll explore the famous bamboo path, taking our time to enjoy the quintessential Japanese atmosphere and snap plenty of photos. The rest of the afternoon is free for you to discover more of Kyoto on your own. Meals: breakfast, lunch
KYOTO TO HIROSHIMA

Peace Park and okonomiyaki dinner
We jump aboard the bullet train today for about 2.5 hours to our next destination: Hiroshima,. After arriving, we visit Hiroshima's Peace Park. The Genbaku (A-Bomb) Dome and Peace Memorial Museum stand testament to the fateful day in August 1945 when Hiroshima was chosen as target for the first ever wartime use of the atomic bomb. The dome was just meters from where the bomb detonated. It was able to retain its shape and the fact that it looks almost exactly as it did after the bombing has made it an enduring symbol of peace. Your guide will tell stories of brave people and important history that helped shape Japan as it is today. This evening, try one of the city's signature dishes for dinner – okonomiyaki, a savory pancake of egg, cabbage, soba noodles, and meat or seafood. Meals: breakfast, dinner
HIROSHIMA
Miyajima Island and solo time
Today we'll make our way to the nearby island of Miyajima with its famous floating torii gate. We'll explore the island on our own or with the group. If you feel like a climb, head up Mt Miyajima by foot or if you're more of a cable car kind of gal, they have one of those too. Either way you are in for 360-degree views of the Inland Sea. The rest of the day is free to enjoy this very welcoming and equally beautiful city. You could stop by the magnificent five-storied Hiroshima Castle, which originally dates from the 1590's, or the Shukkeien Garden featuring graceful teahouses and waterfalls. Meals: breakfast 
HIROSHIMA TO OSAKA
Explore a Samurai castle
Just outside of Hiroshima is Japan's most impressive samurai castle: Himeji. We'll travel about an hour on a bullet train to see it. The castle has miraculously survived earthquakes and wars since the mid-16th century. Its restoration in 2015 brought to life the moats, baileys, towers and walled alleyways that were ingeniously designed to trick attackers and house over 10,000 samurai families. Hop back on the shinkansen for another 30-minute train trip to Osaka. Osaka is Japan's third-largest city and unofficial culinary capital, where the motto is 'Kuidaore', which means 'eat until you drop' holds popular. Osaka offers some of Japan's best street food. There are sprawling shopping hubs and tiny backstreets overflowing with restaurants and bars serving up local delicacies as well as Japan's answer to fast food: kaiten-zushi. Osaka is credited with the first  conveyer belt sushi restaurant. We visit the Dotonbori shopping area, where you'll be amazed by the variety of street food available and the neon and buzz of this vibrant area. It's here you'll find the famous Glico running man sign and the giant crab – photographed by visitors the world over. This evening we celebrate our last night in Japan with dinner in one of Osaka's sukiyaki/shabu restaurants. Meals: breakfast and dinner.
As your tour comes to a close, ask your guide to help arrange transportation to the airport or to your next destination. Check out by 10am. Enjoy breakfast, and if you're like us, start dreaming about your next adventure! Meals: breakfast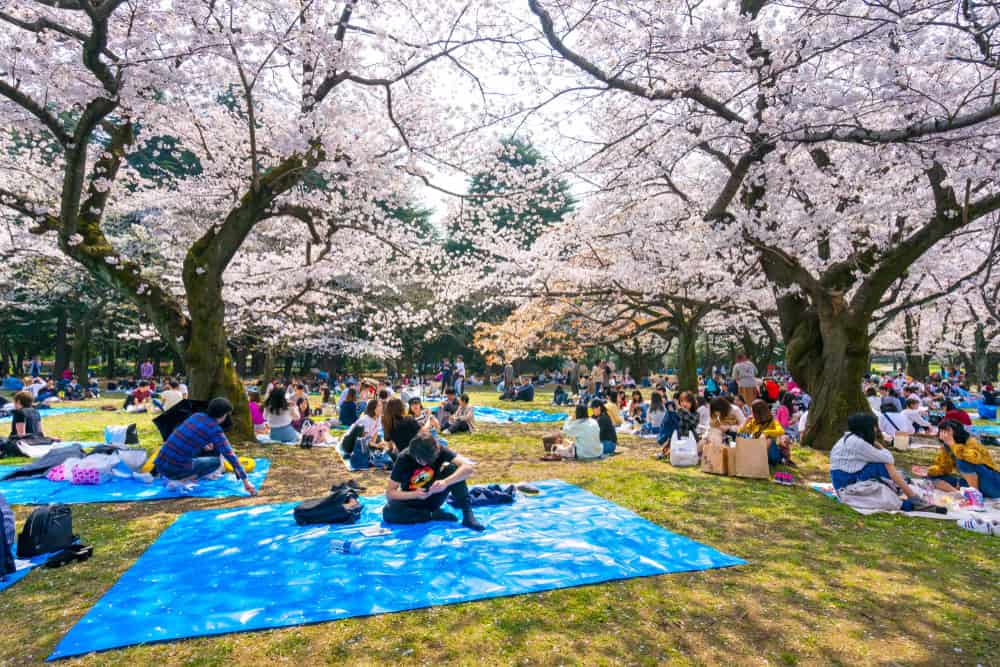 Hand-picked Accommodation
Our accommodation is carefully chosen to give you the best combination of comfort, location, and style. These are photos from our collection of favorite hotels to give you a sense of the accommodation you can expect with us. All of our accommodation is 4 and 5 star with many beautiful views in prime locations.
Shibuya Excel Hotel, Tokyo
Situated in a prime location overlooking Tokyo's iconic Shibuya Crossing, this hotel offers many amenities, premium bedding, quiet rooms, and ample city views. 
Right in the middle of Kyoto by the Takase River, the Gate Hotel is filled with local sentiment and history. This site was the location of many of the old domain residences of the Kyoto clan.
Boasting a 3rd floor restaurant, large hot baths and saunas and comfortable rooms, the Karaksa Hotel is the ideal base to return to after a full day of city sight seeing.
Arrival: Fly into one of Tokyo's main international airports, Narita (NRT) or Haneda (HND).
On arrival you'll take a shared shuttle bus going to central Tokyo where you check in to your hotel. The shared transfer is included when you arrive between 6am and 10pm on Day 1.
If you arrive a day or two early, the airport transfer is not included. Please email us directly if you book flights outside this window so we can assist with arranging a transfer and an early night in the hotel.
Our tour starts at 6pm, so we recommend that you arrive no later than 3pm on day 1. However, we will schedule your shuttle anytime in between 6am and 10pm.
Departure: Kansai International Airport (KIX). You can leave anytime on the last day. Check out is at 10am.
If you are extending your trip on your own and need to fly domestically (back to Tokyo), you can also fly out of Osaka International (Itami) Airport (ITM).
Airfares
Visa fees if applicable
Travel insurance (mandatory)
Airport drop off
A non-refundable $500 deposit is required to hold your spot.
Final payment is due 60 days before departure.
Pay as much as often as you like until the due date.
If you cancel your spot earlier than 60 days before departure, you can apply your payment to any trip within the next year.
No refunds on deposits.
SoFe's itinerary was a great blend
My second tour with SoFe!
"I was heartened by how welcoming people were in India and will never forget the seemingly infinite unique sari and kurti outfits on dazzling display everywhere. SoFe's itinerary was a great blend of cultural, historical, and social activities and our tour leader helped in many ways to keep us having fun, even over long days of traveling." Jennie R. | India
"SoFe's preparations prior to the trip were excellent and it was very helpful in getting ready for Colombia. I loved the food + graffiti tour in Bogota, as well as seeing the wax palms in the Cocora Valley. Also visiting the coffee farm and the cooking session was a highlight!" Selese | Colombia 
"Machu Picchu was definitely the highlight! Also going deep into the Incan culture such as visiting a shaman and going into the Uros village to meet the community and seeing their life in the real ! Awesome itinerary. If I were to be traveling solo (without a group) I would not have gone that far and that deep into Peru" Olivia L | Peru 
We love to collect photos from as many of our Meetup Tours as possible. If you want to see more, check out the stories on our Instagram! @solofemaletravel. When you travel with us, tag @sofetravel and you may even get featured!