Think gorgeous tropical beaches and a deep spiritual culture – that's Bali. With instagrammable views, the freshest fruits you'll ever eat and relaxing days on the beach, you won't want to leave!
Start in Ubud for waterfalls and to meet our local friends. Then we will explore rice paddies and volcanoes before hoping on a boat to the Gili Islands! We end in Canggu for shopping and nightlife before you say farewell to your new friends. 
Enjoy a private Balinese cooking class at a local's home.
Be blessed on the beach in traditional Balinese fashion by a female priest.
Spend an afternoon with local women learning how to make traditional offerings.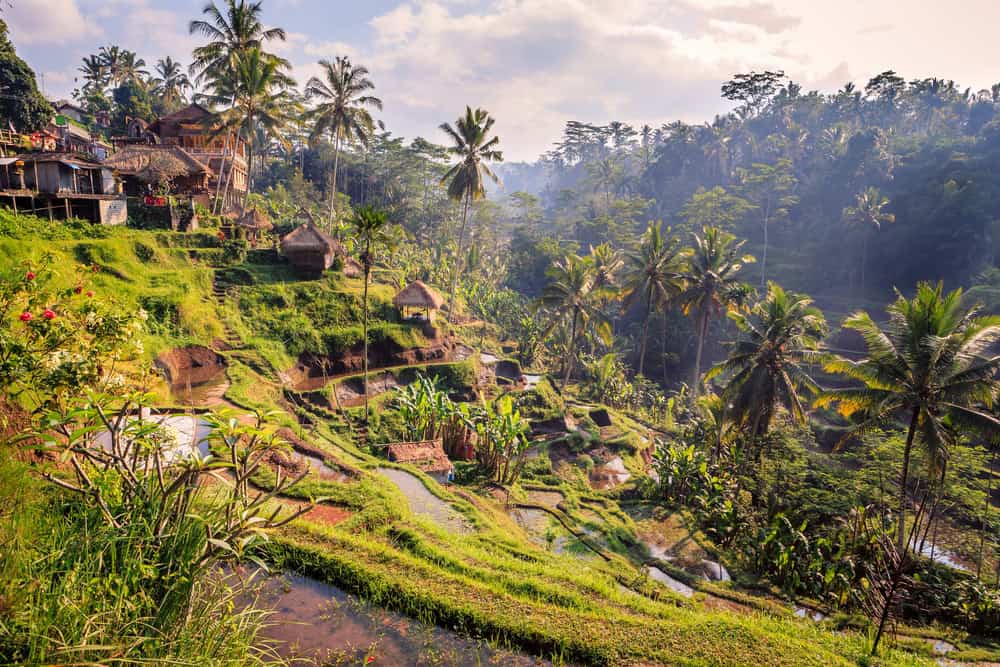 Enjoy solo time in Jatiluwih rice terraces and village.
Spend the day snorkeling past underwater statues and exploring small islands.
Meet the community of KIM, and organization bettering the lives of women and girls.
Day 1


Denpasar Airport Pickup

Welcome to Bali! We will pick you up from the airport and bring you to our villa in Ubud. In the evening, we will meet for a welcome dinner and get to know each other over a traditional Balinese feast. Meals: dinner
Day 2


Tampaksiring and Ubud

This morning we visit Tirta Empul, also known as the water temple, and has history that can be traced back to 926 AD. It is considered one of the five or six most holy temples in all of Bali and is considered one of the holiest water sources in Bali. Later meet our friends, local women who will show us how to make a traditional offering of fresh flowers, tell us what it means, and why they do it. Offerings have deep cultural meanings and are apart of a Balinese woman's everyday life. After you make your own offering, we will be invited into a private family temple for a mini-lesson about the symbolism of the statues and alters inside. We'll then enjoy a traditional Balinese feast with a beautiful jungle view. Meals: breakfast and lunch
Day 3


Ubud

Today, we will start the morning with a walk along Campuhan Ridge overlooking jungle and rice fields that go on for days. The path will bring us to Ubud Center. Afterwards we visit to KIM Women's Centre has an overall goal to facilitate female empowerment and gender equality to Balinese women and girls in the local area. Most importantly, the women's centre provides a safe haven for divorced women who are generally highly stigmatized and ostracized in the community. We'll have lunch with the women and girls at the center before spending some free time in Ubud center. Now is a great time to visit the Monkey Forest and do some shopping! Meals: breakfast and lunch
Day 4


Sumampan

Put your bathing suits on and charge your camera, because we will be going to Sumampan Waterfall, one of Bali's few hidden gems left. We will spend some time relaxing with the view and swimming at the fall's base. In the afternoon, we embark on a culinary adventure unlocking the secrets of authentic Balinese cooking in a fully equipped community village kitchen. Our local friend and incredible cook, Puspa, will greet us with a drink and teach us how to prepare a traditional meal, which we will enjoy together at the end. Meals: breakfast and dinner
Day 5


Jatiluwih Rice Terraces

Jatiluwih Rice Terraces is a nominated UNESCO World Heritage site, and it's our first stop of the day! We'll visit Batukaru Temple, a sacred place to the Balinese. It sits 1300 meters above sea level and is surrounded by cool natural forests, providing a pleasant sightseeing stopover for nature lovers. Enjoy some solo time walking through the village and rice fields.
Day 6


Gili Trawangan

This morning we have a scenic drive to Padang Bai to take a speedboat over to Gili Trawangan. If everything is on time, which depends on the conditions of the water, we will arrive by lunchtime. Once we arrive, the day is yours to explore, relax by the pool or bar, jump into a yoga class, or choose a treatment in the spa. (Note sometimes due to extreme weather, all fast boats can be cancelled. In this situation we may decide to reroute our trip to Candidasa.) Meals: breakfast
Day 7


Gili Trawangan and small islands

Today is all about the sea! We will have a boat for the day to explore the turquoise waters of nearby small islands, snorkel with the fish and turtles, and even see some underwater statues. Lunch will be on board the boat, and you will have the evening free to enjoy the village or hotel. Meals breakfast, lunch
Day 8


Solo day on Gili Trawangan

It's a beachy solo kind of day where you can rent a bike and explore the island, relax with a good book, choose to snorkel or scuba dive, or whatever you like. In the evening, we will meet back up for a barbecue dinner and cocktails and swap stories of the day. Meals: breakfast and dinner
Day 9


Canggu

We say goodbye to the beautiful Gili Islands and hello to Canggu! We'll jump on another speedboat back to Bali and check into our resort by the beach around 3pm. Meals: breakfast
Day 10


Canggu

Canggu has it all from beautiful beaches, posh sea side lounges, great shopping, and stellar restaurants. Sleep in this morning and explore in the afternoon. Your leader will be around to show you her favorite spots, but getting a little lost is always fun. In the late afternoon, we will visit a local temple for a blessing ceremony with a Balinese priest (mangku) –everyone will receive a blessing, this involves wearing the traditional sash and sarong and splashed with holy water as the Mangku chants the blessing. Our farewell dinner tonight is at Tugu, one of our favorite restaurants. Meals: breakfast, dinner
Day 11


Goodbye for now

We say goodbye today, but mot before we have made future travel plan with new friends! Check out is at 11am, and the airport is only 30 minutes away. Share a ride with a fellow traveler if you like. Your leader will help you arrange it. Meals: breakfast
Our accommodation is hand-picked to give you the best combination of comfort, location, and style. These are photos from our collection of favorite villas and resorts to give you a sense of the accommodation you can expect with us. 
Hidden in the hillside at a place where heaven and earth blissfully meet, lies Blue Karma Hotel. Each room at this boutique hotel is unique, creating a luxurious experience. With views of the tropical jungle, abundant rice paddies, and our stunning infinity pool, this stay will be like no other.
Cotton candy skies + rooftop pool views = this gorgeous resort walking distance to the beach and to the center of town. Trendy and spacious inside, this resort is luxe but still comfortable and friendly.
This place is a handful of villas all on one property with a yoga shall, dining and sitting area under a canopy, every inch decorated in traditional Balinese beauty. Private pools, delicious food, and the kindest staff on the island.
Last Updated April 20, 2022
These are the most current Covid regulations that we have for Bali. Keep in mind these may change on short notice, so please be alert for more communication from SoFe.
On April 6 2022, the Indonesian government allowed a quarantine-free arrival process and a Visa On Arrival (VOA) program for 43 selected countries, including the United States.
Additional regulations include: 
All foreign travelers (foreign nationals) must be vaccinnated against Covid-19 with one of the approved vaccinations.
All foreign travelers must show a negative PCR test result taken within 48 hours of the international flight.
As part of their Covid regulations, the government of Indonesia now requires that all travelers complete and e-Visa ahead of arrival to Bali. You can find information about that here: Visit e-Visa (B211A).
The itinerary is subject to change due for any reason – weather, unexpected cancellations, impromptu local opportunities, or surprise additions.
Comprehensive travel insurance is mandatory or you may be refused to join the tour. See our guide for help choosing a plan.
All bookings are subject to our terms and conditions.
"[This] trip gave me a renewed since of independence. The travelers where so positive, supportive and also available to lend a helping hand…" Trudy W. | Bali 
"One of the best trips of my life! I've already booked Egypt with you guys." Aihee R. | Bali 
"There's a wonderful sense of community that comes from experiencing new cultures with a diverse group of strong women who share a love of travel." Eileen G. | Bali