Imagine hearing that chest rumbling roar from a male lion as he calls for his mate. Picture that moment when you look out into the African bush and spot a leopard enjoying her morning breakfast. This is what you will experience on the Kenya Meetup Tour. 
We'll meet in Nairobi and make our way through scenic landscape to famous Aberdare National Park. On our way to Masi Masi National Park, we stop Nakuru and Lake Naivasha, meeting locals and game driving along the way.
Game drives in Masai Mara National Park and Aberdare National Park, where you could see lions, cheetahs, elephants, zebras, and much more.
Stay at The Ark, an experience all on it's own with rooms overlooking a watering hole where animal sightings are almost guaranteed.
Meet the women behind Tepesua Village, an important movement for women and girls helping to end FGM and child marriage.
Day 1


Nairobi

Welcome to Nairobi! Our driver will pick you up from Jamo Kenyatta International Airport and bring you to our hotel about an hour away. Our tour leader will greet you at the hotel, and after you settle in, we will have a group dinner at a local restaurant so everyone can get to know each other and prepare for an incredible adventure together! Meals: dinner
Day 2


Mount Kenya Region

This morning we jump into our safari vehicles and transverse across some of the most scenic routes in Kenya. We'll climb past Sagana through narrow roads and approach the fertile, misty hills around Karatina and Nyeri. Keep your cameras ready, because we'll be stopping at various breathtaking views. When we arrive at Aberdare National Park, we will enjoy lunch at the hotel and a little down time before an afternoon for a nature walk around the property. Meals: breakfast, lunch, dinner
Day 3


Aberdare National Park


We have one word for today: safari! We will jump in our safari vehicles for a morning game drive inside the famous Aberdare Park, where we could see The Big 5. We could also see monkeys, the golden cat and the bongo – an elusive antelope that lives in the bamboo forest. Our accommodation overlooks a floodlit waterhole and salt lick, which attracts a host of awesome wildlife. Modeled after Noah's Ark, The Ark has four viewing decks with balconies and lounges to provide superb game viewing from the comfort of the lodge. Meals: breakfast, lunch, dinner
Day 4


Nakuru

Today we are off to Nakuru County, home to some of the Rift Valley soda lakes. Lake Nakuru is best known for its thousands of flamingos nesting along the shores. We'll stop for spectacular views of Nakuru include Menengai Crater and surrounding countryside, and we will visit Lake Nakuru National Park. It will be surrounded by incredible wildlife and many species of birds. Also, keep your eyes peeled for one of Africa's most endangered creatures, the elusive black rhinoceros. Meals: breakfast, lunch, dinner
Day 5


Lake Naivasha

After breakfast, we will learn more about women's role in society and how they contribute to the society at large. After about an hour and a half through beautiful countryside, we will arrive at Elsamere Conservation Centre of Joy Adamson. Here we get to know more about a lady who dedicated her life in conserving the environment and the animals around it. We'll enjoy a traditional high tea and a documentary movie before proceeding back to our accommodation for the next two nights. Meals: breakfast, lunch, dinner
Day 6


Lake Naivasha

Our time here is laid back for you to choose from a list of optional activities or just relax and read a book. Some of the optional activities are a boat ride, a visit to Hell's Gate, a day at Crater Lake, exploring a flower farm, and bike riding around the lake. Meals: breakfast, lunch, dinner
Day 7


Masai Mara National Park

This morning we leave for Loita Hills, an important region in Kenya where the Maasai people still practice their ancestor's way of life with little influence from the western world. This area is wide open plains surrounded by hillsides, a place to enjoy the scenery and get to know the local Maasai people, learning about their culture and way of life. A highlight of this trip is a visit to Tepesua Village, a village where one local woman rallied nearby communities to come together to value women more than trading her to a husband for 10 cows. Meals: breakfast, lunch, dinner
Day 8


Masai Mara National Park

Explore more of the park by 4x4 Jeeps today with more game drives in the morning and afternoon. Witness the wonderful procession of wildlife that inhabits the area, including elephants, wildebeest, zebra and gazelle. You might even spot predators keeping a casual eye on their movements. The area is known for its rolling green plains and riverine woodlands, and amongst the many species of game, a black-maned lion, leopard or cheetah might appear with some luck. Meals: breakfast, lunch, dinner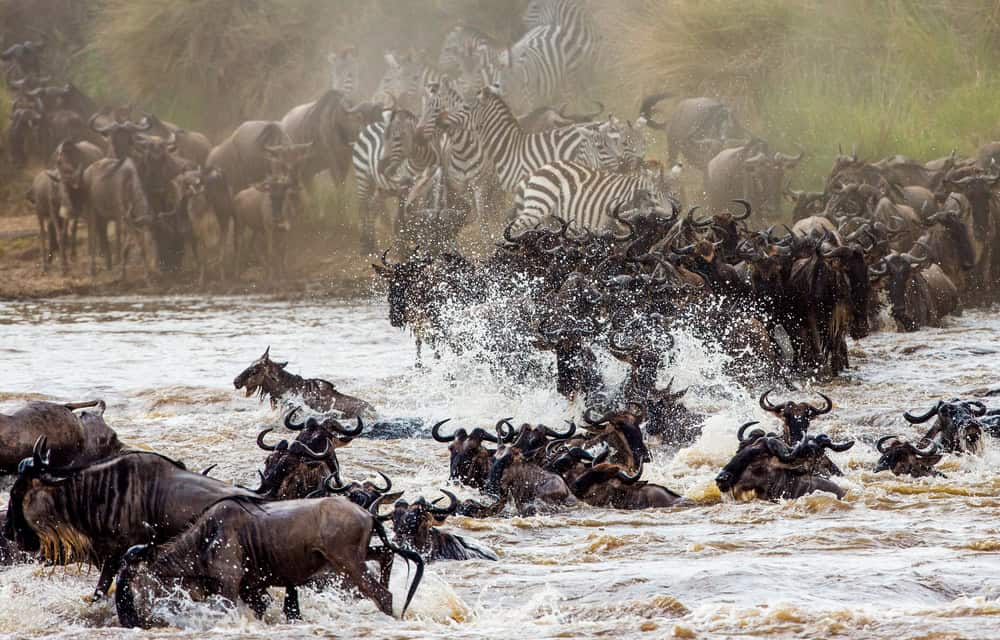 Day 9


Masai Mara National Park

We have a day full of game drives and down time at our beautiful camp. When not on game drives, you can relax by the camps swimming pool and opt in for some other activities like a hot air balloon ride and nature walks. Meals: breakfast, lunch, dinner
Day 10


Masai Mara National Park 


After one last game drive, we will head towards Nairobi with a couple small stops along the way. We will arrive to the airport at 5pm, so be sure your flight doesn't depart before 8pm. We are also happy to help arrange an extra night in Nairobi and an airport transfer for the next day. Meals: breakfast
Our accommodation is hand-picked to give you the best combination of comfort, location, and style. These are photos from our collection of favorite lodges and resorts to give you a sense of the accommodation you can expect with us. 
The Ark Lodge, Aberdare National Park
Walk out onto your balcony and overlook a watering hole where you are almost guaranteed to spot some wildlife. We love it here for the views and we come back again and again for the hospitality and home cooked meals!
Lake Nakuru Sopa Lodge, Samburu National Reserve
This luxury lodge overlooks the Ewaso Nyiro River. Located on a range of hills that form the western limits of Kenya's Great Rift Valley, the lodge offers spectacular views over the vastness of Kenya.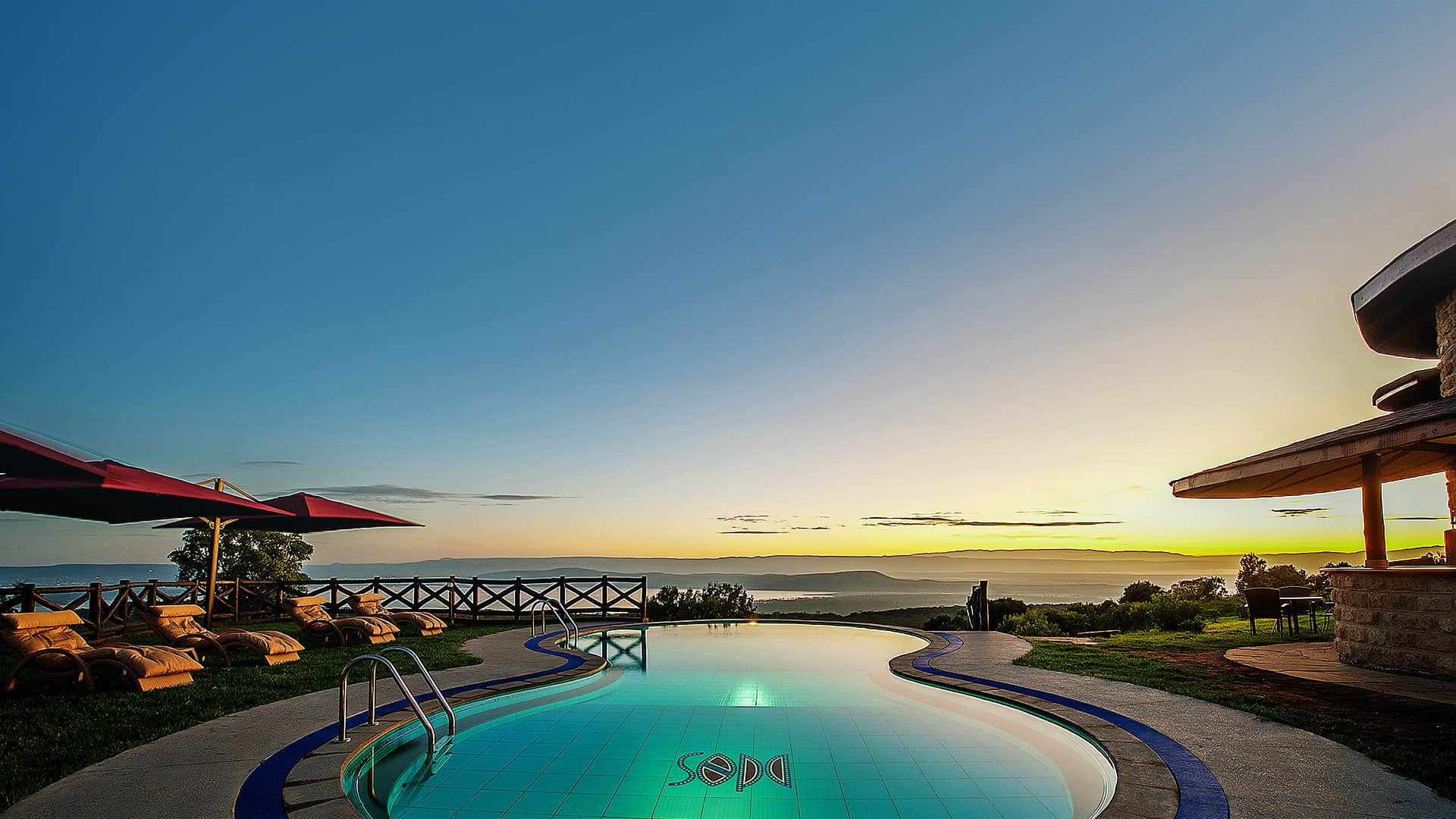 Mara Leisure Camp, Masai Mara
Why go camping when you can go glamping? Get ready for a night under the stars while camping near your favorite animals in the heart of Masai Mara. We love it for the camp vibe while keeping it luxe.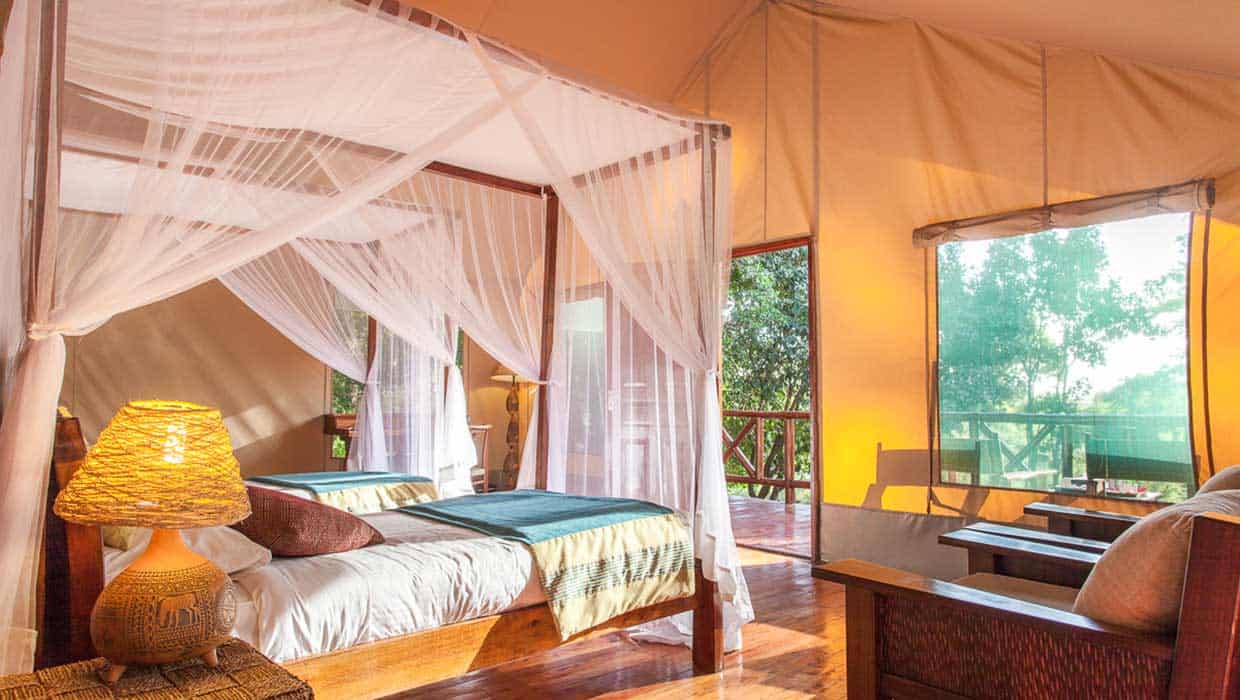 Accommodation in twin rooms
Guide
9 Breakfasts
8 Lunches
9 Dinners
Local transportation
Airport pickup (see arrival details)
All entrance fees and activities in the itinerary
Activities and experiences:
Mount Kenya Nature Walk
Visit to local markets and meet the women trading in these markets.
10+ game drives: Aberdare National Park, Lake Nakuru, Masai Mara National Park
Feature stay in Ark Lodge Nakuru village tour
Guided tour of the Naivasha Village and lectures by the women representatives
High tea and visit to The Elsamere Conservation Centre
Loita Maasai village visit ( Women's village)
Traditional Songs performed by the Masai women
Arrival: Jomo Kenyatta International Airport in Nairobi (code NBO) anytime between 8:00am and 4:00pm on tour start date
When you arrive during the above timeframe, an airport transfer is included in your program fee. We'll have someone waiting for you at the arrivals hall to take you to the hotel. 
Departure: Jomo Kenyatta International Airport in Nairobi (code NBO) after 8:00pm on tour end date
Please note: If you arrive early or depart late, SoFe Travel can assist you in securing extra accommodation or a private airport transfer. 
A deposit of $500 is required to hold your spot.
Final payment is due 60 days before departure.
Pay as much as often as you like until the due date.
If you cancel your spot earlier than 60 days before departure, you can apply your payment to any trip within the next year.
No refunds on deposits.
For most nationalities, a visa upon entry is available for stays less than 90 days. See more information here.
Airfares
Visa fees if applicable
Travel insurance (mandatory)
Airport drop off
SoFe Travel requires all travelers be fully vaccinated against Covid-19. Read more about our Covid policies here

.

The itinerary is subject to change due for any reason – weather, unexpected cancellations, impromptu local opportunities, or surprise additions.
Comprehensive travel insurance is mandatory or you may be refused to join the tour. See our guide for help choosing a plan.
All bookings are subject to our terms and conditions.
The roads can be bumpy, which makes longer drives sometimes uncomfortable. Our destinations are always worth it.