WOMEN ONLY TOUR TO Lebanon
Beginning in Beirut, this tour contrasts modern-day, multicultural Lebanon with the immense wealth of history and culture crafted by civilisations long past.   
The Lebanon Meetup Tour has its fair share of cooking classes, home-cooked meals, and souk street finds. We throw pottery, learn how to make traditional soap, dance along sea shores and sip wine in one of the oldest regions of the world – all whilst exploring the most ancient historical sites, holy valleys adorned with cedar trees, pilgrim meccas and beachside towns. 
Learn to cook delicious Arabic dishes with local women at a beautiful NGO.
Join a private soap making workshop on a countryside rooftop surrounded by wildflowers.
Taste wine with a pioneering female winemaker and enjoy mountain views.
Step inside multiple famous ruins with over 7,000 years of recorded history.
Join local women in a private sunset yoga class and a rooftop bellydance workshop.
Try your hand at traditional pottery making at a woman's village home.
Cash in USD and EUR are widely accepted, although USD is preferable over EUR. Credit cards are normally the last preferred or accepted method of payment. We strongly recommend arriving to Lebanon with all the cash you will need in USD or EUR. The best way to withdraw more cash is with a Western Union, not an ATM. Luckily, this tour is very inclusive and you won't need much spending money. We will help you navigate this before departure, but flexibility and some prior planning is important.
Proof of travel insurance is required before joining day 1 of any Meetup Tour. International flights are not included. 
People often leave our Meetup Tours with friends for life and couches to crash on all over the world.
Spend it with friends or explore on your own, but take time to reflect on your incredible journey. 
Enjoy our hand-picked, premium accommodation combining the best of design, location and comfort.  
WELCOME TO BEIRUT!
Airport pickup & welcome meeting
Welcome to the dynamic city of Beirut! This cosmopolitan city is known for its Parisian-style cafes, inspired art scenes and thrumming nightlife. We suggest flying in by 3pm in order to have time to arrive at the hotel and relax before our welcome meeting at 6pm. We'll transfer you to our first hotel, where you'll meet the rest of your group and your local guide. Tonight we'll celebrate the start of our journey together with an optional dinner! 
BEIRUT
Beirut city highlights & solo afternoon
Today is dedicated to exploring Beirut. We begin to understand how civilisations impacted Lebanon's cultural crossroads at the impressive National Museum, then walk from Barakat house along the boundary line diving Muslim and Christian communities during the civil war. Continuing to downtown Beirut, we visit the spectacular Al-Amin mosque (Blue mosque), St George cathedral, and Martyr's Square before dipping into east Beirut's artistic neighborhood for an immersive cooking class with local women from varied regions in Lebanon. You are free to rest this afternoon, and to wander the nearby area at your own pace and maybe catch sunset by the sea.  Meals included: breakfast, lunch
BEIRUT TO DEIR EL QAMAR
Sidon walking tour, farm lunch & Beiteddine Palace tour
Today we head to Sidon (meaning 'fishery' in Greek), an ancient Phoenician city layered by the influences of great civilisations. We experience Levantine lifestyle, visit the crusader sea fort of Sidon Castle, wander bustling souks and labyrinthine markets. We stop at the Audi Soap Museum, the beautifully preserved 18th Century bathhouse of Hamman Al-Jadeed, and Saint Nicolas church. In the afternoon we drive to the mountainous district of Chouf for a farm lunch and tour the majestic 19th Century Beiteddine Palace before finishing with a genteel, guided walk at our beautiful village for the night, Deir Al-Qamar.  Meals included: breakfast, lunch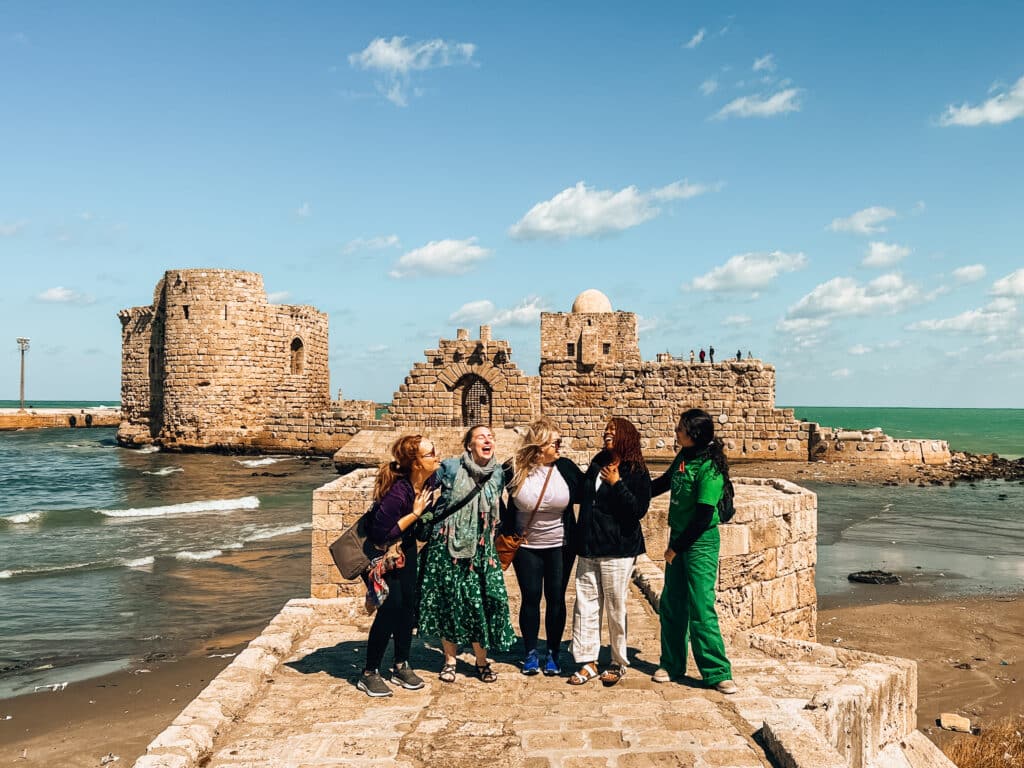 ZAHLE
Winetasting in Bekaa, taste sweets at a family home & Zahlé walking tour
Weaving through Barouk's historic cedar trees, we cross the western mountains to reach the fertile, mystic valley of Bekaa – one of the oldest winemaking regions in the world and the seat of Lebanon's modern wine industry.  We sample valley's varietals at a woman owned boutique winery, and do an easy hike to see breath taking views towards the mountains separating Lebanon from Syria. Coffee and Arabic sweets will follow at an old family house, where we chat with the family and have the chance to support women villagers by buying mouneh (traditionally preserved food). We end off the day with a walk through the old town of Zahlé. Meals included: breakfast, lunch
EHDEN
Visit Baalbek city, the Holy Valley & the Monastery of Qozhaya
Journeying on, we arrive at the roman city of Baalbek which is one of the most celebrated sanctuaries of the ancient world and a UNESCO World Heritage site. We tour this astonishing complex with a local guide before travelling toward northern Mount Lebanon, through the Holy Valley of Kadisha, and past the ancient cedar trees of Besharri (both UNESCO heritage sites). We visit a special place for pilgrims both Christian and Muslim alike: the Monastery of Qozhaya.  Meals included: breakfast, lunch 
BATROUN
Join a pottery class, Batroun walking tour & sunset yoga class
Flexing our pottery throwing skills, we join a workshop hosted by women of the nearby Assia village. Pottery is an essential, ancestral craft in Lebanon: Lebanese families cook or preserve food and liquids using pottery pots. After the workshop we're off to Lebanon's hippest coastal town surrounded by citrus groves, Batroun. Batroun's historical sites and beachy atmosphere make it a favourite for international and local visitors alike. We walk through the Old City on a guided tour to see the Phoenician Sea Wall, the Greek Orthodox church, 'Our Lady of the Sea' built on Byzantine ruins, the Phoenician castle, and Diaspora house. This afternoon we have time off to enjoy the beach. Kayak or sup if the weather allows or swim in the Mediterranean sea. We draw the day to a close with a seaside sunset yoga class hosted by female instructor. Meals included: breakfast, lunch
BATROUN
Belly dancing class, traditional soap making
After getting our limbs moving in the morning with an ocean-side belly dancing class, we continue to Byblos, arguably the oldest city in the world with remains dating back 7000 years and to the Roman, Phoenician and Persian eras. We learn how to make decadently scented soaps with a female expert in traditional soap making and aromatherapy. We have a last meal together and reminisce over the incredible memories made.  Meals: breakfast, lunch
As your tour comes to a close, ask your guide to help arrange transportation to the airport. Check out by 10am. Enjoy breakfast, and if you're like us, start dreaming about your next adventure! Meals included: breakfast
HAND-PICKED ACCOMMODATION
Our accommodation is hand-picked to give you the best combination of comfort, location, and style. These are photos from our collection of favorite villas and resorts to give you a sense of the accommodation you can expect with us. All of our accommodation is premium, comfortable and many have beautiful views of prime locations.
O Monot Hotel, Beirut
This hotel captures the trendiness of Beirut in its decor and takes advantage of sweeping views of the city with a rooftop pool and bar. Rooms are spacious and sleekly decorated, and everything you could possible need is within easy walking distance. 
Blue Marlin, Batroun
Bohemian vibes meet coastal elegance inside this half 2,000 year old sandstone and half modern building. This gorgeous boutique hotel is an experience all on its own and will surely pump up your Insta. It's also right across the street from the sea and many rooms have ocean views. 
Al Haush Farm Stay, Zahle
Think elegance on a family farm and you have this beautiful and very special stay in the countryside. Depending on the season, there will be fresh flowers drying in the sun in every corner of the property or maybe you will get to watch jam being made. The food is fantastic and views can not be beat!
For a more in depth overview of this Meetup Tour and traveling through Lebanon – this guide will prepare you for your adventure from the cost of falafel to how to get a taxi.
"SoFe is special – it is not just about travel and seeing the sights. It takes you into the heart and soul of the country, the culture and the people. It supports and honors local women and small businesses and you come away with a much stronger understanding and connection to the people and culture than you would on a generic tour. SOFE also attracts a unique type of traveler – it attracts women who are open-minded, curious and passionate about travel." JoEllen | Egypt & Lebanon
"The tour was so breathtaking and we really packed in a lot traveling to numerous cities. SOFE did a great job of asking us travelers for feedback on accommodations and adjusting the schedule based on interest of the group. It was super female-focused with many women guides, teachers, artists, cooks, and even family to spend time with. Through it all, we felt safe and had a great team in our guide, driver, and SoFe guide."— Jess W. | Egypt & Lebanon
"Everything was amazing, but my favorite parts were the cooking class, the hike up the mountain, visiting the cedars, and the ruins of Baalbek. Plus, our guide Sirena was the #1 thing that made this trip amazing. And our driver, Freddy!" JoEllen | Lebanon