We learned about Ancient Egypt in school- growing up day dreaming about mummies, pyramids, temples, and the Nile River. The Egypt Meetup Tour is nothing short of everything that younger you could have dreamed. 
Dive deep into Egypt's rich history while your textbooks come alive right in front of you. Enjoy the perfect mix of history, luxury, and culture all while eating the best Egyptian food a girl can ask for. From learning hieroglyphics and sailing the Nile to coming face to face with King Ramses III's mummy, you will never forget your time in in the magical land of Egypt.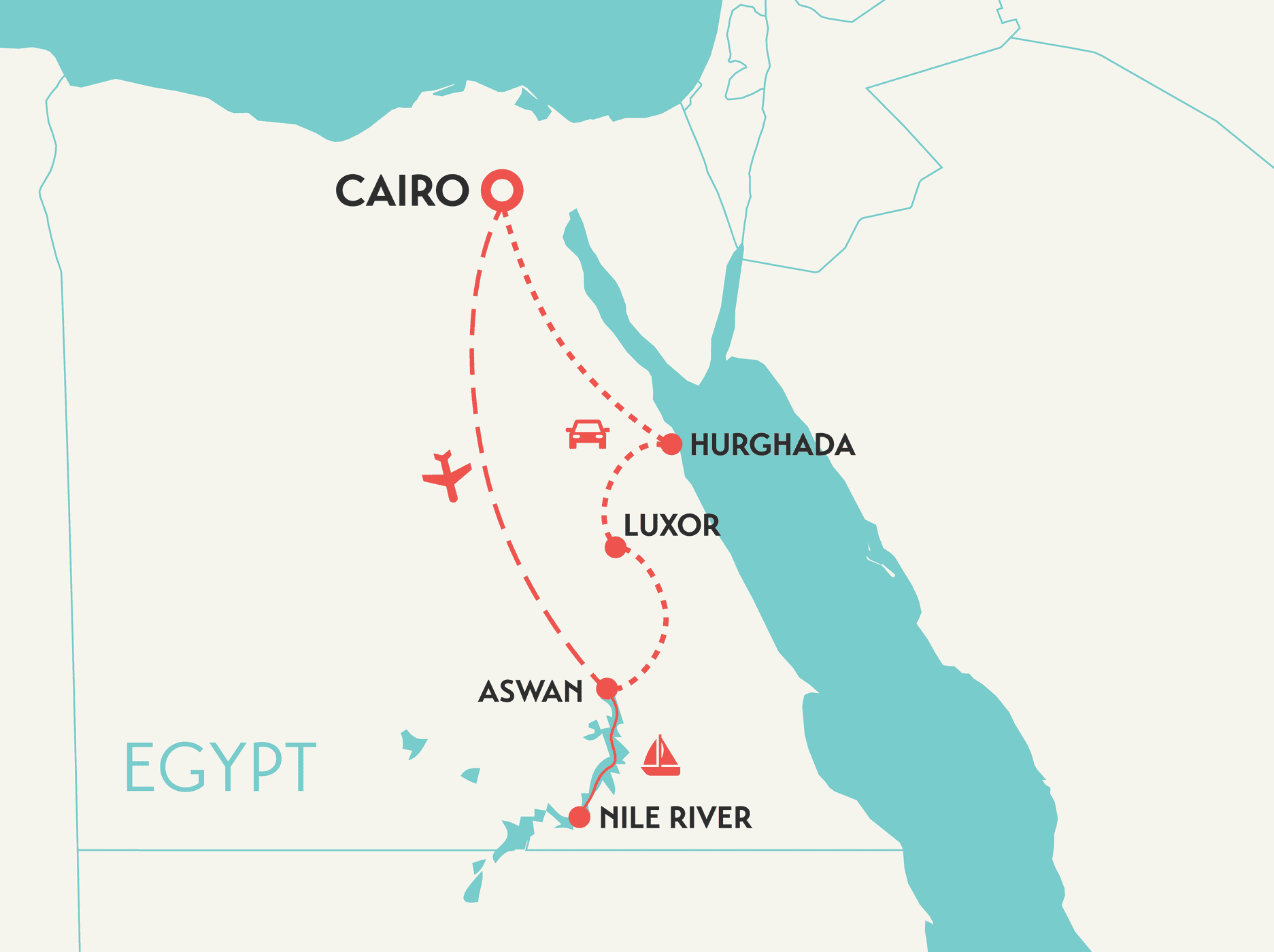 Visit mystical Valley of the Kings with both a history lesson and solo time.
We'll have an Egyptologist tour guide for the entire journey. 
Enjoy a sunset from a Felucca sailboat on the Nile River
Feast on a home cooked Nubian meal on the Nile's West Bank. 
Relax on the shores of the Red Sea
Wander through Egypt's most famous ancient temples
Day 1


Cairo Airport Pickup

Welcome to Egypt! Your adventure begins when you are greeted at the airport with our VIP airport escort. Most passport holders can get the visa on arrival (see details below). Once you've picked up your bags, you will be transferred to the Cairo hotel and the rest of the day is yours to explore, relax or catch up on jet lag.
Day 2


Cairo Great Pyramids

Start the morning with a welcome meeting where our Egyptologist tour guide will go over all the important details of the Meetup Tour. Then we'll head off the Step Pyramid of Saqqara, the oldest pyramid in Egypt. Listen to stories of Egyptian beliefs, why they built their tombs, and how they are so well preserved thousands of years later. We'll take a break with traditional Egyptian lunch at one of our favorite local spots, before heading to the Great Pyramids of Giza and the Sphinx. Cross off a Wonder of the World from your list! Meals: breakfast, lunch
Day 3


Cairo

Visit the Egyptian Museum is one of the biggest museums in the world and it is packed full of artifacts, mummies, tombs, statues, hieroglyphics, and much more. Our Egyptologist guide will teach us more about ancient life before you get to wander freely to take it all in. For lunch, try one of Egypt's most beloved dishes - Koshary. Next we'll learn about Islam at the Mosque of Ibn Tulun. Climb the stairs to the minaret for a look out point over Cairo or simply enjoy the intricate details of this beautiful mosque. We'll finish the afternoon with the biggest market in Egypt – Khan El Khalili Market, great for souvenirs & gifts, Egyptian food, and beautiful winding alleys. Meals: breakfast, lunch
Day 4


Aswan

We'll take an early morning flight to Aswan, approximately 2 hours flying time. Once we arrive, we visit Philae Temple which located on an island in the middle of the mighty Nile River. Dedicated to the goddess Isis, we'll wander through the temple learning about women's roles in ancient Egypt. Before we go, say hello to the many cats hanging out like locals at the cafe, which has excellent lemon mint juice. Tonight we are staying in a family-owned Nubian hotel right on the Nile River. The unique painted style of the hotel will charm you, and the delicious food and stunning views will have you resting easy. Meals: breakfast, dinner
Day 5


Floating on the Nile

This morning choose an optional tour of Abu Simbel (we highly recommend it!) or sleep in at the cozy Nubian hotel. The full group will meet up again in the afternoon to board a traditional Felucca sailboat for a unique experience! We'll enjoy lunch on board as we sail down the Nile river. The relaxing afternoon concludes with a gorgeous sunset and dinner on the felucca, before heading back to Aswan for the night. Meals: breakfast, lunch, dinner
Day 6


Luxor Countryside

Pack a small backpack for the 3 hour train ride we have this morning. We'll be cruising past villages and lush farms on our way to Luxor. Once we arrive, marvel at the 2nd largest temple complex in world – The Temple of Karnak. The massive engraved columns, towering obelisk and offering table room are all highlights of this magnificent temple. Once the sun goes down, we'll take a night tour of the Temple of Luxor, which holds some of the most important carvings of ancient Egypt and is beautifully lit up at night.  Meals: breakfast, lunch
Day 7


Luxor

Take an optional sunrise hot air balloon or rest at the hotel before a busy, full day of touring Luxor's best ancient wonders. See hieroglyphic covered tombs belonging to famous pharaohs in The Valley of the Kings. Next we'll see the female-focused Temple of Queen Hatshepsut, one of the few women who ruled Egypt. After lunch, we'll visit Valley of the Queens which is home to some of the most spectacular tombs in all of Egypt, like Queen Nefertiti. Meals: breakfast, lunch, dinner
Day 8


Hurghada

We leave the temples and ancient history behind today, as we make our way to the Red Sea. We'll arrive around lunch time, with plenty of time in the afternoon for you to explore the all inclusive resort. Enjoy a drink by one of the pools, a walk down the beach, or by getting a massage. This is your time to relax after a grueling week of travel in Egypt. Meals: breakfast, lunch, dinner, beverages at resort
Day 9


Hurghada

With a completely open itinerary, today is your day to choose your own adventure! Grab some sunscreen and take your first dip into the sea, or swim at one of the many resort pools for a day under the sun! Maybe a day at the spa is more your speed. The Red Sea is world famous for scuba diving and snorkeling, so you can choose an optional half-day activity. You'll be amazed by the colorful fish and intricate corals in the coastal reef! Meals: breakfast, lunch, dinner, all beverages
Day 10


Hurghada – Cairo

After a leisurely check out time, our group heads back to Cairo. Pack some snacks and good book for our 6-hour drive through the arid but beautiful desert. The guide will help organize PCR tests in Cairo for the group, which you'll pay for directly at the test center. Reminisce on your favorite memories from Egypt at one final group dinner, at a restaurant of your choosing. Meals: breakfast
Day 11


Saying Farewell to Egypt

After breakfast, our adventure in Egypt has come to an end. We'll be available to help you organize your own transportation whenever you like. We'll stay in touch until our next adventure together. Meals: breakfast
Behind the Scenes of this Tour
We love to share our Meetup Tours on social media, and you might already be following us on Instagram. One of our SoFe ambassadors recently went on our Meetup Tour in Egypt and covered the whole experience for us on Instagram. To get a glimpse into what it is really like on our Egypt Meetup Tour, go behind the scenes with our Instagram story highlight! 
Our accommodation is hand-picked to give you the best combination of comfort, location, and style. These are photos from our collection of favorite hotels and resorts to give you a sense of the accommodation you can expect with us. 
Steigenberger Tahrir Square
Offering a delicious breakfast, a bar inside, and a central location in the heart of the city, the Steigenberger Hotel will serve as your home base in the bustling city of Cairo. 
El Nakil Hotel, Countryside Luxor
Tucked away in the countryside, you will be greeted by smiling locals and waving kids as you make your way to this little hotel. The rooms are simple, but clean and comfortable, the grounds are gorgeous, and the food is some of the best we've ever had in Egypt. 
Desert Rose All-Inclusive Resort
Located right next to the Red Sea, this resort features several different restaurants, a full-service spa, multiple bars + entertainment areas, three swimming pools to choose from, and more. This oasis will give you the repireve and relaxation you need after a busy Meetup Tour in Egypt.  
Most countries, including the USA, are able to get a visa upon arrival to Egypt. In fact, we recommend getting it on arrival because the process is straightforward and fast. With the VIP service that we have arranged for our travelers, our airport escort will walk you through the entire process.
All you need to get an Egyptian visa on arrival is your passport, $25 USD in cash, and your negative COVID test. The rest is super simple. If you are not a US passport holder, please check to be sure your country qualifies for a visa upon arrival, but the majority of them do.
Last updated May 11, 2022
These are the most current Covid regulations that we have for Egypt. Keep in mind these may change on short notice, so please be alert for more communication from SoFe. 
All travelers entering Egypt must fill out the digital health certificate form. Once you have filled this out, you will be emailed a QR code which you will show to the airlines during check in.
Fully vaccinated travelers are not required to take Covid test prior to departure SO LONG AS they have a digital copy of their vaccine certification with a scannable QR code. Your vaccine must be one of the approved vaccines below. Here is a guide for assistance in converting your vaccine card to a QR code.

AstraZeneca (Vaxzevria)
Janssen
Moderna (Spikevax)
Pfizer-BioNTech
Sinopharm
Sinovac
Sputnik V

If you do not have a scannable QR code showing your vaccine certificate or you have a vaccine not approved in Egypt, then you must be in possession of a negative Covid-19 PCR test. You must take the test within 72 hours of your flight departure time.
Mask wearing indoors in Egypt is currently mandatory. The Egyptian government requires medical masks, including N95, FPP2 and standard medical masks. Please bring several as you may be required to wear them when inside.
SoFe Travel requires all travelers be fully vaccinated against Covid-19. Read more about our Covid policies here

.

The itinerary is subject to change due for any reason – weather, unexpected cancellations, impromptu local opportunities, or surprise additions.
Comprehensive travel insurance is mandatory or you may be refused to join the tour. See our guide for help choosing a plan.
All bookings are subject to our terms and conditions.
Although we jam pack our itinerary with amazing Egypt attractions and sightseeing, we do leave some free time to travel and explore on your own. If you are interested in adding on optional activities, we offer three great excursions which you can reserve in advance during your booking.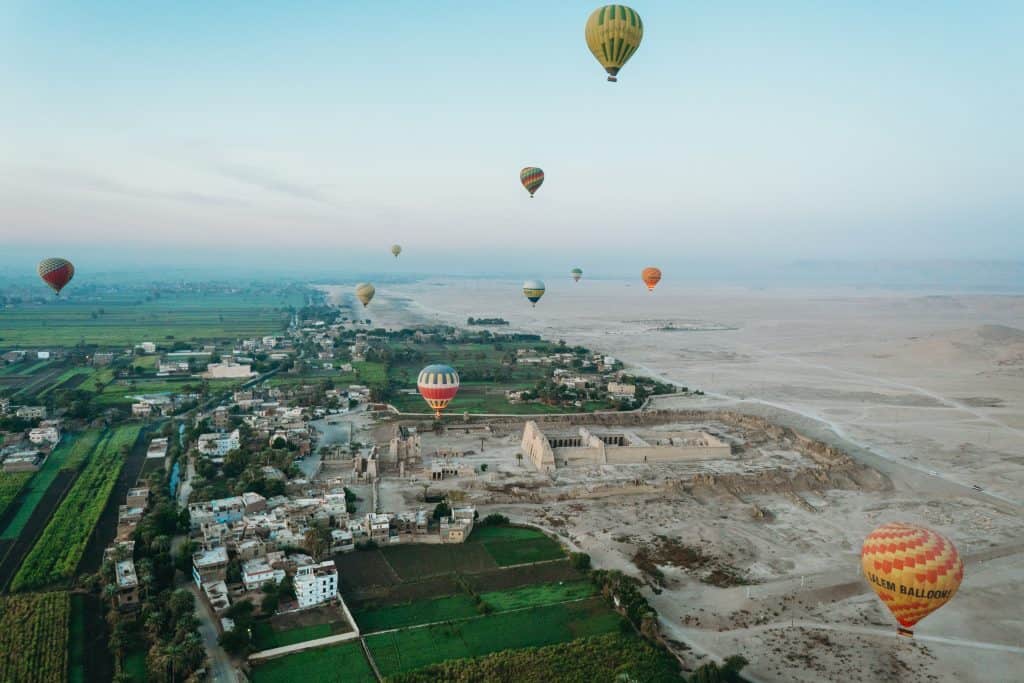 For an experience unlike any others, admire the ancient temples of Luxor from the air. You'll appreciate stunning mountain and Nile views while the warm sunrise colors create lovely ambiance to start your day.
Departure time: 4:30am
If there was one optional excursion you shouldn't miss, it is Abu Simbel! These two massive rock-cut temples were cut into a mountainside by ancient Egyptians. The towering statues of Rames II are incredible to behold.
Departure time: 4:30am
One of the world's most renowned places for scuba diving and snorkeling is the Red Sea, thanks to it's abundant and colorful coral reefs. This half-day excursion is open to beginners and includes two dive locations.
Departure time: 8:00am
This tour was epic in every way
"This was my 2nd solo trip with SoFe. I initially went to Bali and because that tour was so good I decided to go to Egypt meetup and I am so happy that I did. This tour was EPIC. I am even planning on going on this same tour again to experience it all over again!" Aihee R. | Egypt & Bali 
This trip was everything and more
"I'm 100% going to book another trip, although this one will be hard to beat. This trip was everything and more I could ever ask for. I saw places I only ever saw in photos, experienced "Egyptian Hospitality" first hand, had stereotypes of the middle east shattered, watched the sunrise over the Sahara, swam in the Nile AND the Red Sea, and danced to the sound of Nubian drums on a felucca at sunset on the Nile. How could a girl ever ask for more? This trip was the perfect blend of history and education, culture, great food, bucket list items completed, and topped off with even better company." Dani B. | Egypt
The Egypt SoFe trip was life-changing.
"The Egypt SoFe trip was life-changing, truly! From our amazing egyptologist guide, Sameh, to the sites and wonders of Egypt, and the amazing women that I got to meet and travel with, it was extraordinary. The experiences shared and the memories made are unparalleled and will hold a place in my heart forever. Thank you SoFe Traveler Network." Darlyne M. | Egypt