We learned about Ancient Egypt in school- growing up day dreaming about mummies, pyramids, temples, and the Nile River. The Egypt Meetup Tour is nothing short of everything that younger you could have dreamed. 
Dive deep into Egypt's rich history while your textbooks come alive right in front of you. Enjoy the perfect mix of history, luxury, and culture all while eating the best Egyptian food a girl can ask for. From learning hieroglyphics and sailing the Nile to coming face to face with King Ramses III's mummy, you will never forget your time in in the magical land of Egypt.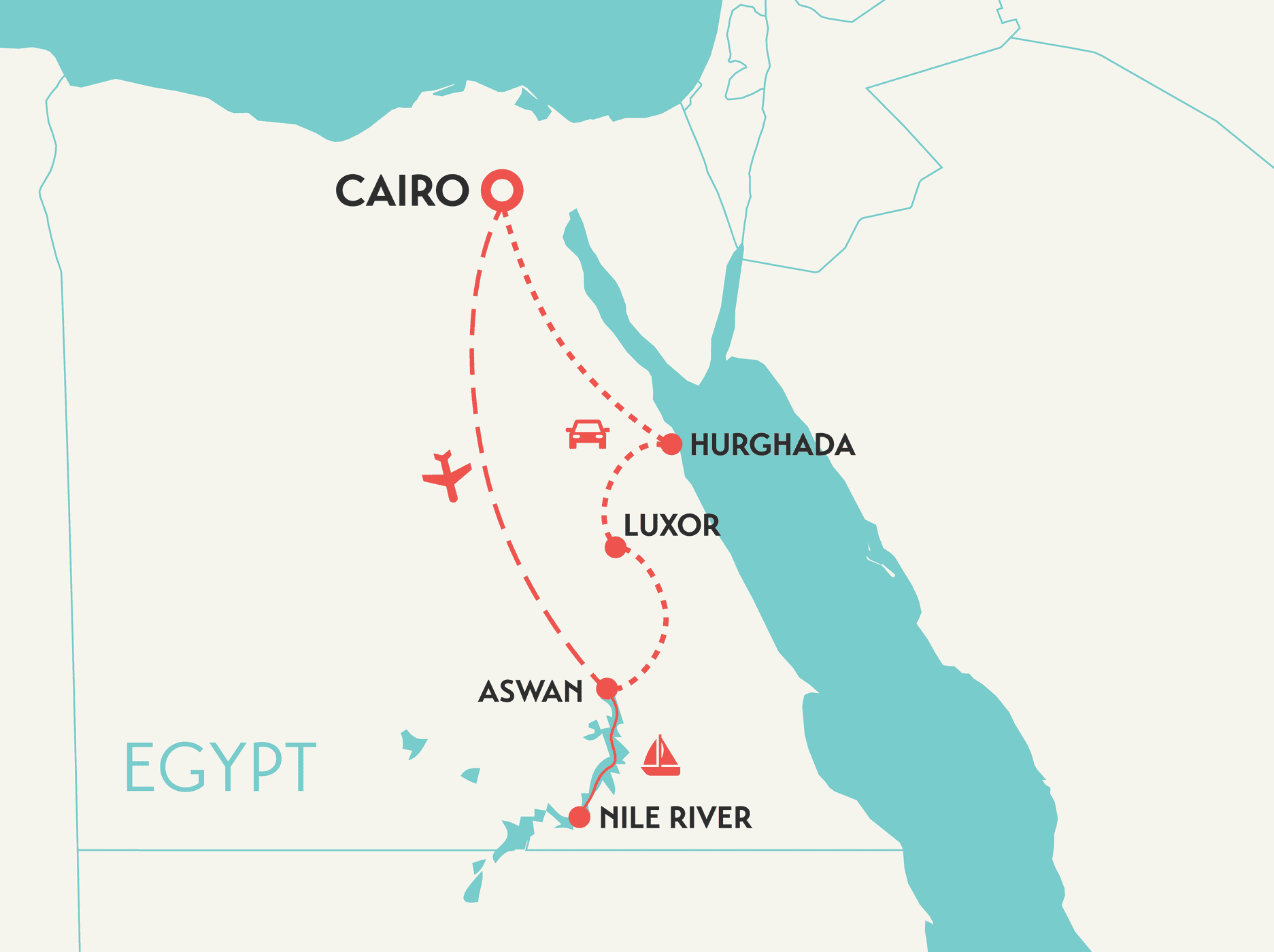 We'll have an Egyptologist tour guide for the entire journey. 
Watch the sun set from a sailboat on the Nile River where we'll eat, sleep, and watch the sunrise.
Visit mystical Valley of the Kings with both a history lesson and solo time.
Feast on a home cooked meal and dance to traditional music at a Nubian woman's home. 
Experience the countryside and take a dip into local culture (and food!).
Temple hop through Egypt visiting Luxor Temple, Karnak Temple, and many more.
Day 1


Cairo Airport Pickup

Welcome to Egypt! Your adventure begins when you are greeted at the airport with our VIP airport escort. Meet the group and relax in our hotel that is just minutes away from the pyramids.
Day 2


Cairo Great Pyramids

Our Egyptologist tour guide will take us to the oldest pyramid in Egypt: The Step Pyramid of Saqqara. Listen to stories of Egyptian beliefs, why they built their tombs, and how they are so well preserved thousands of years later. We'll take a break with traditional Egyptian lunch at one of our favorite local spots. Snap a photo next to the Sphinx, and step into the mortuary temple of King Khaefraa for your first up-close look of hieroglyphics.  Meals: breakfast and lunch
Day 3


Aswan

We'll hop on a plane for a quick 40 minute flight to Aswan. First, we visit Philae Temple, dedicated to the goddess Isis, the temple of beauty and magic. We'll wander through slowly learning about women's roles in ancient Egypt. The Nile meets the exit of the temple for stunning views, but before we go, say hello to the many cats hanging out like locals at the cafe. Tonight we are staying in a family owned Nubian hotel right on the Nile River. Rest or explore until the evening when we visit a local Nubian woman who invites us into her home and cooks us an incredible meal. She tells us more about her life as a single mother, an uncommon life in her culture. Meals: breakfast, dinner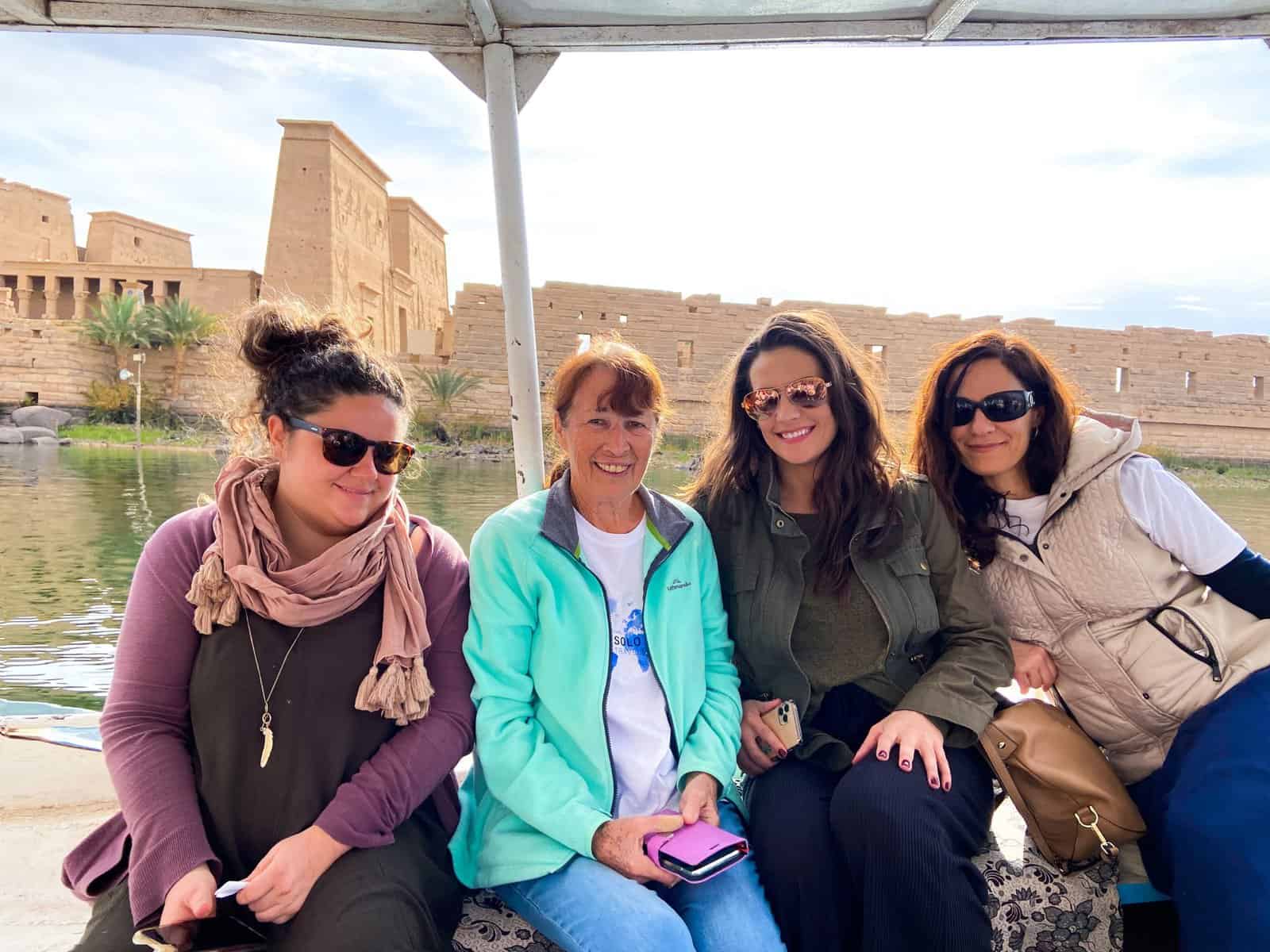 Day 4


Aswan

This morning choose an optional tour of Abu Simbel. Massive figures of King Ramses are etched in into the earth and inside are stories painted in vibrant color! This afternoon we will check in to our floating accommodation - an Egyptian sailboat called a felucca. An overnight on a felucca means a magical sunset followed by a campfire, dancing, and a drink or two. Think of it as camping for an evening with the best view of the stars, the sunrise, and truest experience of the Nile. Meals: breakfast, lunch, dinner
Day 5


Luxor Countryside

After the felucca crew makes us breakfast, we have a 4.5 hour drive cruising past villages and lush farms to Luxor. Marvel at the biggest and greatest (depending on who you ask!) temple in Egypt, the 2nd largest in the world – The Temple of Karnak. Once the sun hits the horizon, we visit The Temple of Luxor, which holds some of the most important carvings of ancient Egypt and is beautifully lit up at night.  Meals: breakfast, lunch
Day 6


Luxor

Watch the colors of the sunrise flood Luxor from up in the sky! Take a hot air balloon ride (optional) over the west bank of Luxor! See temples from above, wave to village kids, and see the striking contrast in landscape where desert abruptly meets lush fields. This afternoon, wander the maze of tombs belonging to the most famous pharaohs, like Tut Ankh Amon, King Ramses the 2nd, and Queen Hatshepsut in The Valley of the Kings. We'll have some solo time in the Temple of Queen Hatshepsut, one of the few women who ruled Egypt. Our next stop at Colossi of Memnon is the perfect introduction to the art of sculpture. Local artists will explain how the ancient Egyptians, without our modern tools, used to build such massive, detailed structures. Meals: breakfast, lunch, dinner
Day 7


Hurghada

Explore the all inclusive resort with a drink by one of the pools, a walk down the beach, or by getting a massage - today is up to you. Explore the desert on an ATV (optional)! You'll drive your own ATV right up to the beach and over the dunes overlooking the mountains for a thrilling ride through the Sahara. Meals: breakfast, lunch, dinner, all beverages
Day 8


Hurghada

Open your hotel window to the incredible view overlooking the Red Sea. The Red Sea is world famous for scuba diving and snorkeling and both are available at the resort. Grab your sunscreen and take your first dip into the sea, or swim at one of the many resort pools for a day under the sun! Meals: breakfast, lunch, dinner, all beverages
Day 9


Hurghada – Cairo

Back to Cairo we go, home of our favorite falafel place! Our drive today is about 5 hours past desert, through villages, and into Cairo back to our first hotel to get ready for amazing day tomorrow. Meals: breakfast
Day 10


Cairo

Visit the Egyptian Museum is one of the biggest museums in the world and it's packed full of artifacts, mummies, tombs, statues, hieroglyphics, and much more. Our Egyptologist guide will teach us more about ancient life before you get to wander freely to take it all in. We'll get a break from the hustle of Cairo at the Mosque of Ibn Tulun, just a couple steps inside is strikingly peaceful compared to the street of busy Cairo. Climb the stairs to a look out point or just enjoy the intricate details of this beautiful mosque. We'll finish the afternoon with the biggest market in Egypt – Khan El Khalili Market, great for last minute gifts, Egyptian food, and beautiful winding alleys. Meals: breakfast, lunch
Day 11


Farewell, Egypt

After breakfast, our adventure in Egypt has come to an end. We'll be available to help you organize your own transportation whenever you like. We'll stay in touch until our next adventure together. Meals: breakfast
Our accommodation is hand-picked to give you the best combination of comfort, location, and style. These are photos from our collection of favorite hotels and resorts to give you a sense of the accommodation you can expect with us. 
Steigenberger Pyramids, Cairo
Pyramid views, a delicious breakfast, and a bar inside make this hotel the perfect escape from the busy city. Plus it is next door to one of our favorite Egyptian restaurants!
El Nakil Hotel, Countryside Luxor
Tucked away in the countryside, you will be greeted by smiling locals and waving kids as you make your way to this little hotel. The rooms are simple, but clean and comfortable, the grounds are gorgeous, and the food is some of the best we've ever had in Egypt. 
Gravity Hotel, Sahl Hasheesh
Located right next to the Red Sea, this resort features multiple restaurants, a shisha bar, a dive/snorkel center, a few pools to choose from, a spa, and more. It's far enough away from busy Hurghada and close enough to jump on a shuttle to explore.
Accommodation in twin rooms
Egyptologist guide
10 Breakfasts
7 Lunches
5 Dinners
Local transportation
Airport pickup on day one
Domestic flights from Cairo to Aswan
All entrance fees and activities in the itinerary unless specified as optional
Activities and experiences:
Step Pyramid of Saqqara
The Great Pyramids
The Sphinx
Mortuary Temple of King Khaefra
Papyrus gallery
Philae Temple
Dinner at local Nubian home
Felucca sailboat ride and overnight
Kom Ombo Temple
Karnak Temple
Luxor Temple
Valley of the Kings
Hatshepsut Temple
Colossi of Memnon
Alabastar factory
Egyptian Museum
Mosque of Ibn Tulun
Khan El Khalili Market
Arrival: Cairo International Airport (CAI)
Departure: Cairo International Airport (CAI)

Tour check-in: 4pm
Tour check-out: 11am

We will pick you up from the Cairo International Airport any time on day one after 8am. If fellow travelers arrive around the same time, we'll bring you to our first hotel together. More details to follow once your spot is booked.
A deposit of $500 is required to hold your spot.
Final payment is due 60 days before departure.
Pay as much as often as you like until the due date.
If you cancel your spot earlier than 60 days before departure, you can apply your payment to any trip within the next year.
No refunds on deposits.
Airfares
Visa fees if applicable
Travel insurance (mandatory)
Airport drop off
Covid PCR test (currently mandatory to enter Egypt)
The itinerary is subject to change due for any reason – weather, unexpected cancellations, impromptu local opportunities, or surprise additions.
Comprehensive travel insurance is mandatory or you may be refused to join the tour. See our guide for help choosing a plan.
All bookings are subject to our terms and conditions.
Most countries, including the USA, are able to get a visa upon arrival to Egypt. In fact, we recommend getting it on arrival because the process is straightforward and fast. With the VIP service that we have arranged for our travelers, our airport escort will walk you through the entire process.
All you need to get an Egyptian visa on arrival is your passport, $25 USD in cash, and your negative COVID test. The rest is super simple. If you are not a US passport holder, please check to be sure your country qualifies for a visa upon arrival, but the majority of them do.
This tour was epic in every way
"This was my 2nd solo trip with SoFe. I initially went to Bali and because that tour was so good I decided to go to Egypt meetup and I am so happy that I did. This tour was EPIC. I am even planning on going on this same tour again to experience it all over again!" Aihee R. | Egypt & Bali 
This trip was everything and more
"I'm 100% going to book another trip, although this one will be hard to beat. This trip was everything and more I could ever ask for. I saw places I only ever saw in photos, experienced "Egyptian Hospitality" first hand, had stereotypes of the middle east shattered, watched the sunrise over the Sahara, swam in the Nile AND the Red Sea, and danced to the sound of Nubian drums on a felucca at sunset on the Nile. How could a girl ever ask for more? This trip was the perfect blend of history and education, culture, great food, bucket list items completed, and topped off with even better company." Dani B. | Egypt
The Egypt SoFe trip was life-changing.
"The Egypt SoFe trip was life-changing, truly! From our amazing egyptologist guide, Sameh, to the sites and wonders of Egypt, and the amazing women that I got to meet and travel with, it was extraordinary. The experiences shared and the memories made are unparalleled and will hold a place in my heart forever. Thank you SoFe Traveler Network." Darlyne M. | Egypt