With ancient temples, mystic tales, and golden desert sunsets this Jordan and Egypt adventure will turn you into a story teller. 
From under a million stars in Petra to floating above the lowest point on earth at The Dead Sea, we will make our way to the Great Pyramids, mystical temples, and the bright blue beauty of The Red Sea. 
Watch the sun set from a sailboat on the Nile River where we'll eat, sleep, and watch the sunrise.
Sleep in a luxury tent under the stars in Wadi Rum.
Feast on a home cooked meal and dance to traditional music at a Nubian woman's home. 
Spend an afternoon with a female shepherd and her flock.
Temple hop through Egypt visiting Luxor Temple, Karnak Temple, and many more.
Day 1


AIRPORT PICK UP IN AMMAN

Welcome to Jordan! Our driver will meet you at the airport with a sign and a smile to bring you to the hotel to meet the rest of the group. We'll pick you up from the Queen Alia International Airport in Amman anytime today according to your arrival time. In the evening, we will have dinner to meet your fellow travelers and talk about the adventure ahead! Meals: dinner
Day 2


AMMAN

This morning, we will walk around the old city of Amman with our expert local guide. Marvel at the Citadel, The Roman Theatre, and the Jordan Folklore Museum. Explore one of Amman's oldest neighborhoods, Jabal al-Weibdeh, known for its stunning architecture, art galleries, and handcraft shops. For lunch, we will visit Iraq Al Amir Women's Association, a cooperative where you can learn the art of olive oil soap making and various other handicrafts. Test your skills in the kitchen with a cooking class with at a mother + daughter cooking school. Learn classics like tabbouleh, flat bread, and lentil soup from recipes created many generations ago before sitting down to eat your delicious creations for dinner. Meals: breakfast, lunch, dinner
Day 3


AMMAN TO PETRA

After breakfast, we'll drive south to explore a town half as old as time -The Red Rose City of Petra. Transport to another era exploring the many caves and tombs of this "lost city". Walk through ancient Nabatean, one of the modern 7 wonders of the world. Our guide will walk with us to see Qasr Al-Bint or the Royal Tombs. Meals: breakfast Drive time: approx. 3 hours
Day 4


Petra

Snap some Insta-worthy photos and snag a few moments of solo time as we start the day back in the lost city. Our guide will show us the High Place of Sacrifice and Al Khubtha mountain, and the monastery. This afternoon we will meet a female shepherd and spend time learning about her life, traditions, and help care for her flock of sheep. Meals: breakfast, lunch
Day 5


PETRA TO WADI RUM

In the heart of the Wadi Rum desert, we will visit the Disi Women's Cooperative, whose aim is to revive Bedouin culture through authentic cultural experiences. The women here will show us traditional pottery making, storytelling and teach us about Bedouin wedding traditions lecture. This afternoon is all about nature with a short hike through Barrah Canyon, the most beautiful canyon in Wadi Rum. Rest after a great day at our glamp site under the stars! Meals: breakfast, dinner Drive time: approx. 2 hours
Day 6


WADI RUM TO DEAD SEA

Beautiful Aqaba, Jordan's window to the Red Sea, brings a refreshing beachy vibe to the dry sands of the desert. Stroll around the local markets before we take the Jordan Valley Highway to the Dead Sea, the lowest point on earth. Float in the sea, grab some healing mud from the ground for a full body mask, hang by the pool, and relax. Meals: breakfast, dinner Drive time: approx. 3 hours
Day 7


Dead Sea

Our guide will take us to Madaba, a heritage trail dedicated to cultural, heritage and religious exploration. It's short, but it links the most important architectural and historical landmarks of the city. This afternoon we will participate in a mosaic workshop learning more about Byzantine mosaics excavated from throughout the town. End the afternoon with the view from Mount Nebo, where Moses looked across to the promised land. Back at the hotel, you have more time in the Dead Sea or to relax by the pool. Meals: breakfast, dinner
Day 8


Goodbye Jordan. Hello Egypt!

After breakfast, it's off the airport to catch our flight to Egypt! The rest of the day is free to lay by the pool and relax. Meals: breakfast
Day 9


CAIRO GREAT PYRAMIDS

Our Egyptologist tour guide will take us to the oldest pyramid in Egypt: The Step Pyramid of Saqqara. Listen to stories of Egyptian beliefs, why they built their tombs, and how they are so well preserved thousands of years later. We'll take a break with traditional Egyptian lunch at one of our favorite local spots. Snap a photo next to the Sphinx, and step into the mortuary temple of King Khaefraa for your first up-close look of hieroglyphics. Meals: breakfast and lunch
Day 10


Aswan

We'll hop on a plane for a quick 40 minute flight to Aswan. First, we visit Philae Temple, dedicated to the goddess Isis, the temple of beauty and magic. We'll wander through slowly learning about women's roles in ancient Egypt. The Nile meets the exit of the temple for stunning views, but before we go, say hello to the many cats hanging out like locals at the cafe. Tonight we are staying in a family owned Nubian hotel right on the Nile River. Rest or explore until the evening when we visit a local Nubian woman who invites us into her home and cooks us an incredible meal. She tells us more about her life as a single mother, an uncommon life in her culture. Meals: breakfast, dinner
Day 11


Aswan

This morning choose an optional tour of Abu Simbel. Massive figures of King Ramses are etched in into the earth and inside are stories painted in vibrant color! This afternoon we will check in to our floating accommodation - an Egyptian sailboat called a felucca. An overnight on a felucca means a magical sunset followed by a campfire, dancing, and a drink or two. Think of it as camping for an evening with the best view of the stars, the sunrise, and truest experience of the Nile. Meals: breakfast, lunch, dinner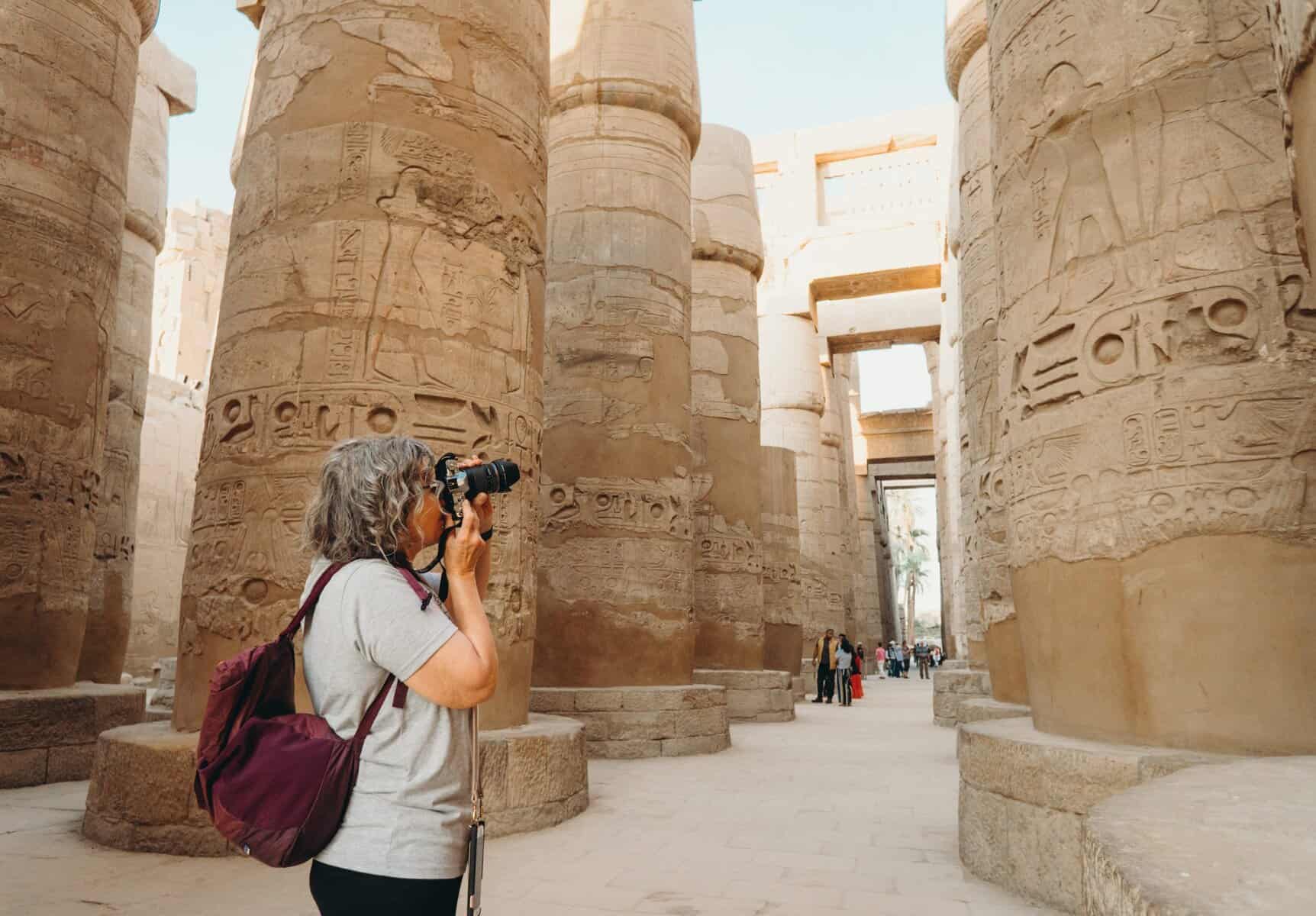 Day 12


LUXOR COUNTRYSIDE

After the felucca crew makes us breakfast, we have a 4.5 hour drive cruising past villages and lush farms to Luxor. Marvel at the biggest and greatest (depending on who you ask!) temple in Egypt, the 2nd largest in the world – The Temple of Karnak. Once the sun hits the horizon, we visit The Temple of Luxor, which holds some of the most important carvings of ancient Egypt and is beautifully lit up at night. Meals: breakfast, lunch
Day 13


Luxor

Watch the colors of the sunrise flood Luxor from up in the sky! Take a hot air balloon ride (optional) over the west bank of Luxor! See temples from above, wave to village kids, and see the striking contrast in landscape where desert abruptly meets lush fields. This afternoon, wander the maze of tombs belonging to the most famous pharaohs, like Tut Ankh Amon, King Ramses the 2nd, and Queen Hatshepsut in The Valley of the Kings. We'll have some solo time in the Temple of Queen Hatshepsut, one of the few women who ruled Egypt. Our next stop at Colossi of Memnon is the perfect introduction to the art of sculpture. Local artists will explain how the ancient Egyptians, without our modern tools, used to build such massive, detailed structures. Meals: breakfast, lunch, dinner
Day 14


Hurghada

Explore the all inclusive resort with a drink by one of the pools, a walk down the beach, or by getting a massage - today is up to you. Explore the desert on an ATV (optional)! You'll drive your own ATV right up to the beach and over the dunes overlooking the mountains for a thrilling ride through the Sahara. Meals: breakfast, lunch, dinner, all beverages
Day 15


Hurghada

Open your hotel window to the incredible view overlooking the Red Sea. The Red Sea is world famous for scuba diving and snorkeling and both are available at the resort. Grab your sunscreen and take your first dip into the sea, or swim at one of the many resort pools for a day under the sun! Meals: breakfast, lunch, dinner, all beverages
Day 16


Hurghada to Cairo

Back to Cairo we go, home of our favorite falafel place! Our drive today is about 5 hours past desert, through villages, and into Cairo back to our first hotel to get ready for amazing day tomorrow. Meals: breakfast
Day 17


Cairo

Visit the Egyptian Museum is one of the biggest museums in the world and it's packed full of artifacts, mummies, tombs, statues, hieroglyphics, and much more. Our Egyptologist guide will teach us more about ancient life before you get to wander freely to take it all in. We'll get a break from the hustle of Cairo at the Mosque of Ibn Tulun, just a couple steps inside is strikingly peaceful compared to the street of busy Cairo. Climb the stairs to a look out point or just enjoy the intricate details of this beautiful mosque. We'll finish the afternoon with the biggest market in Egypt – Khan El Khalili Market, great for last minute gifts, Egyptian food, and beautiful winding alleys. Meals: breakfast, lunch
Day 18


Farewell for now

After breakfast, our adventure in Egypt has come to an end. We'll be available to help you organize your own transportation whenever you like. We'll stay in touch until our next adventure together. Meals: breakfast
A highlight of our Jordan & Egypt Meetup Tour, our accommodation is premium. Here are some of our featured stays to give you an idea of the type of places you'll experience.
Gravity Hotel, Sahl Hasheesh
Located right next to the Red Sea, this resort features multiple restaurants, a shisha bar, a dive/snorkel center, a few pools to choose from, a spa, and more. It's far enough away from busy Hurghada and close enough to jump on a shuttle to explore.
Steigenberger Pyramids, Cairo
Pyramid views, a delicious breakfast, and a bar inside make this hotel the perfect escape from the busy city. Plus it is next door to one of our favorite Egyptian restaurants!
Surrounded by sand dunes, this glamp site is the perfect spot to see the stars and experience Bedouin hospitality. Each tent has a private bathroom and AC.
With Dead Sea views for days, away from the crowds of tourists, these private chalets make this the perfect oasis on the lowest place on earth.
Accommodation in twin rooms
Local guides, including an Egyptologist
17 breakfasts, 9 lunches, 10 dinners
Flight from Jordan to Egypt
Local transportation
Airport pickup on day one
All entrance fees and activities in the itinerary unless specified as optional
Activities and experiences:
Iraq Al Amir Women's Association
Qasr Al-Bint or the Royal Tombs
An afternoon with a female shepherd 
Ammarin Bedouin Camp
Disi Women's Cooperative
Float in The Dead Sea
Step Pyramid of Saqqara
The Great Pyramids
The Sphinx
Mortuary Temple of King Khaefra
Philae Temple
Dinner at local Nubian home
Felucca sailboat ride and overnight
Kom Ombo Temple
Karnak Temple
Luxor Temple
Valley of the Kings
Hatshepsut Temple
Colossi of Memnon
Alabastar factory
Egyptian Museum
Mosque of Ibn Tulun
Khan El Khalili Market
We will pick you up from the airport any time on day one after 8am. If fellow travelers arrive around the same time, we'll bring you to our first hotel together. On the last day, we will help arrange a ride to the airport or wherever your travels take you next. More details to follow once your spot is booked.

Check in: 2pm
Check-out: 11am
A deposit of $500 is required to hold your spot.
Final payment is due 60 days before departure.
Pay as much as often as you like until the due date.
If you cancel your spot earlier than 60 days before departure, you can apply your payment to any trip within the next year.
No refunds on deposits.
International airfares
Visa fees if applicable
Travel insurance (mandatory)
Airport drop off
Covid PCR test, currently mandatory to enter Jordan and Egypt. We will arrange your test to enter Egypt.
The itinerary is subject to change due for any reason – weather, unexpected cancellations, impromptu local opportunities, or surprise additions.
Comprehensive travel insurance is mandatory or you may be refused to join the tour. See our guide for help choosing a plan.
All bookings are subject to our terms and conditions.

Is this tour right for you?
There is a lot of walking around the sights, some in the shade and some in full sun, please bring comfortable shoes and a hat to make the most of your time at the sights.
The weather can be quite extreme, from very hot in summer to cool in winter, please check the weather conditions for when you travel.
Most countries, including the USA, are able to visit Jordan and Egypt with a visa upon arrival. In fact, we recommend getting it on arrival because the process is straightforward and fast. 
When our group transfers to Egypt from Jordan, our airport escort will walk you through the entire process. All you need to get an Egyptian visa on arrival is your passport, $25 USD in cash, and your negative COVID test.
If you are not a US passport holder, please check to be sure your country qualifies for a visa upon arrival, but the majority of them do.
Best chance to get to know people in the network!
"I joined the SoFe Network on Facebook 3 years ago but joined the membership because I wanted to interact with people without the weirdness of Facebook social boundaries. It absolutely worked, and I've made so many friends and been on quite a few zoom events. The events are amazing, the people are amazing, best chance to get to know people in the network!" Kirsten | Membership
One of the best trips I've ever been on.
"I had always wanted to go to Morocco but I was hesitant to go alone which normally I have no problem doing. I saw this trip advertised on the Solo Female Traveler Network Facebook page and the more I looked into it the more I wanted to go. So I did..and let me tell you that it was one of the best trips I've ever been on…seriously." Jennifer H. | Morocco
So much more than a tour.
"I have been on three tours with these ladies, and I can not even explain how amazing my experiences have been. It's so much more than just a tour. I have made life-long friends who understand my wanderlust, met local people who taught me the warmth and kindness of the places we've visited, and I have left feeling empowered to travel more." Megan S. | Bali