Travel can be incredibly eye-opening, and it can also be unpredictable and stressful. 
Traveling can completely change our outlook on life by teaching us lessons that we could never learn in a textbook. That is not because of the beautiful, Instagram-worthy pictures, but rather for the changes that occur in our minds and hearts. These changes stick with us long after the plane touches down at our home airport. These experiences are key to growing as individuals and transforming our lives in the here and now. 
Wanderlust comes with many ups and downs. One challenge is finding time and space to keep up with a consistent physical and mental exercise routine. The mind-body connection is crucial in order to squeeze out every beautiful thing that traveling, and life, have to offer.
The more we prioritize consistent care for our mind and body, even under challenging circumstances that can arise while traveling, the more resilient we grow. Mentally and physically, our bodies get stronger by leaving the excuses behind and putting our health first. We won't have to say no to that hike with the breathtaking view at the top because we aren't in the appropriate physical shape for it. We won't have to miss out on vacations with our grandkids because we can't keep up with them. We can get the most out of our traveling experience by emphasising on wellness no matter where we are in the world.
Lindsay DeAguila is an educator in yoga, martial arts, kickboxing, and high intensity interval training. In the past 6 years, she has explored 35 countries, and shares some expert tips on building resilience through physical and mental activities on-the-go. No hotel gym or park nearby? No problem! Here are some simple tips to keep you motivated while traveling.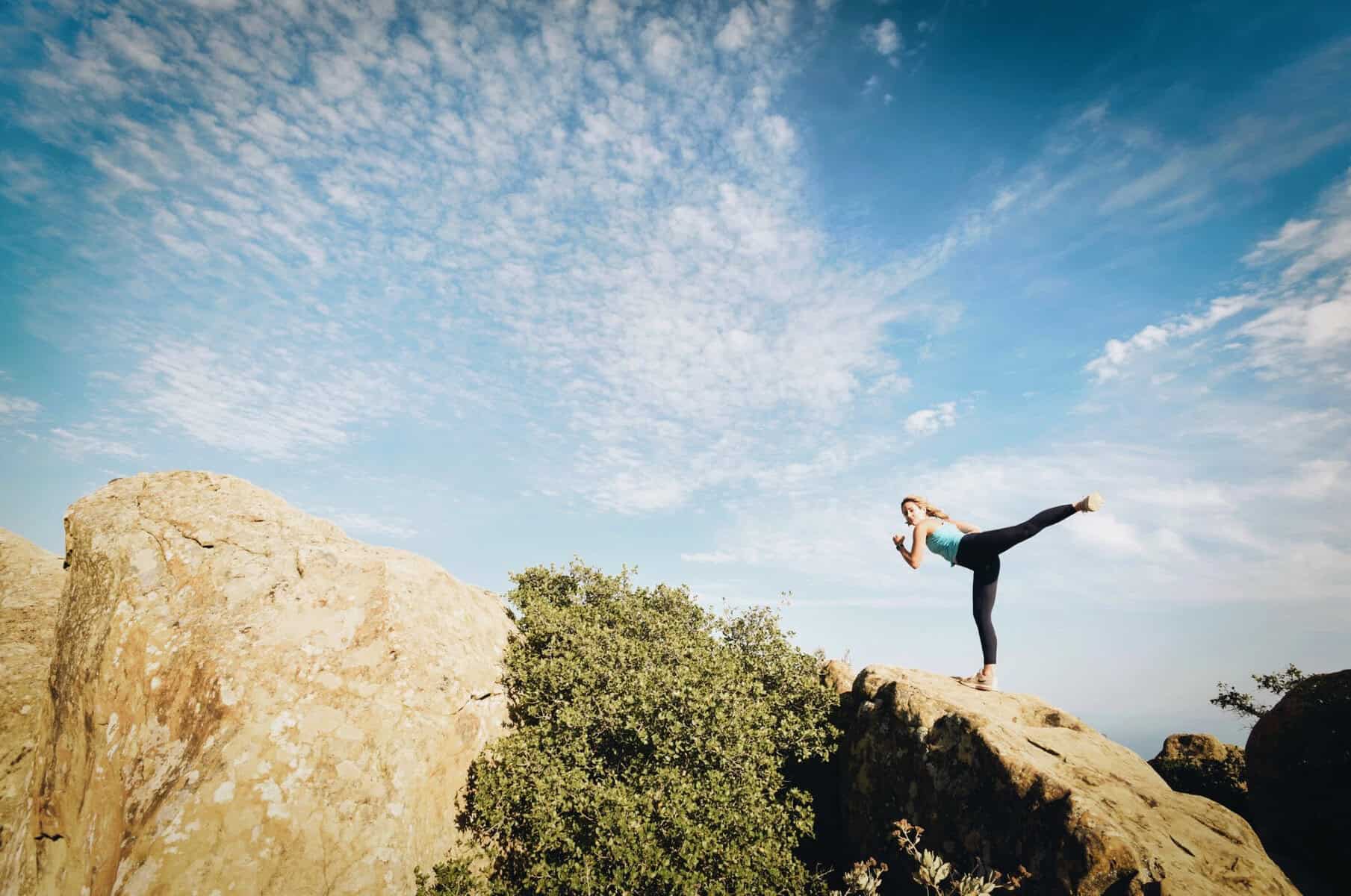 First things first: to prioritize wellness, we have to practice making it an intentional part of our daily routine. We are creatures of habit, so carve out a specific time of day to prioritize mental and physical practices. 
A lightweight yoga mat is a great way to squeeze in effective workouts in your hotel room. Bring easy-to-pack equipment like resistance bands. They take up minimal space and can really create a big impact on our fitness. Fun fact: they also double as clotheslines to dry your clothes! 
I also like to download a 10-minute meditation on my phone before I head out – there are plenty on Spotify and Youtube. It is easy to just press play and check into my allotted mindfulness time and keep the routine going.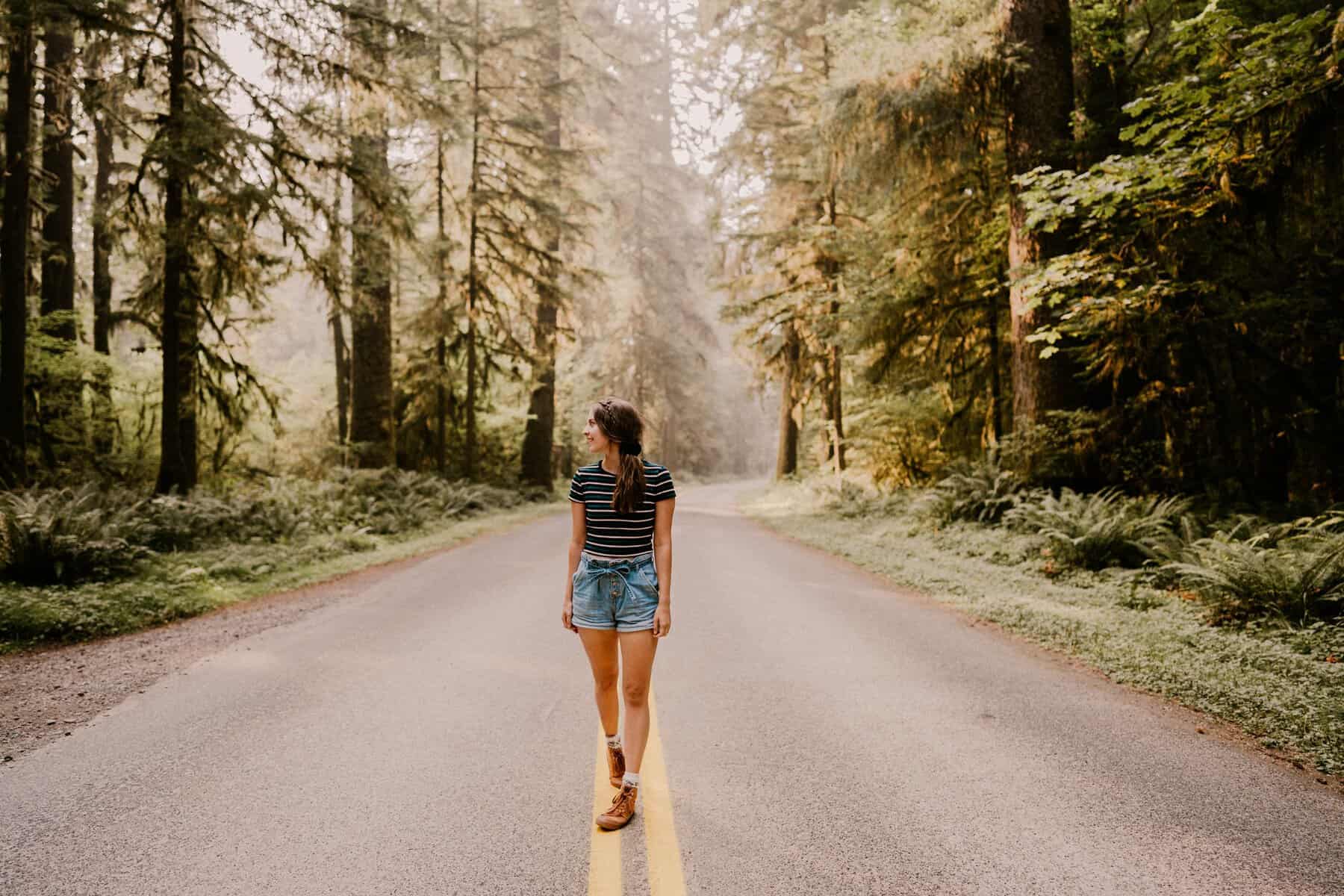 Walking is an easy (and free!) way to explore a new area. Sure, taxis and public transport exist, but get into a habit of choosing health over convenience. Wandering on foot helps us understand our surroundings and learn to navigate the area (hello, mind-body connection!), besides squeezing some more exercise into our days. Good blood circulation is key to our health. Apart from the health implications, this leaves more room for guiltless indulgences—an extra mocha latte, anyone?!
On a related note, get outside as often as you can. Nature is the greatest medicine for the mind and soul, helping to de-stress and refocus our intentions. Even 10 minutes outside per day can create a positive headspace. Plan ahead by downloading offline maps of the area to your phone or purchasing an old-fashioned guide book as you wander.
Join a Virtual Fitness Community
Did you know you could still take a fitness class with one of your best friends while in different hemispheres?
Virtual fitness communities are beneficial for accountability, support, and connection. Being accountable ensures the development of a routine to fit a workout in our day. They allow us to take our workouts and workout buddies (aka, the best support support system) with us no matter where we are in the world. 
There is a community for everyone – Zumba, yoga, running, HIIT, kickboxing – giving you the flexibility to be fit outside of a gym.
When we are traveling and have a packed itinerary, it is important to take a few quiet moments to slow down. Mindfulness can help with anxiety, and lessen the impact of external shifts on our internal environment. 
Gratitude reminds us that we have everything that we need – our bodies and our minds. Making gratitude a daily part of our health routine teaches us to be resilient, makes homesickness more tolerable, and helps us feel more like ourselves regularly. The more we practice gratitude, the more we will be able to maintain a positive physical and mental state of well-being.
Consider starting a gratitude journal or ritual, or reaching out to friends and family while you are traveling to fully absorb and savour the present. 
Our minds are always traveling, taking us to different destinations each day. We should never stop learning, no matter where our bodies physically are in the world. Especially if we are taking time off school or work, it is important to continue to challenge the mind and keep it active. We can do this through activities such as crossword puzzles, reading books, or trying to learn the language of the country we are in!
If possible, take a road trip instead of flying, in order to give our brains a good mental sweat through the obstacles road tripping presents. We can also keep our mind body active by learning a sport native to the place we are in. For example, a class in Japan using their Samurai sword "katana" can be a memorable experience!
There are several reasons that can prevent us from our daily health practice while traveling: too little space, no equipment, feeling awkward amongst strangers. But, keep in mind that prioritizing our bodies will support the explorer within us for years to come. 
Fuel yourself through the right nutrition and eat fresh and local. Making mindful choices helps us be productive and get the most out of sightseeing without bloat or brain fog.
If you need a break, take one. Rest is also a building block to strengthening our resilience. Whether we are a first time traveler or have traveled around the globe, the most important thing we can do for our adventurous souls is to board the mental and physical health train daily.
Lindsay De Aguila
Lindsay's work is driven by the question: "How can one build, hone, and expand emotional and physical resilience?" She is best known for creating opportunities that inspire others to push their mental and physical limits. A National All-Around State Gymnastics Champion, Self Defence Martial Arts State Champion, certified Ashtanga Yoga Instructor, and first degree Hapkido black belt holder, Lindsay is a Resilience Expert.