Straddling continents, history and culture, Turkey is a unique destination full of contradictions and beauty waiting for you to explore! This all-female Meetup Tour of Turkey offers the ideal mix of history, luxury, and culture all while connecting you with local women.
Dive deep into Turkey's rich history as your textbooks come alive right in front of you with visits in Antalya and Ephesus. Experience the hustle and bustle of Istanbul, where you'll want to eat and shop 'till you drop. Relax on the Turquoise Coast and marvel at natural wonders like Cappadocia and Pammukale.
Learn the ancient traditional of pottery making followed by a a lunch cooked by a famous local woman in her cave home.
Sleep under the stars on the deck of a Turkish Gullet Boat while sailing along the Turkish Riviera.
Join a woman from a small fishing village as she teaches us how to embroider her famous scarves before a home cooked lunch in her home.
Visit an NGO focused on giving women a place to work and make an honest wage.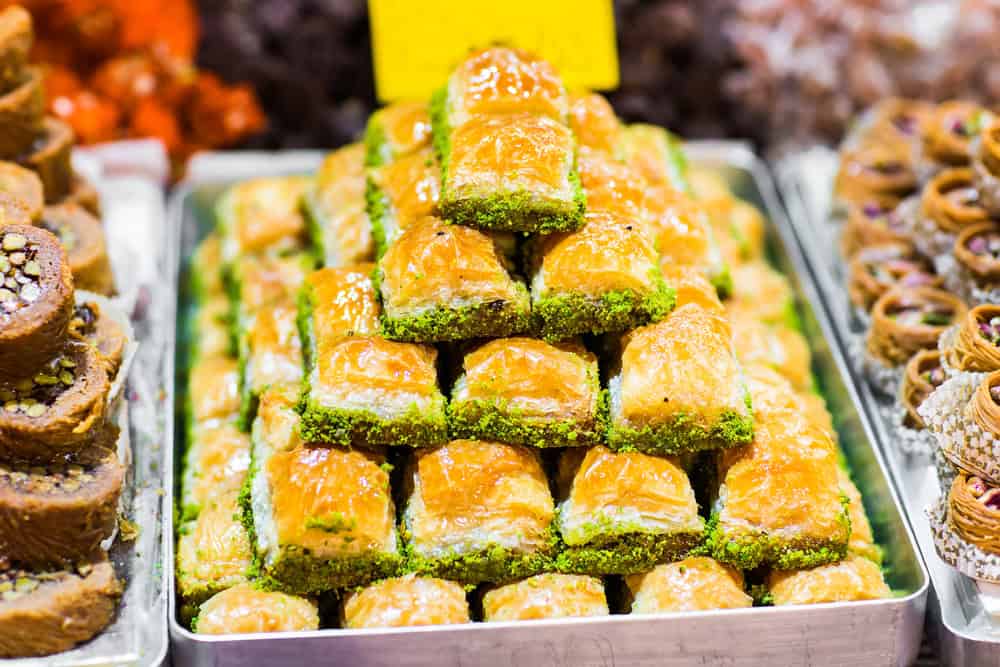 Learn the traditions of Turkish cuisine with a woman-led cooking class.
Get to know the story of a female entrepreneur by visiting her olive grove and tasting local produce over lunch.
Day 1


Arrival in Istanbul

Merhaba! Welcome to Turkey! This women's only tour kicks off in Istanbul, the continent-straddling metropolis that the Greeks, Romans, Byzantines, and Ottomans have previously all called home. We will pick you up at the airport and bring you to the hotel to meet the rest of the group. Your welcome meeting with the guide starts at 6PM at your hotel. Until then, you're free to go out and explore!
Day 2


Istanbul

Today you'll visit all of Istanbul's most historic and iconic sites with a full day tour of the city. Start with the jewel in the Istanbul crown -- the Blue Mosque. This is one of the most striking sights, with its iconic, blue-tiled walls, 260 windows, and six minarets. Wander across the plaza to the Hagia Sophia, a masterpiece of Byzantine architecture which holds more than 1,500 years of Turkish history. Seek out treasures in the famed Grand Bazaar, which offers up 3,000 shops to explore! We'll meet a few of the local characters, perfect your haggling skills, have a true Turkish coffee, and shop. We'll end the day with a water marbling art demonstration at a female artist's workshop. Meals: breakfast and dinner
Day 3


Ayvalik

After breakfast, we'll hit the road to the quaint town, Ayvalık. We'll be welcomed with a delicious traditional Turkish lunch at a woman-owned olive grove. Our hostess for the day started this journey in 2012 with 800 trees and now she is exporting olive oil all over the world. We'll get to know her initiative for boutique olive oil production and enjoy a taste of the products produced in the region. The foodie theme isn't over yet, because next up is wine tasting! Once we arrive in Ayvalık, enjoy a walk on the charming cobblestone and if time permits, visit çöp(m)adam. This experimental project in Ayvalık aims to address the issues of women's employment in Turkey and the importance of recycling/re-using. Meals: breakfast and lunch. | Drive time: approx. 5 hours
Day 4


Ephesus + Sirince

We'll leave Ayvalık in the morning and head to Ephesus. This ancient site is one of Turkey's most important historic attractions and it is an absolute marvel. Explore this beautifully preserved classical city with your local guide who will bring its colorful 1,500 year history to life. Watch in awe as the sophistication of this former metropolis reveals itself: it had running water, public toilets, a renowned medical institute, a theatre and Roman baths. After Ephesus, continue on to the adorable little village of Sirince. The town's name actually means "cute" in Turkish and it is perhaps the perfect synthesis of a traditional Turkish and Greek village. Join local women for a hands-on cooking class where you'll learn a bit about the traditions of the Turkish kitchen. Meals: breakfast and dinner | Drive time: approx. 3 hours
Day 5


Pamukkale + Kas

After breakfast, a long travel day lies ahead of us today, but the journey is absolutely worth it. We'll be stunned by the unreal landscape of Pamukkale. Plunging from a 700 foot high cliff, the calcite-laden waters have created an incredible scene of mineral forests, petrified waterfalls and a series of terraced basins. We continue to Kaş, where we'll be spending the night. The whitewashed houses adorned with bougainvillea, as well as an ancient theatre, makes Kaş a great place to be explored on foot. Take some time to wander solo or relax and join for an optional dinner at a mother and daughter run restaurant famous for recipes like 'Mamma's pastry'. If you feel like a walk after dinner, the local handicraft market is open late! Meals: breakfast | Drive time: approx. 7 hours
Day 6


Turquoise Coast

Take some time to unwind and release the stress of the busy city with a morning yoga session or simply sleep in. After a late breakfast, drive to Ucagiz village. This quaint, coastal fishing village lies amid beautiful islands and peninsulas. We'll meet a local fisherman's wife, who will teach us how to embroider one of her famous village scarves. After a homemade lunch, she helps us board a traditional Turkish Gullet boat which will be our home for the rest of the day! Enjoy a relaxing afternoon sailing along the Turkish Riviera. We'll get to see the ruins of the ancient sunken Lycian city and swim in crystal clear waters. Tonight, we will sleep on deck under the starry Mediterranean sky. Meals: breakfast, lunch, and dinner
Day 7


Antalya

After waking up on the water, we say goodbye to our floating home as we continue on to Antalya. We have a guided tour of Antalya Museum, which is considered one of the leading museums in the world. Antalya has been the crossroads of humanity for thousands of years, hosting the magnificent cities of Lycia, Roman and Byzantine civilizations. Our guide will give us a brief walking tour of the old city before checking into the hotel. The afternoon is free to explore on your own. If you like, you can sign up for an optional treatment at a hammam, a traditional Turkish spa. Meals: breakfast
Day 8


Cappadocia

Make sure your cameras are charged, because we are headed to Cappadocia! Over millions of years, rain and wind have shaped the soft white volcanic rock of the plain into an otherworldly landscape of dripping cones, pillars, pinnacles, and fairy chimneys soaring more than a hundred feet into the sky. We'll visit the Goreme Open Air Museum, a UNESCO World Heritage site. Later in the day, we will learn the tradition of carpet and rug making in Turkey. The afternoon and evening are free with a few optional activities to choose form. You can enjoy a meal at Kadıneli Restaurant, an NGO project focused on giving the women of Uchisar a place to work and make an honest wage. You can also choose to discover the unique traditions and mysticism of Rumi's Mevlevi Order and watch the devout whirling dervishes act out a hypnotic sema performance. Meals: breakfast
Day 9


Cappadocia

Early birds have the option to take a hot air balloon over the ethereal Cappadocian landscape. The scene at sunrise is sure to take your breath away! The group will reconvene after breakfast for a walk of the surrounding valley to witness the fascinating rock formations and fairytale chimneys. Then visit Soganlı, a 4th century AD centers of Christianity in Cappadocia. There are thousands of pigeon houses, caves and shelters besides the frescoed churches and monasteries carved into the rock. Later, we will learn about the tradition of pottery making in this region. Tonight we will have a group dinner with a well-known local woman who homecooks delicious Turkish cuisine in her cave home. Meals: breakfast and dinner
Day 10


Istanbul

This morning, we catch a flight back to Istanbul. In the evening, we celebrate all of our wonderful memories with a group farewell dinner. Meals: breakfast and dinner
Day 11


Departure

After breakfast, say goodbye for now but not forever. Your tour guide can help you organize a ride to the airport or transportation for your onward travels. Meals: breakfast
You've already taken the time off of work, booked your flights and made the effort to get to the Middle East. Why not extend your stay to really maximize your experience in the region?
Have you always wanted to visit the Wonder of the World Petra or sleep in the Wadi Rum desert? Now is your chance. This itinerary can be combined with our Jordan Meetup Tour! 
If you're interested in combined tour options, reach out to [email protected] for booking assistance and special combined pricing. 
Our accommodation is hand-picked to give you the best combination of comfort, location, and style. These are photos from our collection of favorite hotels and resorts to give you a sense of the accommodation you can expect with us. 
Nisanyan Houses Boutique Hotel
With a rooftop terrace offering lovely views over the charming town of Sirince, the Nisanyan Houses Hotel has renovated a number of bungalows and village homes to create a boutique hotel experience. This is warm family-run operation that you will fall in love with! 
Sleep on deck of a traditional Turkish Gullet boat for a truly unforgettable experience. Enjoy a 'camping at sea' adventure as you drift off to sleep under a starry Mediterranean sky.
The boat does have cabins and bathrooms below deck, but the tight quarters make the deck the true hang out space. A mattress, sheet and blanket are provided, and it is up to you to find the best spot-on deck.
Experience a few nights inside one of Cappadocia's infamous cave structures. Converted into a cozy and stylish accommodation, this family-owned and female operated boutique hotel offers 12 charming rooms, as well as a delicious restaurant and lovely views.
Accommodation in twin rooms
Local guide
9 breakfasts, 2 lunches, 4 dinners
Local transportation
Airport pickup on day one
All entrance fees and activities in the itinerary unless specified as optional
Included Activities
Istanbul City Tour
Ebru (Water Marbling) Art Demonstration
Nermin Hanım Olive Grove Tour + Tasting
Ma'adra Winery Tour + Tasting
Ayvalık Orientation Walk
Ephesus Guided Tour
Cooking Class
Pamukkale Tour
Turquoise Coast Boat Excursion
Antalya Museum Entrance + Tour
Antalya City Walk
Cappadocia Open Air Museum
Carpet Making Demonstration
Cappadocia Valley Hike
ARRIVAL: You should arrive in Istanbul (airport code IST) before 18:00 on your Meetup Tour start date.
Your program fee includes an airport pick up regardless of what time you arrive on the program start date.

If you plan on arriving a day or two early, the airport transfer is

not

included. Please let us know if you need early arrival services, and we can add them onto your invoice. 
DEPARTURE: The tour ends in Istanbul (airport code IST) at 10:00 am on the Meetup Tour end date. You will be responsible for organizing your own transportation to the airport, or whatever onward travel arrangements you have planned. A return transfer is not provided. 
A deposit of $500 is required to hold your spot.
Final payment is due 60 days before departure.
Pay as much as often as you like until the due date.
If you cancel your spot with at least 60 days notice before departure, you can apply your payment to any new trip.
No refunds on deposits.
A visa is required for entrance into Turkey for most passport holders, including US citizens.
Thankfully, the process is entirely online and you can be granted an e-visa within 24 hours of applying. We recommend applying for the e-visa within 2 weeks before departure to Turkey on the government website. We will send you more information about this once you're enrolled!
International airfare
Visa fees if applicable
Travel insurance (mandatory)
Tips for leaders, guide and driver
Airport drop off
Covid PCR test (currently mandatory to enter Turkey)
SoFe Travel requires all travelers be fully vaccinated against Covid-19. Read more about our Covid policies here

.

The itinerary is subject to change due for any reason – weather, unexpected cancellations, impromptu local opportunities, or surprise additions.
Comprehensive travel insurance is mandatory or you may be refused to join the tour. See our guide for help choosing a plan.
All bookings are subject to our terms and conditions.