Women only tour to Turkey
Straddling continents, history and culture, Turkey is a unique destination full of contradictions and beauty waiting for you to explore! This all-female Meetup Tour of Turkey offers the ideal mix of history, luxury, and culture all while connecting you with local women.
Dive deep into Turkey's rich history as your textbooks come alive right in front of you with visits in Antalya and Ephesus. Experience the hustle and bustle of Istanbul, where you'll want to eat and shop 'till you drop. Relax on the Turquoise Coast and marvel at natural wonders like Cappadocia and Pammukale.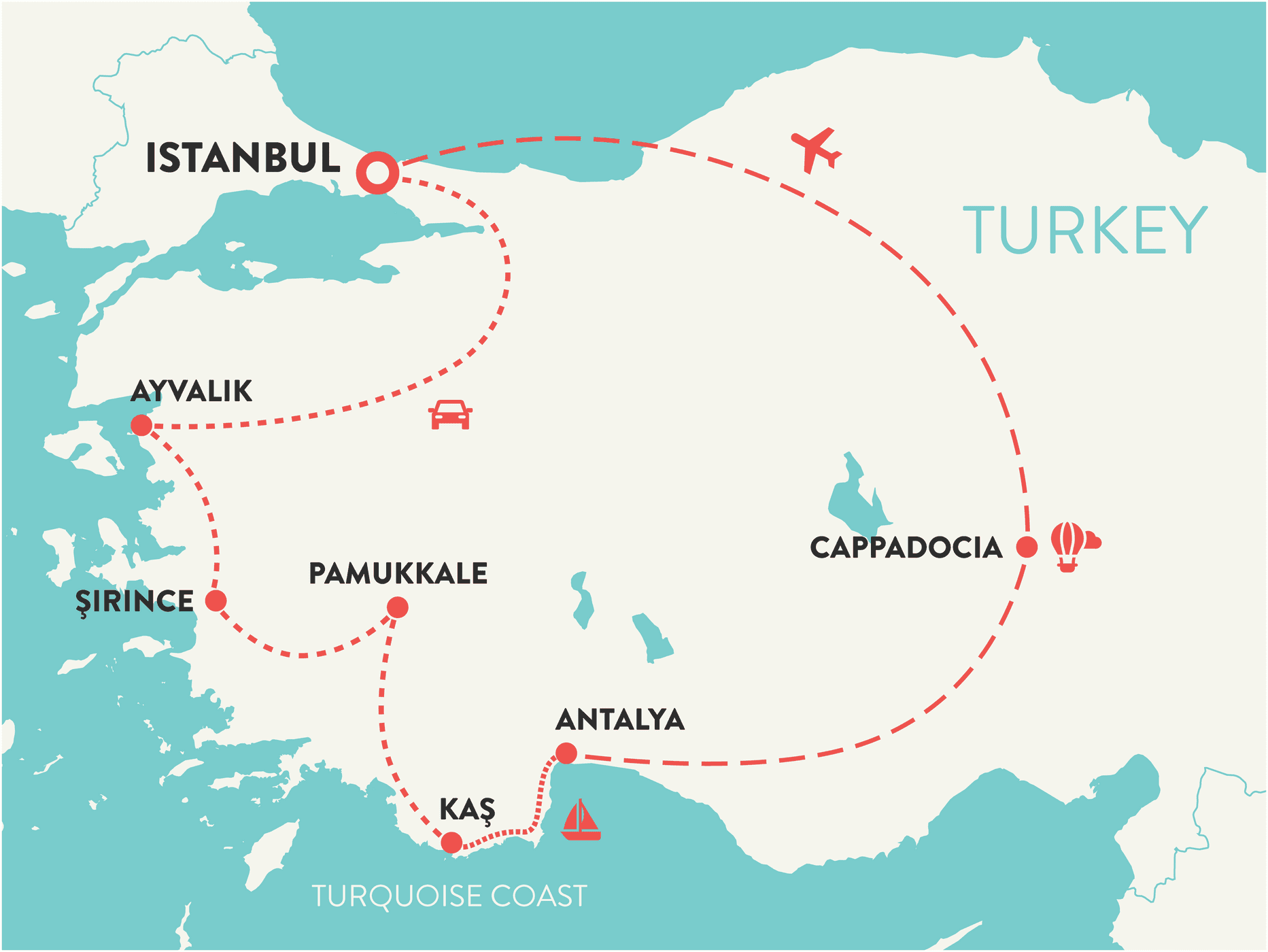 Proof of travel insurance is required before joining day 1 of any Meetup Tour. International flights are not included. 
People often leave our Meetup Tours with friends for life and couches to crash on all over the world.
Spend it with friends or explore on your own, but take time to reflect on your incredible journey. 
Enjoy our hand-picked, premium accommodation combining the best of design, location and comfort.  
Welcome to Istanbul!
Welcome meeting
Merhaba! Welcome to Turkey! This women's only tour kicks off in Istanbul, the continent-straddling metropolis that the Greeks, Romans, Byzantines, and Ottomans have previously all called home. We will pick you up at the airport and bring you to the hotel to meet the rest of the group. Your welcome meeting with the guide starts at 6pm at your hotel.  Following the meeting, you can opt to have dinner together as a chance to get to know each other better or simply enjoy some rest at the hotel.
Istanbul
City tour, Grand Bazaar & water marbling class
Begin your day by exploring the old town of Istanbul. Make your way to the renowned Sultan Ahmet I's Blue Mosque, known for its exquisite blue-tiled walls. Then, be prepared to experience a sense of wonder as you visit Hagia Sophia, a masterpiece of Byzantine architecture that has borne witness to over 1,500 years of Turkish history.  Venture on to Istanbul's famed Grand Bazaar, featuring over 3,000 shops vying to be explored along 61 quaint streets. Hone your bargaining skills, interact with local personalities, sip on authentic Turkish coffee, and shop to your heart's content. To conclude your day, visit Nesime's workshop and immerse yourself in the fascinating art of water marbling (ebru), which involves painting designs directly on the surface of water in a shallow tray and transferring them onto paper. Meals: breakfast
AYVALIK
Lunch at a female owned olive grove & swimming in Mediterranean Sea
After breakfast, we'll hit the road to the quaint town, Ayvalık. Here we'll be welcomed with a delicious traditional Turkish lunch at a woman-owned olive grove. Our hostess began her boutique operation with only 800 trees in 2012, and now exports exquisite olive oils around the globe. We'll get to know her initiative for boutique olive oil production and enjoy a taste of the products produced in the region. Once we arrive in Ayvalık, enjoy a walk on the charming cobblestone and if time permits, visit çöp(m)adam. This experimental project in Ayvalık aims to address the issues of women's employment in Turkey while recycling waste in a creative, aesthetic way. Meals: breakfast and lunch. | Drive time: approx. 5 hours
EPHESUS + SIRINCE
Ancient ruins & cooking class
In the morning, we'll depart from Ayvalık and make our way to the fabled historic site of Ephesus. One of Turkey's most significant landmarks, this well-preserved classical city is truly a marvel to behold. Accompanied by a local guide, you will explore this well-preserved classical city and delve into its captivating 1500-year history. Marvel at the city's exceptional infrastructure, which included public restrooms, a renowned medical institution, a brothel, and Roman baths. The exceptionally preserved theatre is a remarkable sight, and the library is a must-see highlight of the city. Following the Ephesus tour, we'll journey on to the charming village of Sirince, whose name translates to "cute" in Turkish. This quaint town blends the essence of traditional Turkish and Greek cultures to create a unique ambience that is both warm and welcoming.  This evening we'll join with locals and experience Turkish cooking traditions firsthand in a convivial atmosphere where you'll have the opportunity to cook, chat, and create priceless memories. Meals: breakfast and dinner | Drive time: approx. 3 hours
PAMUKKALE
Solo time at the mineral baths
After breakfast, we head to Pamukkale, known as the "cotton castle" for its stunning travertine terraces created by thermal water deposits over hundreds of years. Mineral-rich waters have overflowed to create cream-colored stalactites with rumored healing properties for the digestive and circulatory systems. We'll also visit Hierapolis, a Roman bath center founded in 190 BC, featuring ancient temples, holy areas, fountains, baths, basilicas, necropolises, and an impressive theater. The rest of the evening is free to enjoy. Meals: breakfast, lunch | Drive time: approx. 3.5 hours
Kas
Walking tour, solo time
This morning, take some time to unwind and release the stress of the busy city with a yoga session with your group. Then, drive to Kas (which means eyebrow in Turkish) and begin exploring on a walking tour. Now primarily a holiday town, Kas is strewn with the remains of Lycian tombs, iconic, white-washed walls covered with climbing bougainvillea and an ancient theatre where you can watch a spectacular sunset. The walk is sure to inspire your appetite and your leader will be on hand to show you where to grab a great gozleme (stuffed Turkish flatbread). The rest of the afternoon is free to enjoy this easy-going town. Perhaps sit back with a pomegranate cocktail or check out the local markets. Meals: breakfast | Drive time: approx. 3 hours
TURQUOISE COAST
Sail and sleep under the stars
Get ready for a unique experience as we drive to Ucagiz village. This quaint coastal village is a paradise amidst islands and peninsulas, declared off-limits for developers. Here, you will meet a skilled local fisherman's wife, proficient in piloting a traditional gullet (boat), cooking a delicious Turkish feast, or crafting one of her beautiful village scarves – which you will learn to make. After savoring a homemade lunch, she will take us on a boat ride to explore the ruins of a sunken ancient Lycian city on the northern side of the island. Make sure to take a dip in the crystal turquoise waters before our enchanting night sleeping under the stars on deck. Meals: breakfast, lunch, and dinner
ANTALYA
Walking tour & solo time
After waking up on the water, we say goodbye to our floating home as we continue on to Antalya. Antalya has been the crossroads of humanity for thousands of years, hosting the magnificent cities of Lycia, Roman and Byzantine civilizations. Our guide will give us a brief walking tour of the old city before checking into the hotel. The afternoon is free to explore on your own. If you like, you can sign up for an optional treatment at a hammam, a traditional Turkish spa. Meals: breakfast | Drive time: approx. 3 hours
CAPPADOCIA
Flight to Cappadocia, Goreme Open Air Museum & Turkish rug presentation
Make sure your cameras are charged, because we are headed to Cappadocia! Over millions of years, rain and wind have shaped the soft white volcanic rock of the plain into an otherworldly landscape of dripping cones, pillars, pinnacles, and fairy chimneys soaring more than a hundred feet into the sky. We'll visit the Goreme Open Air Museum, a UNESCO World Heritage site. Later in the day, we will learn the tradition of carpet and rug making in Turkey. The afternoon and evening are free with a few optional activities to choose form. You can enjoy a meal at Kadıneli Restaurant, an NGO project focused on giving the women of Uchisar a place to work and make an honest wage. You can also choose to discover the unique traditions and mysticism of Rumi's Mevlevi Order and watch the devout whirling dervishes act out a hypnotic sema performance. Meals: breakfast
CAPPADOCIA
Valley walk, Soğanlı Village visit & dinner at a local's cave home
Early birds have the option to take a hot air balloon over the ethereal Cappadocian landscape. The scene at sunrise is sure to take your breath away! The group will reconvene after breakfast for a walk of the surrounding valley to witness the fascinating rock formations and fairytale chimneys. We then step back in time with a visit to the ancient village of Soganlı, renowned for its impressive Roman cemeteries, Byzantine churches, and historical wall frescoes dating back to the 10th and 12th centuries. Later you'll learn the local art of pottery-making, continued in the traditional Hittite ways and sold all over Cappadocia. Tonight we will have a group dinner with a well-known local woman who home cooks delicious Turkish cuisine in her cave home. Meals: breakfast and dinner
Istanbul
Flight to Istanbul
This morning, we catch a flight back to Istanbul. Spend your last day indulging in some last-minute shopping or sightseeing with your guide's recommendations. In the evening, we celebrate all of our wonderful memories with a group farewell dinner. Meals: breakfast and dinner
After breakfast, say goodbye for now but not forever. Your tour guide can help you organize a ride to the airport or transportation for your onward travels. Meals: breakfast
Hand-picked Accommodation
Get ready to have your mind blown by the luxury and comfort that await you on our Meetup Tour featuring some of the finest stays in Turkey! We have meticulously handpicked our accommodations to ensure that you bask in the perfect blend of plushness, location, and style. Feast your eyes on our selection of snapshots of our favorite hotels and resorts that will give you a sneak peek into the incredible ambience that you can expect on your Meetup Tour. 
Sleep on deck of a traditional Turkish Gullet boat for a truly unforgettable experience. Enjoy a 'camping at sea' adventure as you drift off to sleep under a starry Mediterranean sky. 
With a deep-rooted history of five thousand years, this tranquil boutique hotel once served as a monastic retreat for Byzantine priests. Our favorite feature is the Roman-inspired heated pool that comes with a breathtaking view of the valley.
A treat for history buffs and architecture admirers, Legacy Ottoman Hotel is a true gem with a rich past that still dazzles in the present world. Situated amidst Istanbul's historical monuments, the hotel offers a mesmerizing view of the Bosphorus and overlooks Hagia Sophia, Bayezit Tower, New Mosque, and Sirkeci Station, the eastern station of Orient Express.
The whole trip was amazing
"The whole trip was amazing and it's hard to pick just a few favorites bc I loved the whole itinerary. Sleeping on the Gulet boat, hot air ballooning, Pamukkale…Sleeping on the Gulet was a beautiful experience bc I love being on boats and it was so much fun and peaceful. Our group of women were amazing and so much fun!" Faye H. | Turkey & Egypt
Inspired me to continue exploring
"Having the opportunity to learn from like-minded people and share experiences was incredible, whether this was their first solo trip or had been travelling solo for years. It both validated the complex feelings that can occur while travelling alone and inspired me to continue exploring." Emily L. | Turkey
SoFe is my favorite way to travel
"SoFe Travel brings so much to your trip to Turkey. We go into people's homes to appreciate and understand their culture and traditions. I have been on 4 SoFe Travel tours, and I'm signing up for more! You really get to experience the countries in a way you couldn't on your own and the community of women is so empowering and fun, SoFe  is my favorite way to travel." Aiheeya R. | Egypt (twice), Bali, & Turkey
We looove to collect and share photos from our Solo Female Traveler Meetup Tours. To see more images from Turkey, check out the stories on our Instagram! @solofemaletravel. When you travel with us, tag @sofetravel so we can find your posts.