WOMEN ONLY TOUR TO India & Sri Lanka
Southern INdia & Sri Lanka at a glance
Beginning in the South of India, this tour embraces the iconic experiences of the region before whisking you off to Sri Lanka to explore heritage-listed temples, ancient fort towns and clear beaches. This well-rounded itinerary will provide a fascinating insight into both countries.
Wander the cool, emerald hills of tea plantations, and spot tigers at a wildlife sanctuary before watching scenery float by from the deck of a Keralan houseboat, the heady smell of chai tea on the nose. We continue onwards into Sri Lanka, tapping into the spice trading routes that heavily influenced architecture, food and culture worldwide. Immersive days lead us deeper into lush jungles and onward to explore ancient temples, sampling a wealth of aromatic foods, Ayurvedic spices, and local traditions along the way.
India and Sri Lanka are notably challenging countries to travel, and we have made it our priority to make this the most rewarding and life changing trip removing many of the challenges travelers often face, yet still connecting you to the culture in a deeply authentic way. We have secured high-end 4 and 5 star accommodation, enlisted air-conditioned, private vehicle transfers, covering your inter-country flight and all tips in advance. All you need do is sit back, and embrace the journey.
Proof of travel insurance is required before joining day 1 of any Meetup Tour. International flights are not included. All SoFe Travelers are required to prove that they are fully vaccinated against Covid-19 OR produce a negative test taken at least 72 hours before the start of the Meetup Tour.
People often leave our Meetup Tours with friends for life and couches to crash on all over the world.
From driver to guide to included experiences. You only need take out your wallet for those extra samosas 
Enjoy our hand-picked, premium accommodation combining the best of design, location and comfort.  
WELCOME TO KOCHI!
Airport pickup & welcome dinner
Welcome to the fascinating town of Kochi! A trading port since the Roman era, and a melting pot of  Portuguese, Dutch, Chinese and British influences, Kochi is reflective of a truly eclectic Kerala. Your accommodation today is a Dutch themed contemporary hotel, conjuring up visions of 300-year-old trade routes to India. We will pick you up from the airport and recommend arriving before 3pm so that you can meet the group and guide for a welcome meeting, and your first dinner together at a local restaurant recommended by our guide. Meals: dinner
KOCHI
Mantancherry Palace, Kathakali dance & Malabari cooking class
Stepping right into Kochi's rich cultural history, we visit the billowing Chinese fishing nets, the Mattancherry Palace (which houses some of India's best mythological murals), the Jewish Synagogue and the fascinating Jewish quarter filled with old shops, warehouses and spice auction rooms before attending an evening theatre performance at a Kathakali dance event. This classical, powerful dance style combines storytelling with physical technique and artistic nuance. For supper, we'll learn how to cook Keralan cuisine from a local resident, before tucking into the fruits of our labour and chatting over dinner about life in Kochi.  Meals: breakfast and dinner
KOCHI TO MUNNAR
Look for wildlife on a scenic drive through tea fields
After breakfast we travel by private vehicle, threading our way through valleys to the serene hill station of Munnar which is famed for its sprawling tea plantations. This belt of green, lush forests is home to endangered animals like the Neelakurinji and Nilgiri Tahr and was once the summer refuge of colonial British rulers. Expect a temperature drop due to the elevation gain – and perhaps even atmospheric, misty scenes as we enter the fertile tea-growing land.  Meals: breakfast  |  Drive time: 5 hours
MUNNAR
Tea plantation visit & Mattupatty Dam
We honour all things tea today, starting off at a nearby tea garden and plantation to learn about the different types of tea grown in this region. If the Tea Museum's rather erratic scheduling allows, we'll pop in for tasting too, before journeying onward to scenic Muttupatty Dam. At a height of 1700m above sea level, this storage masonry dam forms a beautiful lake, where you have the optional activity of joining a boat ride. Meals: breakfast
We have time off today to do as the visiting British rulers did – relax, and enjoy the scenery at our own leisurely pace. Munnar is situated in the middle of seven wildlife sanctuaries and national parks. Optional activities include visiting Eravikulam National Park, doing a guided bird watching walk, or simply taking a moment to slow down and reflect on your travel experiences thus far – preferably with a journal and cup of tea at hand. Meals: breakfast
MUNNAR TO PERIYAR
Guided spice plantation visit & martial arts display
We're off to Periyar National Park and Tiger Reserve, perched around a picturesque lake in the ranges of the Western Ghats. After checking into our hotel we'll visit a spice plantation to learn about ayurvedic cures, spice extracts and wood crafting. Our walk here offers insights into the inner workings of spice growing and processing. Later this evening we attend a session on Kalaripayattu (martial arts) designed for the ancient battlefield. We'll witness combative techniques unique to India. Meals: breakfast and lunch  |  Drive time: 4 hours
PERIYAR TO ALLEPPEY
Walk through a wildlife sanctuary & houseboat cruise
Be on the lookout for bison, wild boar and tigers during our guided nature walk through the Periyar Wildlife Sanctuary! Optionally, enjoy a boat ride over the lake, a vital source of water for local wildlife. If you're lucky you might see elephants drinking along the water's edge. We drive to Alleppey; fondly called the 'Venice of the East' with its famed backwaters and islands adorned with simple homesteads and evergreen coconut groves. Here, we board a traditional Keralan (kettuvallam) houseboat for an overnight cruise through the crisscrossing network of lagoons and channels. Our houseboat will be your home for the night – complete with western toilets, private bedrooms, a dining area, and a sundeck. Meals: breakfast  |  Drive time: 4 hours
Today is a solo day! We usually head straight for an optional Ayurvedic massage. Emphasizing conscious well-being and connection, Ayurveda translates to 'the Knowledge of Life' and originated approximately 5000 years ago, making it the world's most ancient system of preventative healthcare. Our tranquil accommodation overlooks the waters of Punnamada Lake. Spend some downtime on the lawns watching houseboats go by, or stretch your muscles with a yoga session. Meals: breakfast
ALLEPPEY TO KOCHI TO SRI LANKA
Flight to Sri Lanka & home-cooked meal
Say Phir Milenge (see you again) to India and Ayu-Bowen (greetings in Sinhalese) to Sri Lanka! Today is a long travel day, but one that leaves us in an entirely new country for the second stage of our Meetup Tour adventure. We depart Alleppey early in the morning for our transfer back to Kochi, where we'll board a flight to Colombo, Sri Lanka. After transferring to our hotel and freshening up we'll be ready for yet another journey, this time exclusively for our tastebuds. Prepare for a delicious Negombo home-cooked dinner, sampling fresh seafood and local favourites like pol sambol (tasty coconut dish) and roast paan (crispy bread). Meals: breakfast and dinner
NEGOMBO TO DAMBULLA TO SIGIRIYA
Explore the Dambulla Cave Temple
We leave Negombo today with an early rise, and visit the incredible Dambulla Cave Temple on our way to Sigiriya. This magical complex of five caves is filled with over 150 statues and paintings of Buddha – some as many as 2000 years old. It's deservedly listed as a World Heritage Site and has been a place of worship for thousands of years. We arrive at our hotel in Sigiriya, nestled amongst decades old indigenous trees, rolling fields and chena growth typical of the Central Province. Meals: breakfast
SIGIRIYA
Climb Sigirya rock fortress & attend a traditional pottery demonstration
We beat the heat of the day with an early start, driving 30-minutes to arrive at the Sigiriya Rock Fortress. This ruined fortress is one of Sri Lanka's premiere sight. For those who make the climb to the top, it offers astounding views. This is a steep climb with sections of uneven slopes, so wear sturdy footwear. If you don't want to climb,  the garden at the base of the rock still offers fantastic shots of the fortress from below. This afternoon we'll be shown how to create traditional pottery by a local pottery maker. Get involved in the pottery making process – you will be welcomed in by the village community! Meals: breakfast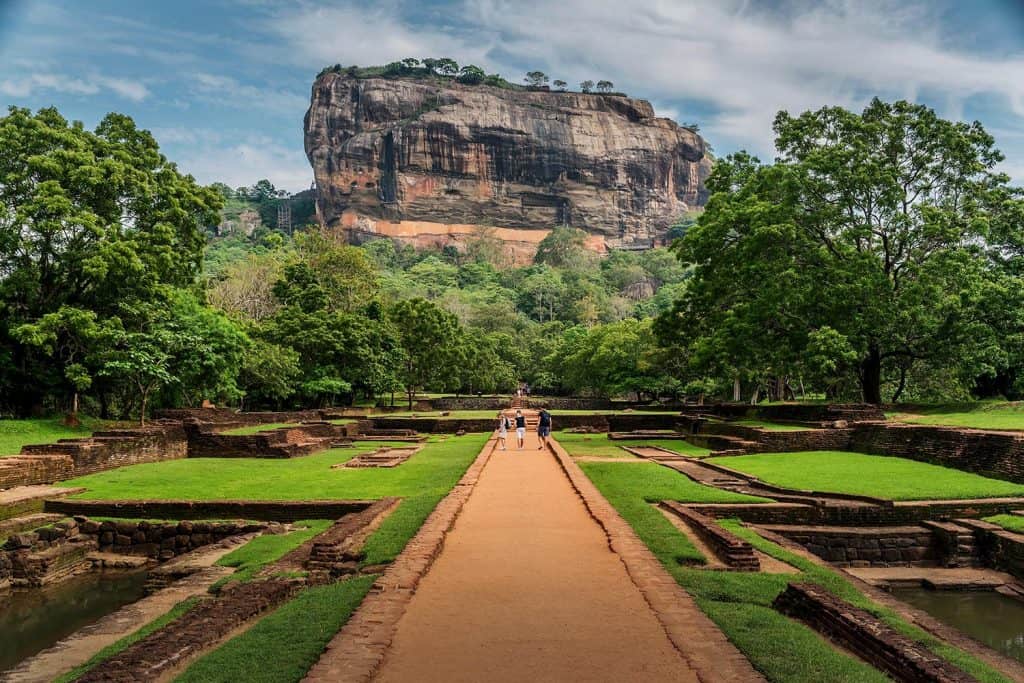 SIGIRIYA TO KANDY
Visit Sacred Tooth Relic & join a Sinhalese family for dinner
Kandy is the last capital of Sri Lanka's ancient kings era. We visit the gold-roofed temple of the Sacred Tooth Relic, home to Sri Lanka's most important Bhuddist relic – a tooth of the Buddha. If you have a sweet-tooth, you'll enjoy Kandy even more: tonight we are joining a Sinhalese family for dinner and a cooking class, crafting string poppers and making chicken curry with spice-infused coconut milk before filling up on speciality sweets inspired by Dutch and Portuguese dessert traditions. Meals: breakfast and dinner  |  Drive time: 3.5 hours
KANDY TO AHUNGALLA
Roadtrip & solo afternoon at a beach town
We journey south via private vehicle to Ahungalla. This small coastal town has fantastic stretches of beach with plenty of local restaurants and bars to choose from. You're free to wander this afternoon, exploring at your leisure. Meals: breakfast  |  Drive time: 5 hours
AHUNGALLA
Whale and dolphin watching & farewell dinner
Today we have exciting whale and dolphin watching in store for you at the town of Mirissa! Blue whales are commonly seen during whale watching season (November to April). After our early start and water activity, we move on to a town widely considered to be the best preserved colonial town in Sri Lanka: Galle. At its core is a World Heritage listed Dutch fort surrounded on three sides by the ocean. Its streets hold a treasure trove of ancient mosques and churches, museums, boutiques and more. Your guide will share tales of Galle's past, through to present day. `We have a final farewell dinner here, seeing out your Sri Lankan adventure before returning to Ahungalla. Meals: breakfast and dinner | Drive time: 3.5 hours
As your tour comes to a close, ask your guide to help arrange transportation to the airport which is an approximate 2 -2.5 hours drive away from the hotel. Check out by 12pm. Enjoy breakfast, and if you're like us, start dreaming about your next adventure! Meals: breakfast
Want to see Northern India too? Dates for Northern India are right before every Southern India and Sri Lanka departure. Email us for details [email protected]
Hand-picked Accommodation
Our accommodation is carefully chosen to give you the best combination of comfort, location, and style. These are photos from our collection of favorite hotels to give you a sense of the accommodation you can expect with us. All of our accommodation is 4 and 5 star with many beautiful views in prime locations.
Sip chai from the rooftop with endless views of the harbour. This 5 star hotel is located right in the heart of the old trade route and when you aren't lounging by the pool, you can walk down to the many shops and historical sites. We love this place – it feels like an oasis, shielded from the busy streets of the city. 
Float down the river in a Kettuvallam, a traditional boat remodeled for ultimate comfort and Instagrammable style. Relax on the many cushions and watch the lush jungle landscape pass by while being fed delicious local cuisine – like the queen you are. 
This hotel is on our list of favs: the beach couldn't be any closer and the rooms are bright and airy, making it the perfect place to soak up the last moments of Sri Lanka, and time with your new solo traveling friends. Watch cotton candy skies at sunset and toast to a trip of a lifetime 
SoFe's itinerary was a great blend
"I was heartened by how welcoming people were in India and will never forget the seemingly infinite unique sari and kurti outfits on dazzling display everywhere. SoFe's itinerary was a great blend of cultural, historical, and social activities and our tour leader helped in many ways to keep us having fun, even over long days of traveling." Jennie R. | India
100% RECOMMEND THIS COMPANY
"If you are thinking about doing a SoFe tour -do it! It was so awesome to connect and explore a country with like-minded solo female travelers. I loved getting to experience a country and connect with other SoFe travelers in network. I really appreciated the security of going with a group as well, especially for a country such as India. " Michelle P. | India
INCREDIBLE TOUR THROUGH MOROCOO
"India was spectacular – it was vibrant, beautiful, dirty, spiritual, and chaotic – all at once! SoFe provided a wonderfully curated trip through the northern region of the country. Our guides brought the places we visited to life. Shopping was exceptional! Thank you Nidhi and Nikki for a life-changing trip!" Leslie R. | India
We looove to collect and share photos from our Solo Female Traveler Meetup Tours. To see more images from India, check out the stories on our Instagram! @solofemaletravel. When you travel with us, tag @sofetravel so we can find your posts.