Northern India, Southern india,& Sri Lanka at a glance
Don't miss out on any classic bazaar, majestic palace, delicious dish, or thriving capital on this all-encompassing adventure through India and Sri Lanka. 
From India's spirituality and  friendly people to it's wild animal sanctuaries and majestic palaces, you'll get to explore every fascinating part of the country from the North to the South. Discover quintessentially chaotic old Delhi in a rickshaw, join a family for dinner and learn how to tie a saree, and make meaningful connections along the way. Explore wonders of nature and humanity as you adventure through the cities, jungles, beaches and caves of Sri Lanka – and get a taste of everything.
Your flight from Northern India (Delhi) to Southern India (Kochi) is included in the cost of this Meetup Tour, as well as your flight from India to Sri Lanka. Please ensure that your passport details are filled out in your Traveler Portal as soon as you book. We will send you your flight details no later than 90 days before your Meetup Tour.
India and Sri Lanka are notably challenging countries to travel, and we have made it our priority to make this the most rewarding and life changing trip possible. We've removed many of the challenges travelers often face, yet still connect you to reality in a deeply authentic way. We have secured high-end 4 and 5 star accommodation, enlisted air-conditioned, private vehicle transfers, covered your inter-country flight and all tips in advance. All you need do is sit back, and embrace the journey!
We have departures arranged so you can experience Holi or Diwali, two joyous and culturally enriching holidays. These are amazing times to visit India, but please note that on those days, the included activities may be changed. Instead, we will provide everything you need to experience and understand the holidays. Please be aware of the dates you book in relation to these holidays.
People often leave our Meetup Tours with friends for life and couches to crash on all over the world.
From driver to guide to included experiences. You only need take out your wallet for those extra manakish
Enjoy our hand-picked, premium accommodation combining the best of design, location and comfort.  
Welcome to delhi!
Welcome meeting & first taste of local cuisine
Welcome to India! Our driver will be waiting for you as you exit the Indira Gandhi International Airport. Your ride is complementary, and you'll be escorted to our beautiful 5 star hotel in Delhi where you will meet the group. We recommend arriving before 3pm, so you will arrive in time for a 6pm welcome meeting and our first delicious meal together! Meals: dinner
old delhi
Rickshaw tour, lunch at a Sikh temple & Khari Baoli Spice Market
This morning step out of your hotel and into a rickshaw for an authentic look at Old Delhi. Our expert local drivers will lead us through alleyways and the classically chaotic streets of the city, including the famous Chandni Chowk square. Make a visit to the Jama Masjid, Delhi's oldest mosque and one of its most impressive buildings, then visit the Sheeshganj Gurudwara to learn about the Sikh religion. Lunch – a vegetarian meal at a local Sikh temple – will feel extra special after learning about the spirituality of the Sikhs. After lunch, it's off to Khari Baoli, which is Asia's largest wholesale spice market. This place is bustling from the moment the sun rises. As you walk through the market, your senses are sure to be overwhelmed by the intense smell of all the spices. Visit the famous courtyard where these spices are stored and enjoy some tastes of India along the way. Meals: breakfast, lunch
delhi to jodhpur
Short flight, solo day & dinner at a rooftop restaurant
Today we travel to the state of Rajasthan. Famous for its great history, forts, palaces, kings and cuisines, Rajasthan has remained a must visit for travellers from all walks of life. We take a short flight from Delhi to Jodhpur, rated by many travelers as having the best lassi in India! It's also where the famous jodhpur trousers originated. You'll have solo time to explore the city's many antique shops, simply wander about, or partake in a workshop. This evening we meet for dinner at an exceptional setting with fabulous views of the Fort, Jaswant Thada, Umaid Bhawan, The Clock Tower and Gulab Sagar. Meals: breakfast and dinner
jodhpur
Bishnoi Village visit, Jeep safari & Shambhali Trust for lunch
A quick jaunt into the countryside takes us to Bishnoi Village. As an eco-conscious sect of Hinduism, Bishnoi tribes practice a deep reverence for nature and the exotic wildlife you will find yourself surrounded by (think blackbuck and chinkaras!). Observe the potters and weavers of the village hard at work, and spend time with a Bishnoi family. Upon our return to Jodhpur, we visit Shambhali Trust, an organization working to empower disadvantaged women and girls through education and vocational training. After learning more about their work, we join them in preparing a delicious lunch to enjoy together. This afternoon we will have solo time to explore the city, or rest up in our hotel. Meals: breakfast and lunch
jodhpur
Solo morning, visit Mehrangarh Fort & Sardar Market
An antidote to the busy pace of city life, this morning we wake at leisure and enjoy solo time to do as we choose. We gear up again in the afternoon with a visit to Mehrangarh Fort, situated on a steep hill. Mehrangarh fort is one of the largest forts in India, a saga of hard sandstones yielding to the chisels of skilled sculptors. From here we walk down through blue streets to experience the late afternoon Sardar market. Meals: breakfast
jodhpur to jaipur
Block printing experience & village walk
We've got a long drive ahead of us today, but as always, the destination is worth it! We start early and break up the drive with lunch and a signature experience: a walking tour of Bagru Village, and a visit to block printing workshop. Bagru has made its mark on the textile industry map around the world, and we get the opportunity to observe the process of block printing – carving on wooden blocks to create unique designs, making natural dyes, printing on fabric, drying and finally transforming into a niche textile masterpiece perfected over generations – before trying it out ourselves! We'll be able to create a souvenir to take home that will become a treasured talking point. In the evening you have option to watch a Bollywood film of action, romance, drama, or music (sometimes all rolled into one) at the renowned Raj Mandir Cinema, followed by dinner. Meals: breakfast and lunch.  |  Drive time: 6 hours
jaipur
Short flight, solo day & dinner at a rooftop restaurant
There's no better way to see Jaipur than jumping in the back of a Pink City Rickshaw, a woman owned and operated company supporting low income areas. Our driver meets us at our hotel for an early morning ride through crisp air and quiet streets to join the morning aarti prayers and chanting at the revered Govind Devji Krishna Temple. We'll receive blessings at this 18th century Krishna temple and then travel to the flower market to stop and smell the roses (and marigolds). We move on to the Hawa Mahal (Palace of Winds) adorned by a pink sandstone facade with remarkable detail. Originally built for the women of the royal families, the latticed windows allow you to observe city life below while remaining hidden. After sipping on cardamon tea, it's back to our hotel for a late breakfast. We reconvene for lunch to try a local favorite: kachori, a delicious street snack you have to try! Next, we visit Amber, an ancient town adorned with temples, Havelis, and step wells. Look up, and you'll see the stunning Amber Palace displaying a perfect blend of both Hindu and Muslim architecture. Scale your way to the top of the Palace for amazing views of the surrounding countryside. We'll have dinner inside the fort, tasting the recipes enjoyed by generations of royal families firsthand. The food is rich and decadent and doesn't disappoint. Meals: breakfast, lunch and dinner. 
jaipur to agra
Solo time, Mughlai cooking class & saree tying session
Say goodbye to Jaipur and hello to Agra, situated on the bank of the Yumana River and famous for its elegant Mughal Architecture. Due to a long series of emperor's attempts to out-do their predecessors, Agra boasts an impressive legacy of Mughal masterpieces.  We check in at the hotel and enjoy the day as we please. For dinner, we join a Mughlai cooking class using seasonal ingredients. We'll learn to create the same dishes that were prepared during the opulent Mughal Empire period. Expect to eat well! Following dinner, we learn firsthand the customs of wearing traditional Indian sarees from local women. Meals: breakfast, dinner   |   Drive time; approx. 5 hours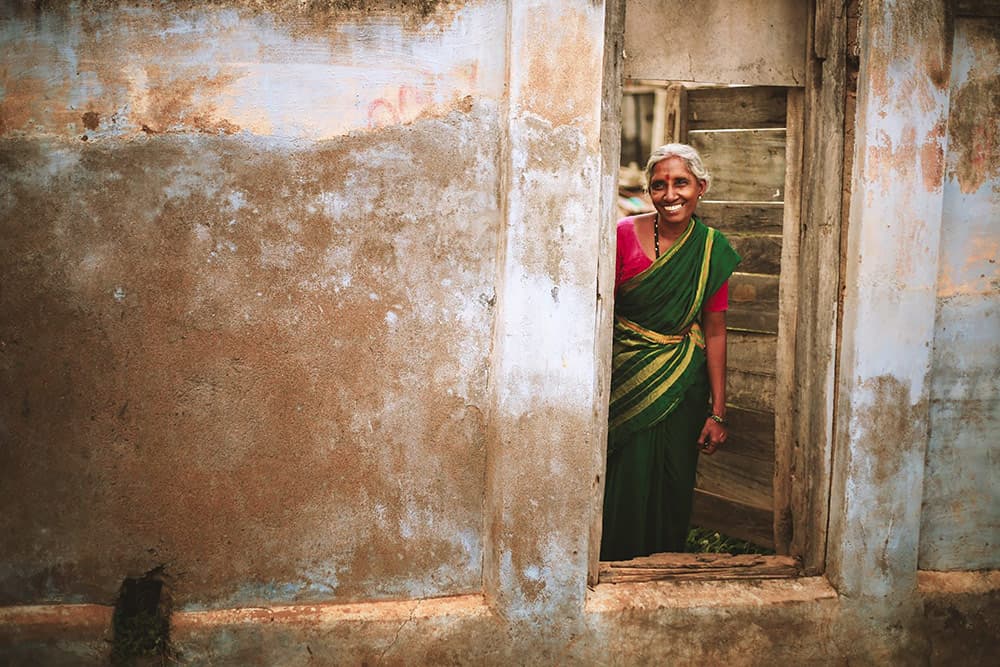 agra to varanasi
Sunrise at the Taj Mahal, lunch at Sheroes and overnight train
You cannot leave India without a quintessential visit to the Taj Mahal, a wonder of the world. Built by Emperor Shah Jahan after the death of his beloved wife, this marble monument of love is at its most mesmerizing during the golden sunrise. Next, we walk to the Mehtab Bagh Garden for a lesser-known view of the Taj Mahal. We return to our hotel for breakfast and a quick respite before heading to Sheroes Hangout Cafe, a cafe run by female acid attack survivors. Engage with these brave women as they share their powerful stories of survival and support their new livelihood with delectable snacks and coffee. Post lunch, we take a short walk to a shrine with a much quieter view of the Taj Mahal. We'll collect our luggage and take the overnight train to Varanasi.  Meals: breakfast and lunch
varanisi
Solo time and Old City walking tour
We arrive in the spiritual capital of India early in the morning. After checking into our hotel, this morning is free for resting or exploring at your own pace. Later in the day we'll do an orientation walk of Varanasi. The city draws Hindu pilgrims who bathe in the Ganges River's sacred waters and perform funeral rites. Along the city's winding streets are some 2,000 temples. We'll walk around ghats and in narrow lanes, picking up some examples of the excellent local silk industry and perhaps witnessing pilgrims performing ancient
bathing rituals and ceremonies. Meals: breakfast
varanasi
Solo time, sunset candle flower ceremony & Ganges boat trip
Sip Chai tea in the Ghats this morning and stroll around the streets of Varanasi before re-joining your group for lunch at a purely vegetarian Thali restaurant. Meals, often featuring no onion or garlic, are served on a Kansa metal plate meant to bear anti-bacterial properties. Later this afternoon, we'll embark on a boat ride on the River Ganges, perhaps our most iconic experience yet (after the Taj Mahal!). Our guide will explain the significance of India's most sacred river as we pass by the many ghats and temples along its banks. Meals: breakfast, lunch
varanasi
Visit the Banaras Hindu Universityy & the Sarnath Museum
After breakfast at our hotel we visit Sarnath, one of the holiest Buddhist sites in the world and where it's believed Buddha delivered his first sermon after attaining enlightenment and realizing worth of life. In 232 BC, the Emperor Ashoka erected the world renowned Sarnath Stupa in the name of Buddha to spread the message of love and compassion. Later in the afternoon we'll arrive back at Varanasi and visit Banaras Hindu University, a prime attraction in Varanasi. Spend some peaceful moments while you are on the campus, exploring the unique looking building and the beautiful architecture. Meals: breakfast
varanasi to delhi
Flight to Delhi & solo evening
We'll check out of our hotel after breakfast and take a return flight to Delhi. After arriving and transferring to our hotel, we'll spend an evening at leisure. Meals: breakfast
delhi to kochi
Flight to Kochi!
After breakfast, catch a flight to the fascinating town of Kochi to begin your adventure in Southern India! A trading port since the Roman era, and a melting pot of  Portuguese, Dutch, Chinese and British influences, Kochi is reflective of a truly eclectic Kerala. Your accommodation today is a Dutch themed contemporary hotel, conjuring up visions of 300-year-old trade routes to India. We will pick you up from the airport and recommend arriving before 3pm so that you can meet the group and guide for a welcome meeting, and your first dinner together at a local restaurant recommended by our guide. Meals: breakfast, dinner
Stepping right into Kochi's rich cultural history, we visit the billowing Chinese fishing nets, the Mattancherry Palace (which houses some of India's best mythological murals), the Jewish Synagogue and the fascinating Jewish quarter filled with old shops, warehouses and spice auction rooms before attending an evening theatre performance at a Kathakali dance event. This classical, powerful dance style combines storytelling with physical technique and artistic nuance. For supper, we'll learn how to cook Keralan cuisine from a local resident, before tucking into the fruits of our labour and chatting over dinner about life in Kochi.  Meals: breakfast and dinner
kochi to munnar
Look for wildlife on a scenic drive through tea fields
After breakfast we travel by private vehicle, threading our way through valleys to the serene hill station of Munnar which is famed for its sprawling tea plantations. This belt of green, lush forests is home to endangered animals like the Neelakurinji and Nilgiri Tahr and was once the summer refuge of colonial British rulers. Expect a temperature drop due to the elevation gain – and perhaps even atmospheric, misty scenes as we enter the fertile tea-growing land.  Meals: breakfast  |  Drive time: 5 hours
munnar
Tea plantation visit & Mattupatty Dam
We honour all things tea today, starting off at a nearby tea garden and plantation to learn about the different types of tea grown in this region. If the Tea Museum's rather erratic scheduling allows, we'll pop in for tasting too, before journeying onward to scenic Muttupatty Dam. At a height of 1700m above sea level, this storage masonry dam forms a beautiful lake, where you have the optional activity of joining a boat ride. Meals: breakfast
We have time off today to do as the visiting British rulers did – relax, and enjoy the scenery at our own leisurely pace. Munnar is situated in the middle of seven wildlife sanctuaries and national parks. Optional activities include visiting Eravikulam National Park, doing a guided bird watching walk, or simply taking a moment to slow down and reflect on your travel experiences thus far – preferably with a journal and cup of tea at hand. Meals: breakfast
munnar to periyar
Guided spice plantation visit & martial arts display
We're off to Periyar National Park and Tiger Reserve, perched around a picturesque lake in the ranges of the Western Ghats. After checking into our hotel we'll visit a spice plantation to learn about ayurvedic cures, spice extracts and wood crafting. Our walk here offers insights into the inner workings of spice growing and processing. Later this evening we attend a session on Kalaripayattu (martial arts) designed for the ancient battlefield. We'll witness combative techniques unique to India. Meals: breakfast and lunch  |  Drive time: 4 hours
periyar to alleppey
Walk through a wildlife sanctuary & houseboat cruise
Be on the lookout for bison, wild boar and tigers during our guided nature walk through the Periyar Wildlife Sanctuary! Optionally, enjoy a boat ride over the lake, a vital source of water for local wildlife. If you're lucky you might see elephants drinking along the water's edge. We drive to Alleppey; fondly called the 'Venice of the East' with its famed backwaters and islands adorned with simple homesteads and evergreen coconut groves. Here, we board a traditional Keralan (kettuvallam) houseboat for an overnight cruise through the crisscrossing network of lagoons and channels. Our houseboat will be your home for the night – complete with western toilets, private bedrooms, a dining area, and a sundeck. Meals: breakfast  |  Drive time: 4 hours
Today is a solo day! We usually head straight for an optional Ayurvedic massage. Emphasizing conscious well-being and connection, Ayurveda translates to 'the Knowledge of Life' and originated approximately 5000 years ago, making it the world's most ancient system of preventative healthcare. Our tranquil accommodation overlooks the waters of Punnamada Lake. Spend some downtime on the lawns watching houseboats go by, or stretch your muscles with a yoga session. Meals: breakfast
alleppey to kochi to sri lanka
Flight to Sri Lanka & home-cooked meal
Say Phir Milenge (see you again) to India and Ayu-Bowen (greetings in Sinhalese) to Sri Lanka! Today is a long travel day, but one that leaves us in an entirely new country for the second stage of our Meetup Tour adventure. We depart Alleppey early in the morning for our transfer back to Kochi, where we'll board a flight to Colombo, Sri Lanka. After transferring to our hotel and freshening up we'll be ready for yet another journey, this time exclusively for our tastebuds. Prepare for a delicious Negombo home-cooked dinner, sampling fresh seafood and local favourites like pol sambol (tasty coconut dish) and roast paan (crispy bread). Meals: breakfast and dinner
negombo to DAMBULLA TO SIGIRIYA
Explore the Dambulla Cave Templel
We leave Negombo today with an early rise, and visit the incredible Dambulla Cave Temple on our way to Sigiriya. This magical complex of five caves is filled with over 150 statues and paintings of Buddha – some as many as 2000 years old. It's deservedly listed as a World Heritage Site and has been a place of worship for thousands of years. We arrive at our hotel in Sigiriya, nestled amongst decades old indigenous trees, rolling fields and chena growth typical of the Central Province. Meals: breakfast
SIGIRIYA
Climb Sigirya rock fortress & attend a traditional pottery demonstration
We beat the heat of the day with an early start, driving 30-minutes to arrive at the Sigiriya Rock Fortress. This ruined fortress is one of Sri Lanka's premiere sight. For those who make the climb to the top, it offers astounding views. This is a steep climb with sections of uneven slopes, so wear sturdy footwear. If you don't want to climb,  the garden at the base of the rock still offers fantastic shots of the fortress from below. This afternoon we'll be shown how to create traditional pottery by a local pottery maker. Get involved in the pottery making process – you will be welcomed in by the village community! Meals: breakfast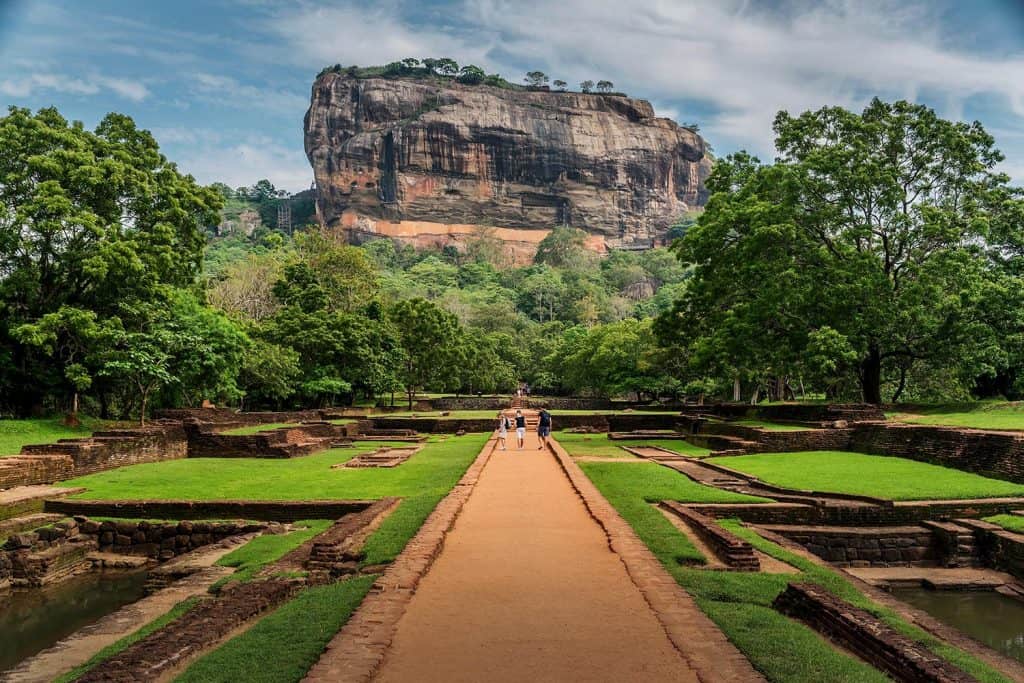 SIGIRIYA to kandy
Visit Sacred Tooth Relic & join a Sinhalese family for dinner
Kandy is the last capital of Sri Lanka's ancient kings era. We visit the gold-roofed temple of the Sacred Tooth Relic, home to Sri Lanka's most important Bhuddist relic – a tooth of the Buddha. If you have a sweet-tooth, you'll enjoy Kandy even more: tonight we are joining a Sinhalese family for dinner and a cooking class, crafting string poppers and making chicken curry with spice-infused coconut milk before filling up on speciality sweets inspired by Dutch and Portuguese dessert traditions. Meals: breakfast and dinner  |  Drive time: 3.5 hours
kandy to ahungalla
Roadtrip & solo afternoon at a beach town
We journey south via private vehicle to Ahungalla. This small coastal town has fantastic stretches of beach with plenty of local restaurants and bars to choose from. You're free to wander this afternoon, exploring at your leisure. Meals: breakfast  |  Drive time: 5 hours
ahungalla
Whale and dolphin watching & farewell dinner
Today we have exciting whale and dolphin watching in store for you at the town of Mirissa! Blue whales are commonly seen during whale watching season (November to April). After our early start and water activity,  we move on to a town widely considered to be the best preserved colonial town in Sri Lanka: Galle. At its core is a World Heritage listed Dutch fort surrounded on three sides by the ocean. Its streets hold a treasure trove of ancient mosques and churches, museums, boutiques and more. Your guide will share tales of Galle's past,  through to present day. `We have a final farewell dinner here, seeing out your Sri Lankan adventure before returning to Ahungalla. Meals: breakfast and dinner  |  Drive time: 3.5 hours
As your tour comes to a close, ask your guide to help arrange transportation to the airport which is an approximate 2 -2.5 hours drive away from the hotel. Check out by 12pm. Enjoy breakfast, and if you're like us, start dreaming about your next adventure! Meals: breakfast
Hand-picked Accommodation
Our accommodation is carefully chosen to give you the best combination of comfort, location, and style. These are photos from our collection of favorite hotels to give you a sense of the accommodation you can expect with us. All of our accommodation is 4 and 5 star with many beautiful views in prime locations.
This five star heritage hotels offers unsurpassed luxury. Founded in 1903, its sweeping driveway and the grand façade give an inkling of its star-studded past, where is played centre stage to the rich, famous and titled. This princely stay will be the finest welcome to our stay in Delhi. 
Float down the river in a Kettuvallam, a traditional boat remodeled for ultimate comfort and Instagrammable style. Relax on the many cushions and watch the lush jungle landscape pass by while being fed delicious local cuisine – like the queen you are. 
Featured in many magazines and publications for its uniquely Rajasthani decoration and world-class service, you will feel like the royalty here. 
Sofe's itinerary was a great blend
"I was heartened by how welcoming people were in India and will never forget the seemingly infinite unique sari and kurti outfits on dazzling display everywhere. SoFe's itinerary was a great blend of cultural, historical, and social activities and our tour leader helped in many ways to keep us having fun, even over long days of traveling." Jennie R. | India
100% reccommend this company
"If you are thinking about doing a SoFe tour -do it! It was so awesome to connect and explore a country with like-minded solo female travelers. I loved getting to experience a country and connect with other SoFe travelers in network. I really appreciated the security of going with a group as well, especially for a country such as India. " Michelle P. | India
incredible tour through india
"India was spectacular – it was vibrant, beautiful, dirty, spiritual, and chaotic – all at once! SoFe provided a wonderfully curated trip through the northern region of the country. Our guides brought the places we visited to life. Shopping was exceptional! Thank you Nidhi and Nikki for a life-changing trip!" Leslie R. | India
We love to collect photos from as many of our Meetup Tours as possible. If you want to see more, check out the stories on our Instagram! @solofemaletravel. When you travel with us, tag @sofetravel and you may even get featured!