Women only tour to Northern India
NOrthern India at a glance
Join this women-only tour to Northern India and discover the country's rich heritage, vibrant cultures and enthralling experiences. 
Get ready for the adventure of a lifetime! From the vibrant city of Delhi to the charming village of Bishnoi and the world-renowned Taj Mahal, this tour takes you on an unforgettable journey through the heart of India. Discover the perfect blend of history and modernity while savoring the tantalizing aroma of Indian spices amidst stunning vistas of ancient fort palaces. Experience India's rich culture as you indulge in luxurious accommodations, delectable food, and create memories that you'll cherish forever.
India, with all its mystic beauty, can present quite a challenge for travelers. But, have no fear, our team has made it our ultimate mission to turn your journey into an exceptional experience. We've taken out all the guesswork, leaving you with nothing but the most genuine Indian experience. Get pampered with lavish accommodations, and travel in style in our air-conditioned transportation throughout the tour. All you have to do is sit back, relax, and let the magic of India unfold before your very eyes!
 Proof of travel insurance is required before joining day 1 of any   Meetup Tour. International flights are not included. 
People often leave our Meetup Tours with friends for life and couches to crash on all over the world.
Spend it with friends or explore on your own, but take time to reflect on your incredible journey. 
Enjoy our hand-picked, premium accommodation combining the best of design, location and comfort.  
Welcome to Delhi!
Welcome meeting & first taste of local cuisine
Welcome to India! Our driver will be waiting for you as you exit the Indira Gandhi International Airport. Your ride is complementary, and you'll be escorted to our beautiful  hotel in Delhi where you will meet the group. We recommend arriving before 3pm, so you will arrive in time for a 6pm welcome meeting and our first delicious meal together! Meals: dinner
OLD DELHI
Rickshaw tour, lunch at a Sikh temple & Khari Baoli Spice Market
Get ready to see Delhi from a whole new perspective! As a local would, jump on a rickshaw and journey through the bustling alleys and winding streets of Old Delhi, culminating in a stop at the lively Chandni Chowk square. Here, you'll have the privilege of beholding Delhi's oldest and most breathtaking mosque, Jama Masjid, before proceeding to the Sheeshganj Gurudwara to marvel at the intriguing Sikh religion. Once you've worked up an appetite, savor a delectable Sikh-style vegetarian meal that will leave your tastebuds dancing! Finally, let your senses run wild as you immerse yourself in the sweet and spicy aromas of Khari Baoli, Asia's largest wholesale spice market. Explore the vibrant courtyard where the spices are stored and indulge in the unique flavors of India. Meals: breakfast, lunch
DELHI TO JODHPUR
Short flight, solo day & dinner at a rooftop restaurant
Today we embark on an adventure to Rajasthan, a land that offers an experience like no other for travelers from all walks of life. Catch a short flight from Delhi to Jodhpur, home to the best lassi in India and the birthplace of the famous Jodhpur trousers. Spend your afternoon exploring the city's antique shops, taking part in workshops or simply wandering about. For an unforgettable evening, join us for dinner at an exceptional rooftop restaurant with breathtaking views of the Fort, Jaswant Thada, Umaid Bhawan, The Clock Tower and Gulab Sagar. Meals: breakfast and dinner
JODHPUR
Bishnoi Village visit, Jeep safari & Shambhali Trust for lunch
Embrace the wild as we take a quick jaunt through the countryside to the breathtaking Bishnoi Village.  Here you can immerse yourself in the eco-conscious sect of Hinduism, where nature is held in deep reverence. Witness exotic wildlife such as blackbucks and chinkaras during an exhilarating Jeep safari, before returning to the village to observe potters and weavers hard at work. We then meet with a Bishnoi family, and gain insight into their way of life. Return to Jodhpur to visit the Shambhali Trust, an organization with a mission to empower disadvantaged women and girls through education and vocational training. Join us as we learn about their impactful work, followed by a unique opportunity to help prepare a delicious lunch together followed by solo time this afternoon.  Meals: breakfast and lunch
JODHPUR
Solo morning, visit Mehrangarh Fort & Sardar Market
Unwind from the bustle of city life and wake up at your own pace with solo time to do as you choose. In the afternoon, we'll meet back up to visit the magical and awe-inspiring Mehrangarh Fort. Here the walls whisper the history of Rajistan through the intricate sculpture work of Jodhpuri master artists and sweeping panoramic views of the city whisk you away to a bygone era of opulent royalty and prestige. Then, your senses will come alive as you meander down the vibrant blue streets of the Sandar Market to marvel at the exquisite works of local artisans or sample delectable street food. Meals: breakfast
JODHPUR TO JAIPUR
Block printing experience & village walk
We start early today and let the captivating scenery take your breath away as cityscapes give way to stunning vistas. After a leisurely journey, pause for a delicious lunch before venturing to Bagru Village, a charming hidden gem of the Indian textile industry.  Bagru boasts a rich artistic heritage dating back to the 17th century, with intricate carvings on wooden blocks, handcrafted designs, and the use of natural dyes that have been passed down through generations. Observe the precision and dedication of the artisans as they transform plain pieces of cloth into vivid works of art using these unique block printing techniques – then try your hand at creating your own design for a treasured souvenir! After the visit, we'll continue on to Jaipur where you'll have the option to relax on your own this evening or catch a Bollywood film at the renowned Raj Mandir Cinema. Meals: breakfast and lunch.  |  Drive time: 6 hours
JAIPUR
Pink City Rickshaw Tour, Kachori and lassi lunch & Amber Fort
There's no better way to see Jaipur than jumping in the back of a Pink City Rickshaw! This all-female fleet of rickshaw drivers will whisk you off for a early morning ride to join the morning aarti prayers and chanting at the revered Govind Devji Krishna Temple. Then, we'll head to the wholesale flower market near the iconic Hawa Mahal, bustling with crowds trading sacks of vibrant roses and marigold. At the Hawa Mahal (Palace of the Winds), marvel at the pink sandstone facade with intricate details, originally built for the women of royal families to see the city streets without being seen. After sipping on cardamon tea, it's back to our hotel for a late breakfast. We reconvene for lunch to indulge in a local favorite, kachori, a delicious deep-fried bread stuffed with vegetables and lentils! Next, we embark on a journey to enchanting Amber Fort, a town steeped in history and splendor. As you stroll through the ancient cobblestone lanes, you'll be greeted by a breathtaking sight of magnificent temples, Havelis and the awe-inspiring Amber Palace, which we will scale all the way to the top for a panoramic view of the breathtaking countryside. Finally, we'll dine like royalty inside the fort, savoring sumptuous recipes passed down from generations of royal Indian families. The food is rich, decadent and simply unforgettable! Meals: breakfast, lunch and dinner.
JAIPUR TO AGRA
Solo time, Mughlai cooking class & saree tying session
Buckle up as we bid adieu to Jaipur and say hello to exquisite Agra, situated on the majestic Yumana River. Get ready to be transported back in time as we delve into the elegant world of Mughal architecture. From the stunning Taj Mahal to the ancient Agra Fort, you'll be in awe of the city's impressive legacy of Mughal masterpieces. We'll check-in to our luxurious hotel and spend the day exploring this mesmerizing city at our leisure. For dinner tonight, we meet a passionate chef for a Mughlai cooking class. Get ready to cook up a storm as we learn to create the same dishes prepared during the opulent Mughal Empire period and savor the flavors of our hard work. We cap off the evening with a hands-on experience as we learn the art of wearing traditional sarees from local women. Meals: breakfast, dinner | Drive time; approx. 5 hours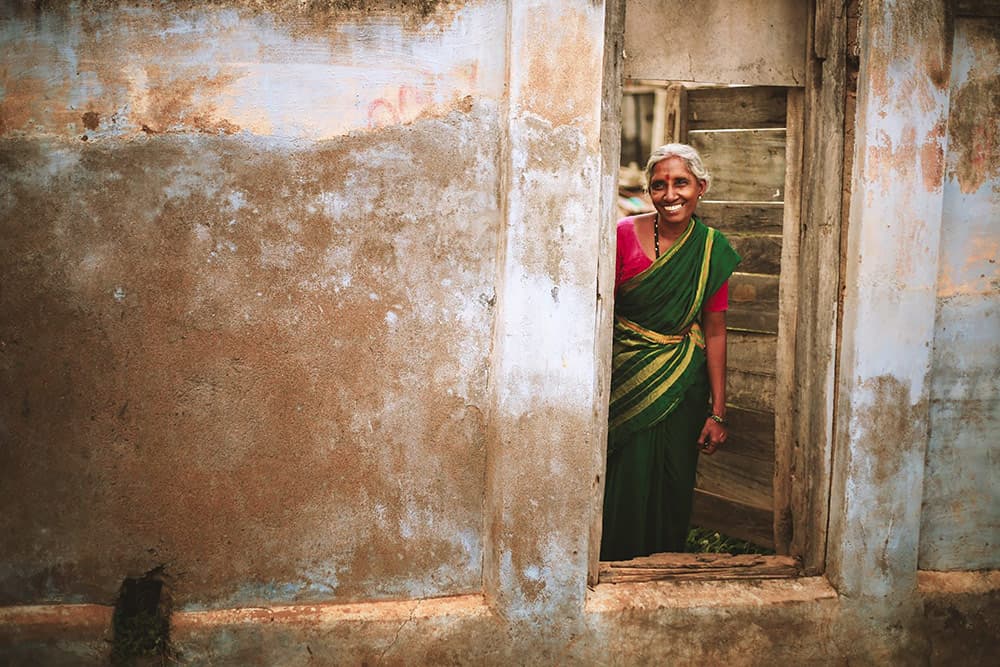 AGRA TO delhi
Sunrise at the Taj Mahal, lunch at Sheroes Cafe & evening train
Experience the grand finale of your Indian adventure with a mesmerizing visit to an iconic wonder of the world, the Taj Mahal. Here we'll spend time basking in the golden hues of the sunrise, breathing in the fresh morning air, and admiring the stunning marble architecture of this monument of love, built by Emperor Shah Jahan after the death of his beloved wife. Next, sneak off to the lesser-known Mehtab Bagh Garden for a unique view of the Taj Mahal that few have ever seen. We return to our hotel for breakfast and a quick respite before heading to Sheroes Hangout Cafe, a groundbreaking cafe run by female acid attack survivors who have turned their trauma into strength. Chat with these brave women and indulge in their scrumptious snacks and coffee, all while supporting their new livelihood. In the afternoon, we'll take a leisurely stroll to a nearby shrine where you can enjoy a much quieter view of the Taj Mahal in all its glory. Finally, we'll gather our luggage and take an evening train back to Delhi, reflecting on the many unforgettable sights and experiences of Agra. Meals: breakfast and lunch
As your unforgettable tour draws to a close, let our expert guide help you arrange transportation to the airport or your next destination, hassle-free! Until check-out time at 12 pm, savor a delicious breakfast, reminisce about your cherished memories, and maybe even start planning your next adventure! Meals: breakfast 
Hand-picked Accommodation
Our accommodation is carefully chosen to give you the best combination of comfort, location, and style. These are photos from our collection of favorite hotels to give you a sense of the accommodation you can expect with us. 
With recently renovated state-of-the-art facilities and indulgent spa treatments including Ayurvedic therapies, The Suryaa is the perfect escape after a long day of exploring the dynamic city of Delhi.
Once the palace of the Rathores clan of Jodhpur, you'll feel like royalty as you enjoy stunning views of the Blue City!
With an unbeatable location and lavish amenities, this award-winning hotel is a game changer! Take in breathtaking views of the Taj Mahal and Agra from the stunning rooftop terrace and Instagram-worthy pool — the ultimate place to unwind.
SoFe's itinerary was a great blend
"I was heartened by how welcoming people were in India and will never forget the seemingly infinite unique sari and kurti outfits on dazzling display everywhere. SoFe's itinerary was a great blend of cultural, historical, and social activities and our tour leader helped in many ways to keep us having fun, even over long days of traveling." Jennie R. | India
100% RECOMMEND THIS COMPANY
"If you are thinking about doing a SoFe tour -do it! It was so awesome to connect and explore a country with like-minded solo female travelers. I loved getting to experience a country and connect with other SoFe travelers in network. I really appreciated the security of going with a group as well, especially for a country such as India. " Michelle P. | India
INCREDIBLE TOUR THROUGH India
"India was spectacular – it was vibrant, beautiful, dirty, spiritual, and chaotic – all at once! SoFe provided a wonderfully curated trip through the northern region of the country. Our guides brought the places we visited to life. Shopping was exceptional! Thank you Nidhi and Nikki for a life-changing trip!" Leslie R. | India
We love to collect photos from as many of our Meetup Tours as possible. If you want to see more, check out the stories on our Instagram! @solofemaletravel. When you travel with us, tag @sofetravel and you may even get featured!