From the ancient pyramids and the Red Sea to rooftops in Marrakech and a city painted blue, this tour covers all the best through magical Morocco and ancient Egypt.
Start in Cairo Egypt temple hopping and eating home-cooked meals to the Red Sea. Hop on a quick flight to Morocco and you will be greeted by rose scented riads before we whisk you through ornate mosques, busy medinas, and desert camps.
Feast on a home cooked Nubian meal on the Nile's West Bank. 
Lounge on the rooftops of ancient riads soaking up Ingrid Bergman type Moroccan glam
Watch the sun set from a sailboat on the Nile River where we'll eat, sleep, and watch the stars.
Get a real glimpse into Moroccan life as a woman with female tour guides who share their stories freely
Wander through Egypt's most famous ancient temples
Ride a camel to your desert camp for a night of Berber food and glamping under the stars 
Day 1


CAIRO AIRPORT PICKUP

Welcome to Egypt! Your adventure begins when you are greeted at the airport with our VIP airport escort. Most passport holders can get the visa on arrival (see details below). Once you've picked up your bags, you will be transferred to the Cairo hotel and the rest of the day is yours to explore, relax or catch up on jet lag.
Day 2


CAIRO GREAT PYRAMIDS

Start the morning with a welcome meeting where our Egyptologist tour guide will go over all the important details of the Meetup Tour. Then we'll head off the Step Pyramid of Saqqara, the oldest pyramid in Egypt. Listen to stories of Egyptian beliefs, why they built their tombs, and how they are so well preserved thousands of years later. We'll take a break with traditional Egyptian lunch at one of our favorite local spots, before heading to the Great Pyramids of Giza and the Sphinx. Cross off a Wonder of the World from your list! Meals: breakfast, lunch
Day 3


Cairo

Visit the Egyptian Museum is one of the biggest museums in the world and it is packed full of artifacts, mummies, tombs, statues, hieroglyphics, and much more. Our Egyptologist guide will teach us more about ancient life before you get to wander freely to take it all in. For lunch, try one of Egypt's most beloved dishes - Koshary. Next we'll learn about Islam at the Mosque of Ibn Tulun. Climb the stairs to the minaret for a look out point over Cairo or simply enjoy the intricate details of this beautiful mosque. We'll finish the afternoon with the biggest market in Egypt – Khan El Khalili Market, great for souvenirs & gifts, Egyptian food, and beautiful winding alleys. Meals: breakfast, lunch
Day 4


Aswan

We'll take an early morning flight to Aswan, approximately 2 hours flying time. Once we arrive, we visit Philae Temple which located on an island in the middle of the mighty Nile River. Dedicated to the goddess Isis, we'll wander through the temple learning about women's roles in ancient Egypt. Before we go, say hello to the many cats hanging out like locals at the cafe, which has excellent lemon mint juice. Tonight we are staying in a family-owned Nubian hotel right on the Nile River. The unique painted style of the hotel will charm you, and the delicious food and stunning views will have you resting easy. Meals: breakfast, dinner
Day 5


Floating on the Nile

This morning choose an optional tour of Abu Simbel (we highly recommend it!) or sleep in at the cozy Nubian hotel. The full group will meet up again in the afternoon to board a traditional Felucca sailboat for a unique experience! We'll enjoy lunch on board as we sail down the Nile river. The relaxing afternoon concludes with a gorgeous sunset and dinner on the felucca, before heading back to Aswan for the night. Meals: breakfast, lunch, dinner
Day 6


Luxor Countryside

Pack a small backpack for the 3 hour train ride we have this morning. We'll be cruising past villages and lush farms on our way to Luxor. Once we arrive, marvel at the 2nd largest temple complex in world – The Temple of Karnak. The massive engraved columns, towering obelisk and offering table room are all highlights of this magnificent temple. Once the sun goes down, we'll take a night tour of the Temple of Luxor, which holds some of the most important carvings of ancient Egypt and is beautifully lit up at night.  Meals: breakfast, lunch
Day 7


Luxor

Take an optional sunrise hot air balloon or rest at the hotel before a busy, full day of touring Luxor's best ancient wonders. See hieroglyphic covered tombs belonging to famous pharaohs in The Valley of the Kings. Next we'll see the female-focused Temple of Queen Hatshepsut, one of the few women who ruled Egypt. After lunch, we'll visit Valley of the Queens which is home to some of the most spectacular tombs in all of Egypt, like Queen Nefertiti. Meals: breakfast, lunch, dinner
Day 8


Hurghada

We leave the temples and ancient history behind today, as we make our way to the Red Sea. We'll arrive around lunch time, with plenty of time in the afternoon for you to explore the all inclusive resort. Enjoy a drink by one of the pools, a walk down the beach, or by getting a massage. This is your time to relax after a grueling week of travel in Egypt. Meals: breakfast, lunch, dinner, beverages at resort
Day 9


Hurghada

With a completely open itinerary, today is your day to choose your own adventure! Grab some sunscreen and take your first dip into the sea, or swim at one of the many resort pools for a day under the sun! Maybe a day at the spa is more your speed. The Red Sea is world famous for scuba diving and snorkeling, so you can choose an optional half-day activity. You'll be amazed by the colorful fish and intricate corals in the coastal reef! Meals: breakfast, lunch, dinner, all beverages
Day 10


Hurghada to Cairo

After a leisurely check out time, our group heads back to Cairo. Pack some snacks and good book for our 6-hour drive through the arid but beautiful desert. The guide will help organize PCR tests in Cairo for the group, which you'll pay for directly at the test center. Reminisce on your favorite memories from Egypt at one final group dinner, at a restaurant of your choosing. Meals: breakfast
Day 11


On to Morocco!

After breakfast, we are off to the airport to catch a flight to Morocco. Once we arrive, we will check into our hotel in Casablanca and have the rest of the day to relax, even treat yourself to a spa session right in the hotel. Meals: breakfast, dinner
Day 12


CASABLANCA TO CHEFCHAOUEN

You'll start the day with the architectural masterpiece built next to the crashing waves of the sea, the Mosque of Hassan II. After our introduction to Morocco and some breathtaking views, we hit the road to the Rif Mountains while stopping in the city of Rabat for a few city highlights such as the Oudaya Kasbah. The views are gorgeous and it's the best time to get to know your fellow travelers on the way to The Blue City. Meals: breakfast Drive time: approx. 4.5 hours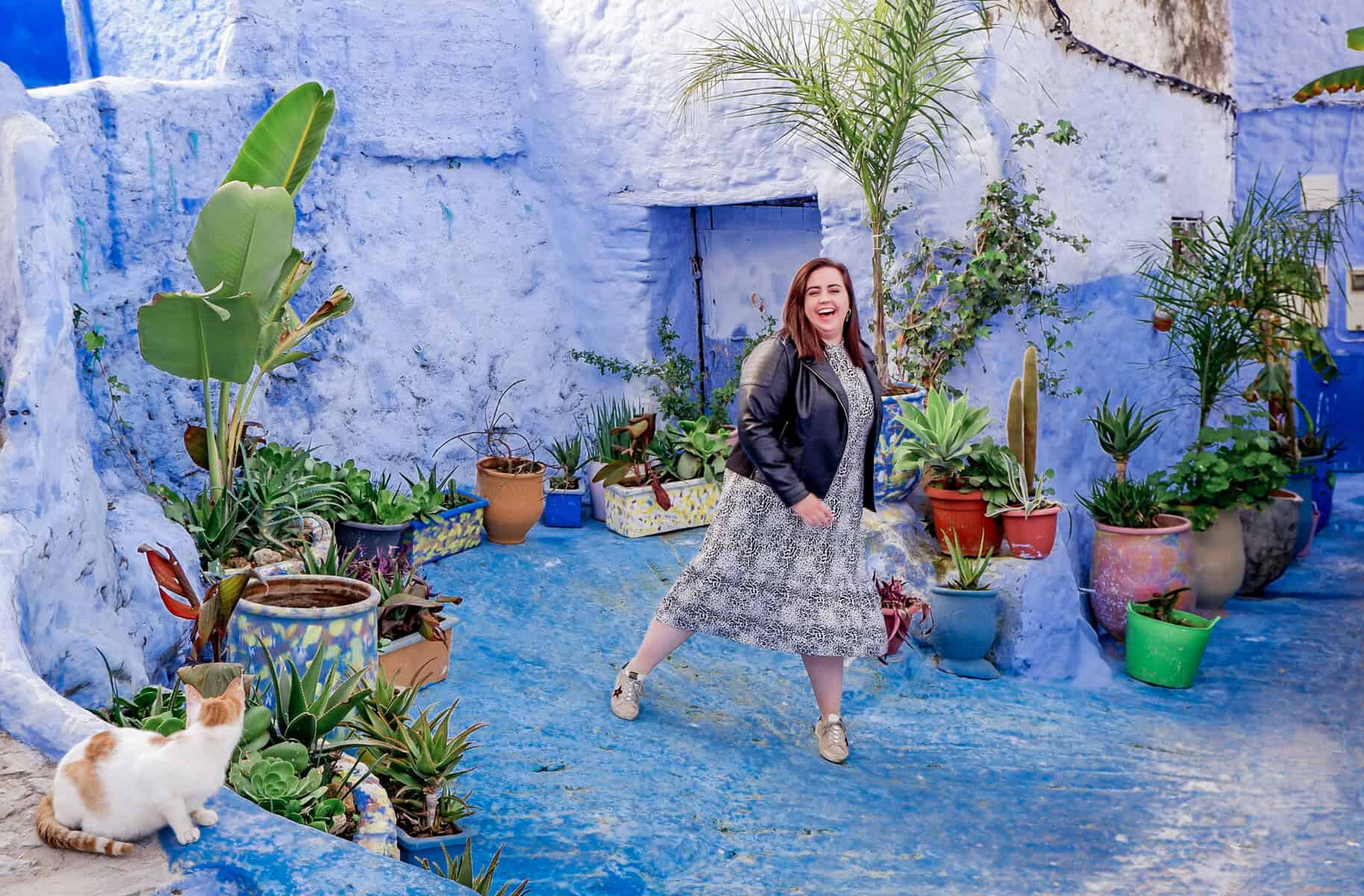 Day 13


CHEFCHAOUEN

Today is your day! Spend the day getting lost with your camera in the winding blue lanes and alleys, people watching from a cafe, and enjoying a cup of tea with a friendly local. We know all the best cafés, photo tours, henna artists, and local experiences if you want to join in an optional activity or even hike up to score the best views.
Day 14


CHEFCHAOUEN TO VOLUBILIS TO FES

Dive into Roman ruins at Volubilis, the Roman settlement city, famous for its mosaic floors, authentic bathhouses, hustling marketplace, and towering palaces. After our morning contemplating the mysteries of the past, we have some time to explore and enjoy lunch in the holiest city of Morocco, Moulay Idriss. Then, we are off to the magnificent city of Fes! Once we arrive, you have the rest of the day to relax in our old world luxe riad and venture out into the overwhelmingly dazzling city of Fes. Meals: breakfast Drive time: approx. 4.5 hours
Day 15


Fes

Take it slow this morning and enjoy a home cooked breakfast before we are met by our female local guide for an exciting day. Fes is vibrant, noisy, fascinating, and a visual assault on the senses - unlike any other city in the world. Our guide will show us her world and describe the life of women in Morocco in casual conversation - no question is off limits. She will lead us to lesser known nooks and crannies and the best views of this incredible Medina. Meals: breakfast
Day 16


FES TO IFRANE TO MIDELT

Today we have a beautiful drive through the Middle Atlas Mountains to explore the towering cedar forest where, we will meet the Macaques Berber monkeys! After lunch, we head to the powerful female run Kasbah Meryem. This is a small co-op where local women get together to learn and produce amazing embroidery, and carpets. We'll hang out in our riad this evening and chat under the stars. Meals: breakfast Drive time: approx. 4 hours
Day 17


MIDELT TO MERZOUGA DESERT

Let your desert adventure begin! As we set off for Merzouga, we pass through the Ziz Valley and the High Atlas Mountains stopping for jaw-dropping views. We will hop on 4×4 vehicles and venture out into the famous desert to see a totally different side of Morocco. We will stop by the home of a nomadic family and enjoy a cup of traditional Moroccan tea and maybe even get to taste some bread baked in their make-shift oven. As the sun begins to set at the horizon, we will ride our camels through the desert for a magical evening in a Bivouac Camp. As we settle into the camp and relax under a million stars, our guides will prepare a fresh and delicious Berber dinner. Meals: breakfast, dinner Drive time: approx. 5.5 hours
Day 18


MERZOUGA TO TODRA GORGE TO SKOURA

Better get your camera ready this morning! We are watching the full Moroccan sun rise over the dunes, for some of the most spectacular colors as the sun wakes up the desert. After breakfast, try some sand boarding right there at our camp before our camels take us back to town so we can stroll through the Todra Gorge, a magnificent canyon in the High Atlas Mountains. Tonight we will end in Skoura at another lovely, local owned riad. Meals: breakfast, dinner Drive time: approx. 3.5 hours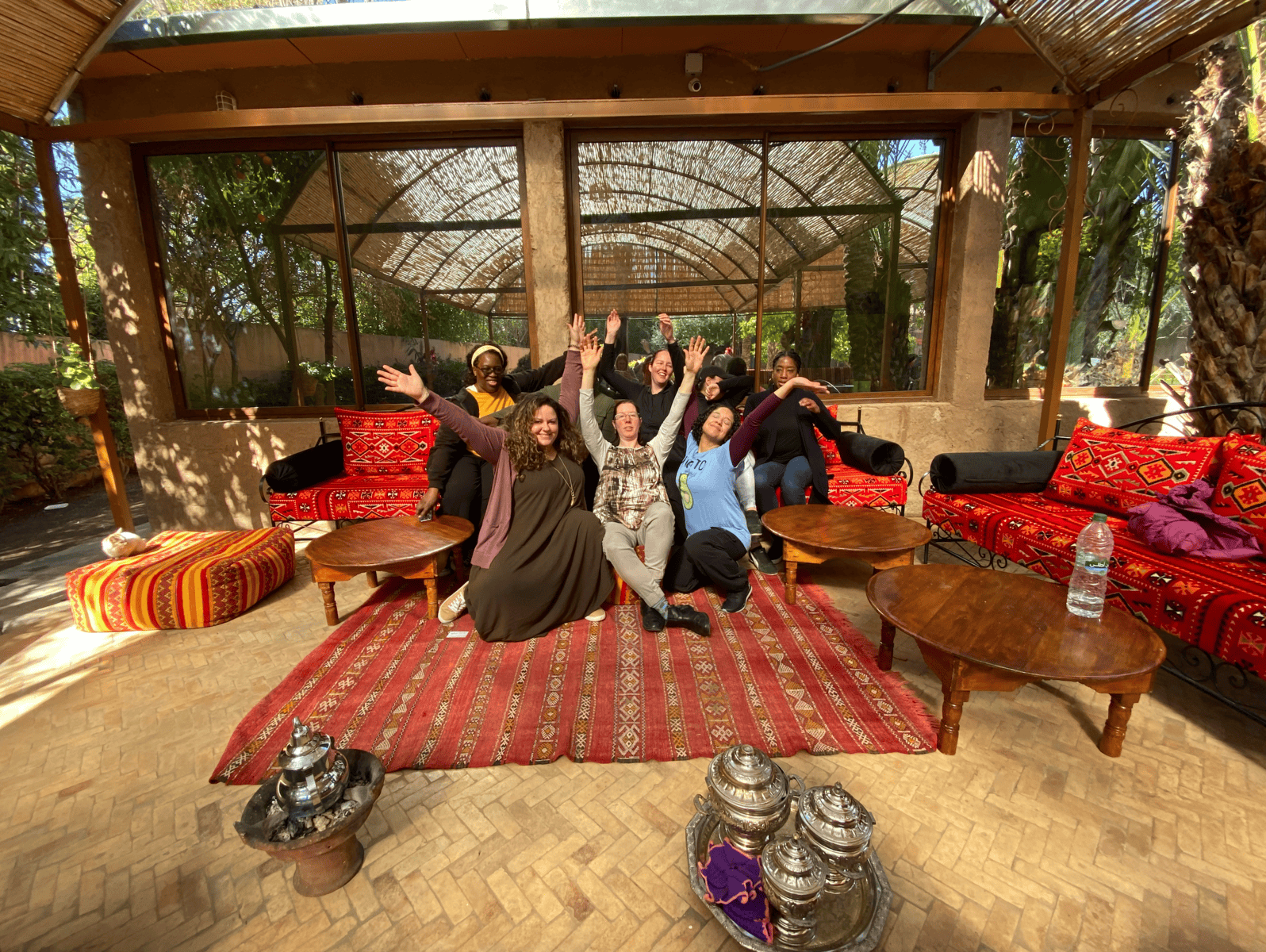 Day 19


SKOURA, AIT BENHADDOU TO MARRAKESH

Are you a foodie? Today is your day. Learn to cook authentic, slow cooking couscous and Moroccan pastries in a cooking class with locals! While the couscous cooks, spend some time with the local women of Skoura who will pour you some tea and invite you for a henna ceremony. Once the food is ready, we feast! This afternoon we will climb up through the village of Ait Benhaddou where many movies were shot. Meals: breakfast, cooking class Drive time: approx. 4 hours
Day 20


Marrakech

Oh, Marrakech. It's hard not to fall in love with this Medina. Our local guide will take us to the highlights: Bahia Palace, Koutoubia Mosque, Medersa Ben Youssef, and Jemaa El Fna. This afternoon and evening are yours to explore. Allow the mesmerising calls to prayer, the jostling of the local merchants or the street performers take you on your own adventure. End the day relaxing in one of many rooftop bars for a glass of wine and a delicious meal. Meals: breakfast
Day 21


Marrakech

Get a little lost in the magic of Marrakech today with solo time. You can choose to try a hammam (traditional bathhouse) experience, venture to Marjorelle Gardens at YSL museum, or just wander and see where the day takes you! This evening we will meet for dinner for a farewell feast where we will reminisce over the last week and make plans to keep in touch! Meals: breakfast, dinner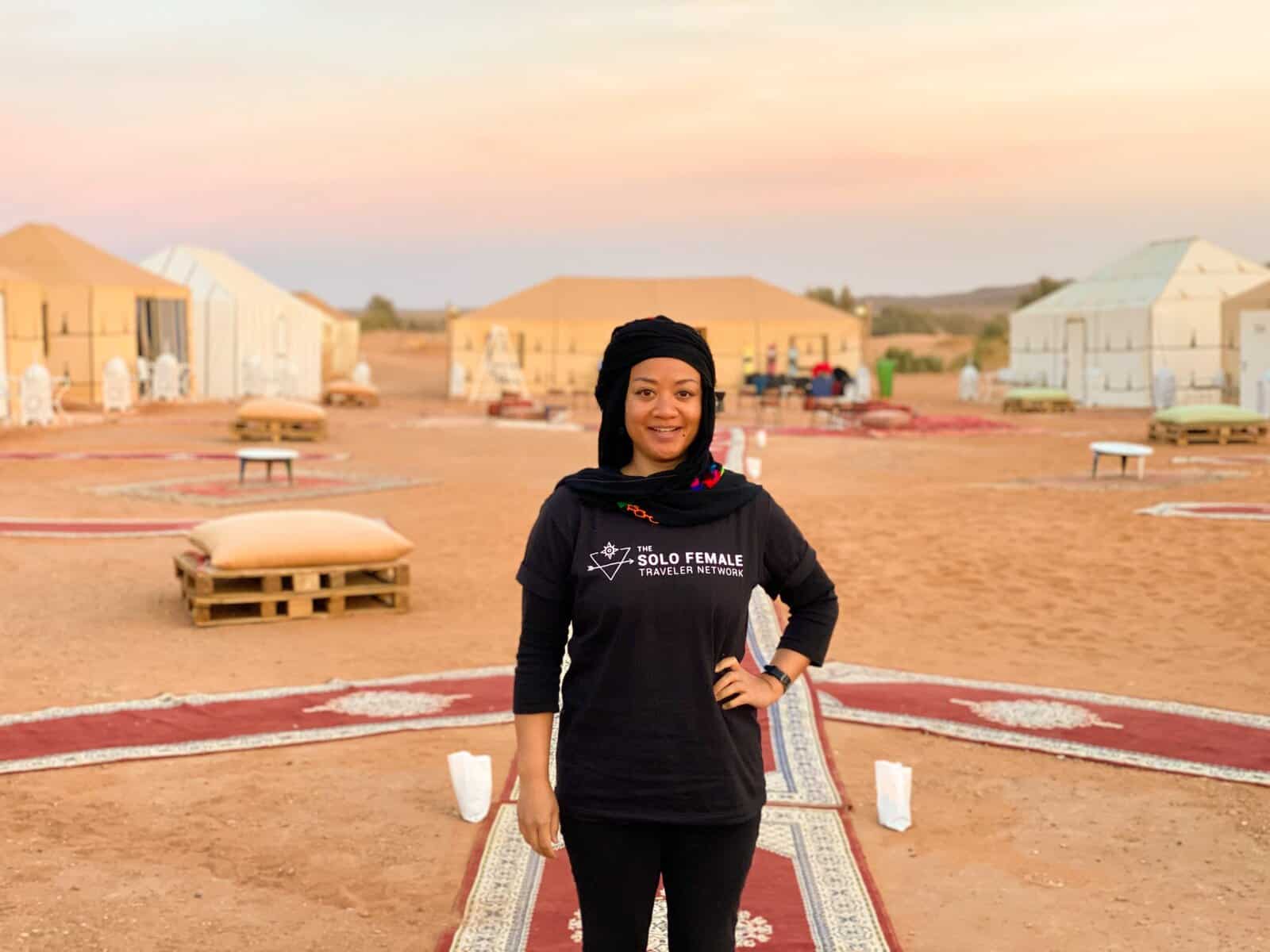 Day 22


Goodbye for now

Say goodbye to the beautiful, life changing country of Morocco along with the wonderful new friendships you have made along the way. Meals: breakfast
Our accommodation is hand-picked to give you the best combination of comfort, location, and style. These are photos from our collection of favorite hotels and resorts to give you a sense of the accommodation you can expect with us. 
El Nakil Hotel, Countryside Luxor
Tucked away in the countryside, you will be greeted by smiling locals and waving kids as you make your way to this little hotel. The rooms are simple, but clean and comfortable, the grounds are gorgeous, and the food is some of the best we've ever had in Egypt. 
Nestled in the mountains just outside Chefchaouen'sblue Medina, it's a quick walk to the center, yet quiet with the best view around. The restaurant serves home cooked deliciousness and there is a pool overlooking the blue hills of the whole town.
Think moonlit rooftop lounging in the heart of the Medina. Step inside and be taken to another world with the scent of fresh flowers in the air in a riad full of character and luxurious comfort.
Although we jam pack our itinerary with amazing Egypt attractions and sightseeing, we do leave some free time to travel and explore on your own. If you are interested in adding on optional activities, we offer three great excursions which you can reserve in advance during your booking. 
If there was one optional excursion you shouldn't miss, it is Abu Simbel! These two massive rock-cut temples were cut into a mountainside by ancient Egyptians. The towering statues of Rames II are incredible to behold.
Departure time: 4:30am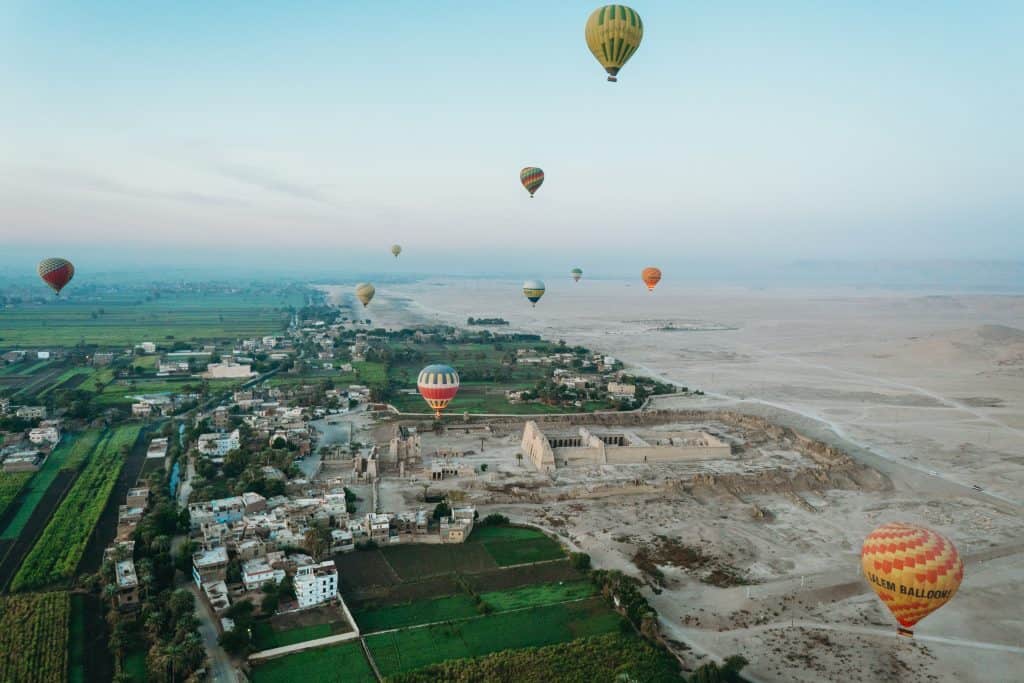 For an experience unlike any others, admire the ancient temples of Luxor from the air. You'll appreciate stunning mountain and Nile views while the warm sunrise colors create lovely ambiance to start your day.
Departure time: 4:30am
One of the world's most renowned places for scuba diving and snorkeling is the Red Sea, thanks to it's abundant and colorful coral reefs. This half-day excursion is open to beginners and includes two dive locations.
Departure time: 8:00am
This tour was epic in every way
"This was my 2nd solo trip with SoFe. I initially went to Bali and because that tour was so good I decided to go to Egypt meetup and I am so happy that I did. This tour was EPIC. I am even planning on going on this same tour again to experience it all over again!" Aihee R. | Egypt & Bali 
This trip was everything and more
"I'm 100% going to book another trip, although this one will be hard to beat. This trip was everything and more I could ever ask for. I saw places I only ever saw in photos, experienced "Egyptian Hospitality" first hand, had stereotypes of the middle east shattered, watched the sunrise over the Sahara, swam in the Nile AND the Red Sea, and danced to the sound of Nubian drums on a felucca at sunset on the Nile. How could a girl ever ask for more? This trip was the perfect blend of history and education, culture, great food, bucket list items completed, and topped off with even better company." Dani B. | Egypt
The Egypt SoFe trip was life-changing.
"The Egypt SoFe trip was life-changing, truly! From our amazing egyptologist guide, Sameh, to the sites and wonders of Egypt, and the amazing women that I got to meet and travel with, it was extraordinary. The experiences shared and the memories made are unparalleled and will hold a place in my heart forever. Thank you SoFe Traveler Network." Darlyne M. | Egypt