Sip mojitos with locals and learn to salsa dance in Havana. Explore old cobble stone streets while vintage cars wizzes by in Trinidad. Learn to roll a cigar and make a mojito in Viñales. 
Cuba is where time stood still. Old architecture has barely been touched, the faint sweet scent of cigar smoke wafts in the air, and smiling locals are ready for a chat anytime. The cities are full of culture, music, and color. The beaches are made of pristine white sand and crystal clear water. The mountains are green and covered in coffee and tobacco fields with killer sunsets. This is a special country, and the time to visit is now before it all changes.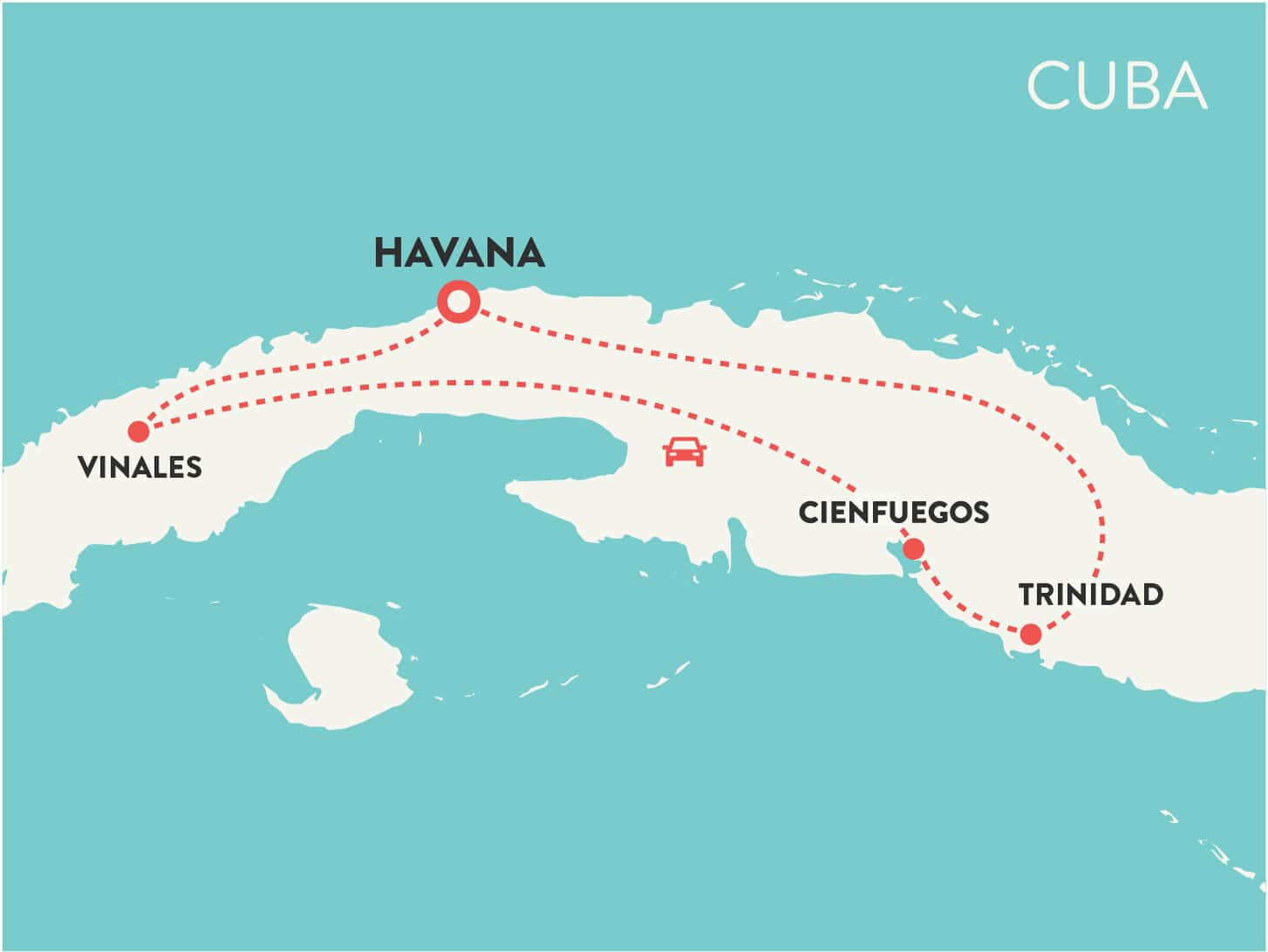 Get Instagrammable windswept hair as you ride a classic car ride down Havana's historic Malecón
Mix yourself the perfect Mojito during a cocktail workshop with sunset views
Like a scene from "Dirty Dancing Havana Nights", master the steps to salsa and dance the night away
Visit unique cultural museums in Trinidad, including an Afro-Cuban temple
Learn about the country's most iconic product, Cuban cigars, directly from a tobacco farmer
Marvel at the incredible Fusterlandia, a neighborhood covered in mosaics
Day 1


HAVANA AIRPORT PICKUP

Welcome to Cuba! We will pick you up from the airport and bring you to our accommodation to meet the rest of the group! We'll be staying in a family owned guesthouse walkable to lots of Havana hotspots. If you arrive early, we'll hold your luggage while you get aquatinted with Cuba's capital city. Once most of the group arrives this evening, enjoy an optional dinner out with your first Cuban mojito!
Day 2


HAVANA TO VIÑALES

Our local female guide will show us Havana's rich culture and history while we explore the city by foot. We'll see the cathedral, Plaza de Armas, San Francisco de Asis, Plaza Vieja, Central Park, and more of the city's iconic spots. You will have some time to wander solo and have lunch before we hit the road for the very scenic drive to Viñales. On the way, we will stop at Fusterlandia, a mosaic covered neighborhood full of whimsy and sunshine. In Viñales, our guide will show us the small downtown before we join a local woman in her home for a Cuban cooking class and delicious dinner! Meals: breakfast and dinner
Day 3


VIÑALES

Viñales is an agricultural haven with hills and valleys covered in tobacco fields, coffee plantations, straw huts, and stunning views. We'll start the day with a stroll weaving through farms and stopping for coffee tasting. We'll also meet a tobacco farmer, learn more about the famous Cuban cigar, and even roll some of our own. Take the early afternoon to explore solo, and then meet your guide later for a Cuban cocktail making class and an intro to salsa dance! For dinner, we are invited to a local's home for an organic farm to fresh homemade dinner. This evening you can choose to rest up or hit the town putting your new dance moves to practice with live music and maybe another mojito or two. Meals: breakfast and dinner
Day 4


BAY OF PIGS TO CIENFUEGOS

Today is a road trip with our first stop at Bay of Pigs. Here we'll get a bit of a history lesson from our guide and go for a swim and even a snorkel in the crystal clear blue waters. After we get our fill of the sun and sand, we will hop back in the van to the Playa Giron Museum before our last stretch to Cienfuegos. Cienfuegos is a beautiful seaside town with stunning architecture and a slower pace, and friendly locals. We'll stretch our legs with a casual walking tour including Castillo del Valle. Enjoy some solo time here or find some dinner with the group. There are a couple of beautiful cigar bars, a chocolate and coffee cafe, and some live music spots. Meals: breakfast, lunch | Drive time: 6 hours
Day 5


CIENFUEGOS TO TRINIDAD

After a short drive this morning, we will arrive in the colorful UNESCO World Heritage town of Trinidad where street art mingles with old architecture. Our guide will walk us down the cobbled streets and explain the history of this famous town. After lunch, we will visit two important museums, an Afro Cuban temple, and enjoy a cocktail to finish a beautiful day. This evening is free to talk to the friendly locals smoking a cigar in the center of town and choose one of the lovely Cuban restaurants for dinner. Meals: breakfast, lunch | Drive time: 1.5 hours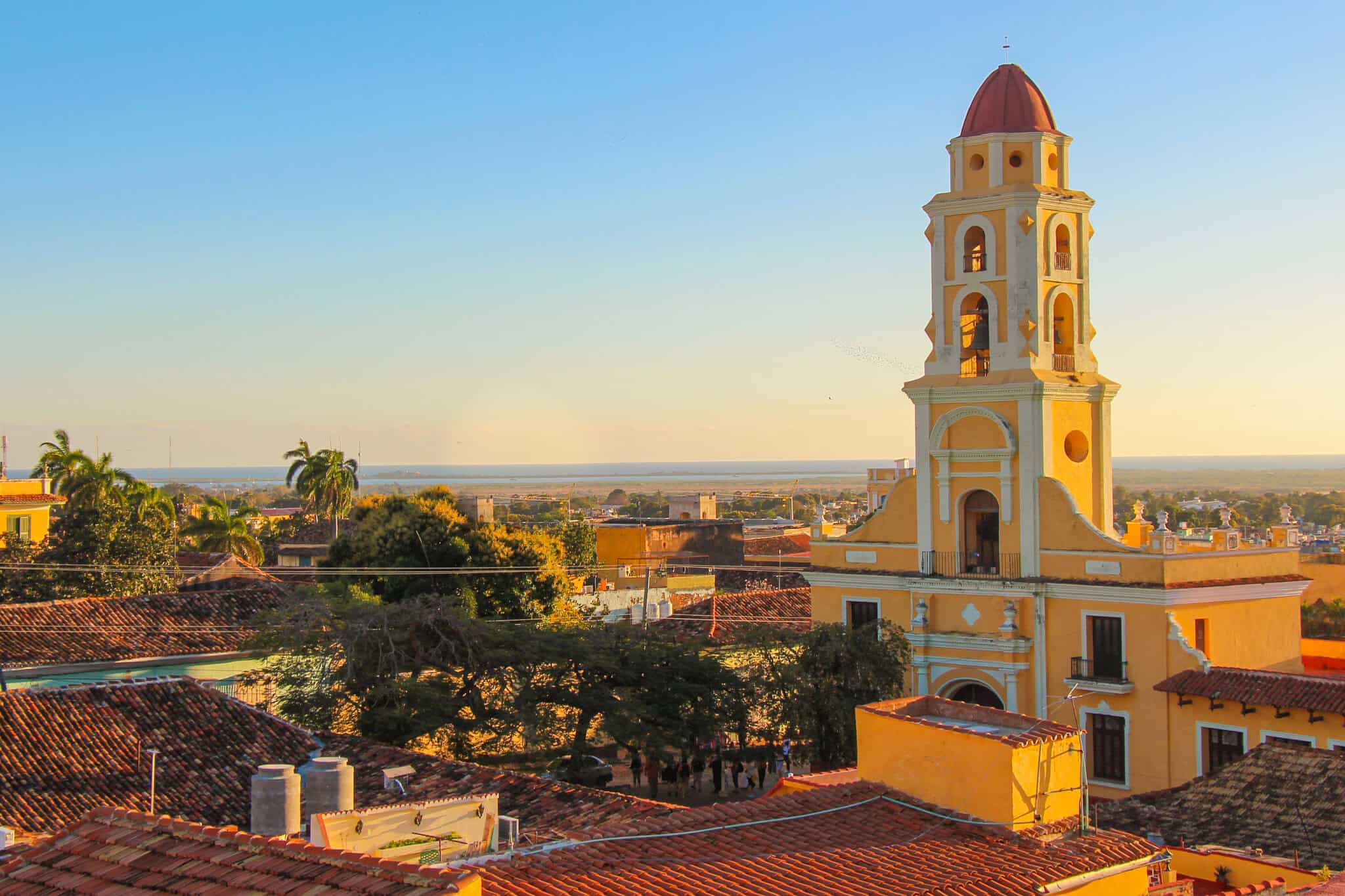 Day 6


TRINIDAD

Today is a relaxed day in nature with solo time to further explore the colorful treats of Trinidad. We will go to an easy hike to Salto de Javira waterfall after breakfast and then visit Playa Ancon for crystal clear waters and white sand beaches. This evening, check out some live music, grab a cocktail, or just roam around with your camera. Meals: breakfast and lunch
Day 7


SANTA CLARA TO HAVANA

We will journey back to Havana today with a stop in Santa Clara to learn about Che Guevara and stretch our legs with a short walking tour. Once we get to Havana, get your cameras ready, because we'll hop into some colorful classic convertibles to cruise along the Malecon and visit Revolution Square! Meals: breakfast and lunch | Drive time: approx. 4 hours
Day 8


HAVANA

We have an exciting last full of together in Cuba starting with an Afro-Cuban culture tour. Cuba is heavily influenced by a variety of religions, music, art, language, and cuisine from African countries, and its important to learn about and experience the Afro-Cuban culture to really get to know the country. We'll be invited in an artist's home for a drink and a chat, experience a live rumba dance performance, and more. We'll end the tour meeting ReglaSoul, an important organization encouraging culture and holistic health for Cubans of African descent. This evening we will enjoy a farewell dinner as group and recount our favorite memories from our incredible time together! Meals: breakfast, dinner
Day 9


Hasta Pronto, Cuba

We will say our goodbyes with plans to stay in touch! After breakfast, at 10am, we will check out of the villa and help you arrange transport to wherever your next stop is. Meals: breakfast
Behind the Scenes of this Tour
We love to share our Meetup Tours on social media, and you might already be following us on Instagram. One of our SoFe ambassadors went on our Meetup Tour in Cuba and covered the whole experience for us on Instagram. To get a glimpse into what it is really like on our Cuba Meetup Tour, go behind the scenes with our Instagram story highlight!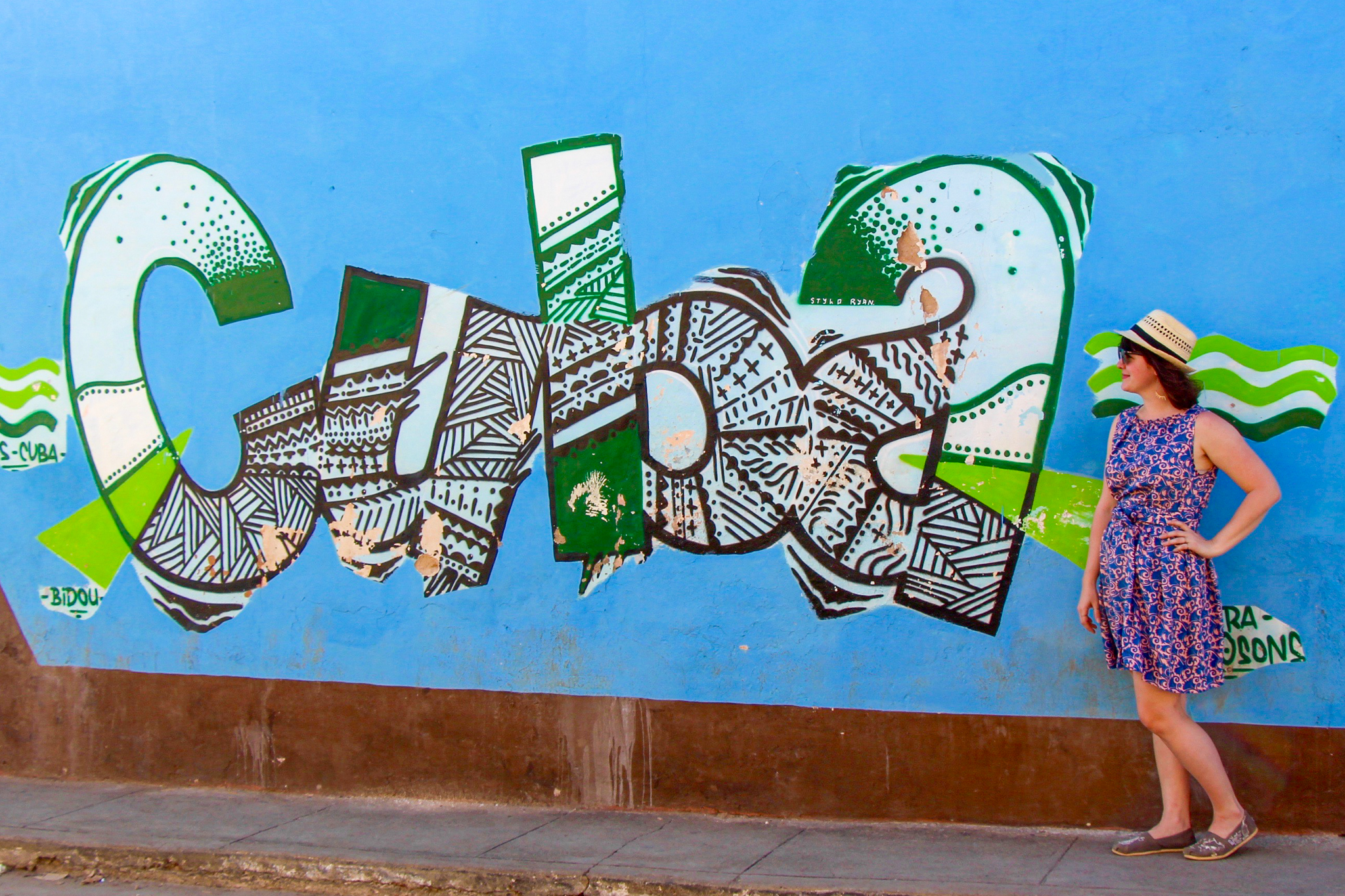 It's extra important to support locally owned businesses in Cuba, where small businesses and non-government owned properties are not typical. Many of the accommodations are called Casa Particulares, which are people's homes that they open up for guests. Each Casa or Casita is different, and we think this is one of the most special parts of our Meetup Tour in Cuba. 
These homestay-like experiences make for the best meals, unparalleled hospitality, and an inside look at Cuban culture. The best part of the experience are the laughs over a glass of rum, the morning conversations with local coffee, and dancing on the porch until the wee hours of the morning.
Since we aren't staying at hotels, people's homes often don't have a website or even a proper name. Rest assured, our guides know the owners very well. We have been working with these guest houses for many years, so you know you're in good hands.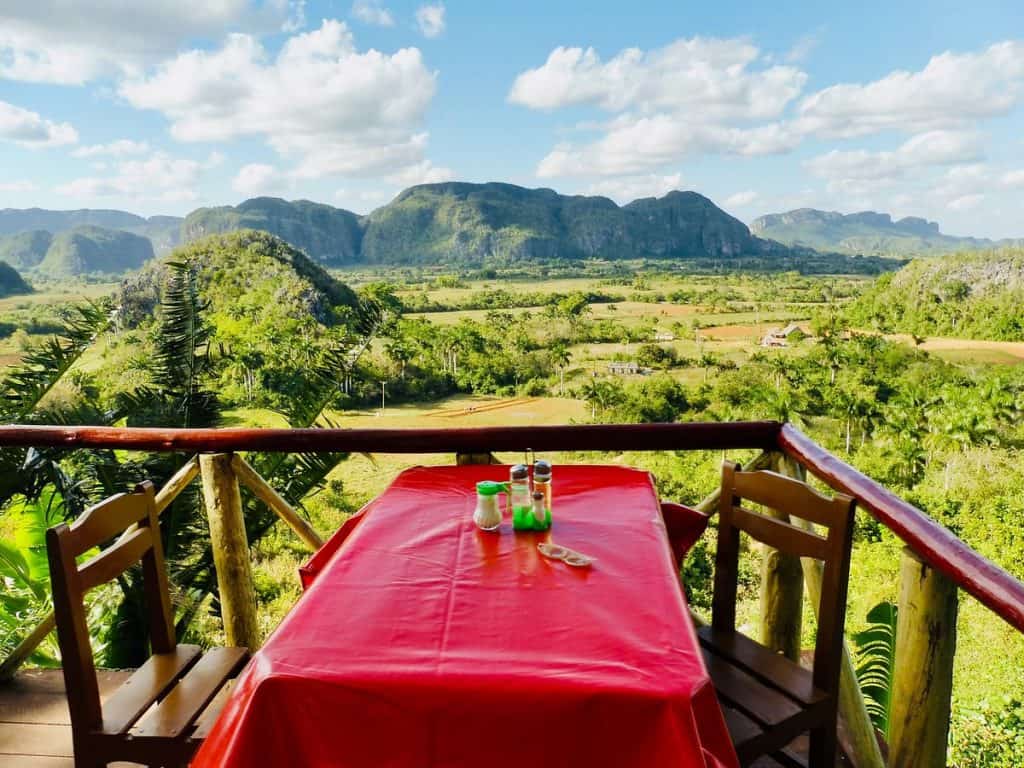 These are photos from our collection of favorite casitas and casa particulares to give you a sense of the accommodation you can expect while traveling in Cuba. 
What our travelers have to say
Loved every minute of Cuba
"I would definitely book another trip with SoFe travel. I've used other travel group trips in the past. I found the Cuba tour to be VERY organized, yet flexible and accommodating." – Kimberly D. 
"What an amazing experience! I was connected with amazing, interesting and fun female travellers – some with years of experience, some just starting their solo travel adventures. It was the perfect group to explore all that Cuba had to offer with." – Melinda G.
Best trip of my life. No, seriously.
"As an American, Cuba has always been a place that's intrigued me, but hasn't been too accessible due to political reasons. The Cuba Meet-Up Tour made the mysterious island open to discovery; not just spending the day in Havana on a cruise ship, but actually immersing into the country and it's culture." – Jordynn H